CTO
GCK's Cyberforensics URLs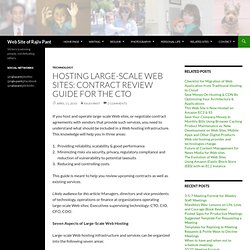 Hosting Large-Scale Web Sites: Contract Review Guide for the CTO | Web Site of Rajiv Pant
If you host and operate large-scale Web sites, or negotiate contract agreements with vendors that provide such services, you need to understand what should be included in a Web hosting infrastructure. This knowledge will help you in three areas: Providing reliability, scalability & good performance Minimizing risks via security, privacy, regulatory compliance and reduction of vulnerability to potential lawsuits Reducing and controlling costs This guide is meant to help you review upcoming contracts as well as existing services. Likely audience for this article: Managers, directors and vice presidents of technology, operations or finance at organizations operating large-scale Web sites; Executives supervising technology: CTO, CIO, CFO, COO. Seven Aspects of Large-Scale Web Hosting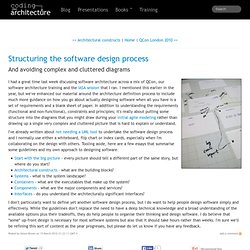 Structuring the software design process
I had a great time last week discussing software architecture across a mix of QCon, our software architecture training and the IASA session that I ran. I mentioned this earlier in the year, but we've enhanced our material around the architecture definition process to include much more guidance on how you go about actually designing software when all you have is a set of requirements and a blank sheet of paper. In addition to understanding the requirements (functional and non-functional), constraints and principles; it's really about putting some structure into the diagrams that you might draw during your initial agile modeling rather than drawing up a single very complex and cluttered picture that is hard to explain or understand. I've already written about not needing a UML tool to undertake the software design process and I normally use either a whiteboard, flip chart or index cards, especially when I'm collaborating on the design with others.
David Tucker is a principal architect at Universal Mind . As the resident Apple and Adobe expert, he works closely with Universal Mind's clients to develop rich user experiences that leverage many of today's exciting new development platforms. Follow David on Twitter @mindmillmedia .
10 Things to Plan for When Developing a Mobile App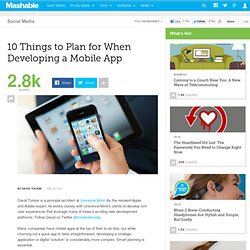 The Social Graph is Neither I first came across the phrase social graph in 2007, in an essay by Brad Fitzpatrick , though I'd be curious to know if it goes back further. The idea of representing relationships between people as networks is old, but this was the first time I had thought about treating the connections between all living people as one big object that you could manipulate with a computer.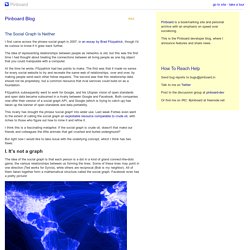 How to Develop a Hit Facebook App: 29 Essential Tools and Tutorials - Software Developer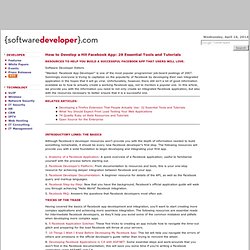 Resources to help you build a successful Facebook app that users will love. Software Developer Editors "Wanted: Facebook App Developer" is one of the most popular programmer job-board postings of 2007. Seemingly everyone is trying to capitalize on the popularity of Facebook by developing their own integrated application in the hopes that it will go viral.
Making Facebook work for publishers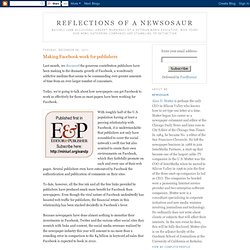 Last month, we discussed the generous contribution publishers have been making to the dramatic growth of Facebook, a wondrously addictive medium that seems to be commanding ever-greater amounts of time from an ever-larger number of consumers. Today, we're going to talk about how newspapers can get Facebook to work as effectively for them as most papers have been working for Facebook. With roughly half of the U.S. population having at least a passing relationship with Facebook, it is understandable that publishers not only have scrambled to cover the social network's swift rise but also scurried to create their own environments on Facebook, which they faithfully promote on each and every one of their web pages.