Autres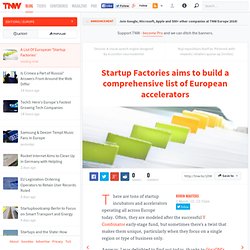 A List Of European 'Startup Factories'
There are tons of startup incubators and accelerators operating all across Europe today. Often, they are modeled after the successful Y Combinator early-stage fund, but sometimes there's a twist that makes them unique, particularly when they focus on a single region or type of business only. Anyway, I was delighted to find out today, thanks to GigaOM's Bobbie Johnson, that there's something called Startup Factories, which says it aims to be a "guide to accelerator programmes in the European Union". At this stage, there are a lot still missing from the list, and the guide does not include Seedcamp, apparently because the organization thought it "didn't quite match" their definition of an accelerator programme.
NETVA France - Formation entreprenariale et accélérateur de développement aux Etats-Unis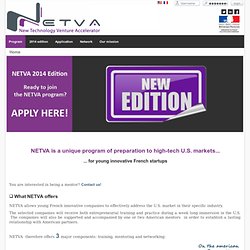 You are interested in being a mentor? Contact us! What NETVA offers
Le Camping is the 1st startup accelerator in France and one of the main European leaders in the field. Its 4-month long very intensive program lifts young startups into accelerating their growth, expanding to an international level and meeting potential investors. At Le Camping, startup founders are not only constantly surrounded by talented mentors; they are also fully supported by a strong ecosystem really engaged in changing things as they are.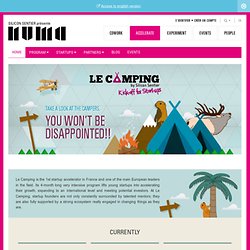 The Founder Institute: Helping Founders to Build Great Companies
Répertoire des programmes : Services aux citoyens : Portail Québec