Accompagnement
Innovons ensemble - Retis
Skip to main content Hopscotch Hopscotch Broadcast Hopscotch Design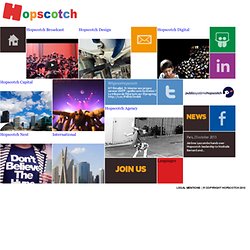 Hopscotch : relations publiques et strat?gies d'information
Altaide Valley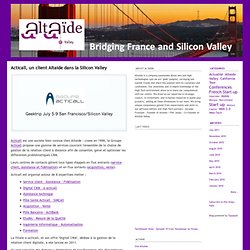 Un ami Geektripeur vient de me faire parvenir un email d'un concurrent organisant un voyage d'etudes prochainement dans la Silicon Valley, que j'ai naturellement regarde en detail. La concurrence, c'est bon, c'est normal. Mais a force d'etre aux USA, j'en prends les defauts, et j'ai donc decide de faire un peu de publicite comparative. Ma societe est de droit Americain, rien d'illegal donc.
« NUMA » fait référence au numérique, qui est au cœur de la révolution économique et culturelle que nous vivons, et à l'humain qui est le vecteur fondamental de cette transformation. C'est place puissante de rassemblement et de synergies, un levier incontestable de notre compétitivité. Cela fait maintenant plus de dix ans que nous travaillons avec et pour les entrepreneurs. En 2008, nous fondions La Cantine, premier espace de coworking en France; en 2011 Le Camping, premier accélérateur de startups en France et parmi les premiers en Europe et au monde. Ces projets sont le résultat d'un partenariat fort entre entrepreneurs, grands comptes tels que Orange, Google, BNP Paribas, Steelcase et collectivités : la ville de Paris et la Région Ile-de-France. C'est ensemble que nous ouvrons Numa et affirmons l'ambition de porter plus haut les couleurs de l'innovation française.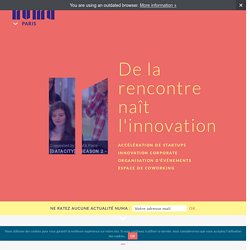 Eco Business Angels » Les Eco Business Angels
Bienvenue sur « FinancerSaBoite », l'univers de la Région Île-de-France ! Regroupe des communautés animées par des acteurs de l'accompagnement des TPE et des PME en Ile-de-France : pôles de compétitivité - Astech Paris Region, Finance Innovation, Cap Digital, Move'o, Systematic Paris-Region, Medicen- Centre Francilien de l'Innovation, Réseau Entreprendre, Bpi Ile-de-France, PM'up, Scientipôle Croissance, Opticsvalley. L'objectif est de favoriser la mise en relation entre des PME franciliennes qui recherchent entre 150 000 € et 2 000 000 €, dont le business plan a été qualifié par leurs communautés.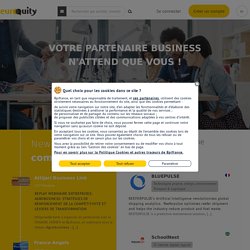 AtypicStore
Startup Connection - Merage Entrepreneurs connection site
Matching between: Start ups with new technology and growth potential that require development funding Investors that are looking for attractive business opportunities. The purpose of that site is matching investors with entrepreneurs seeking to operate high-growth, early-stage business ventures with high ROI opportunities.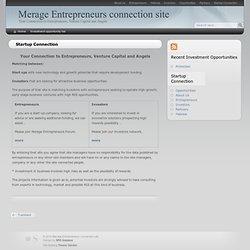 Ma Success Story
Green SI
Bienvenue sur Boost Your StartUp
The Startup Kids is a documentary about young web entrepreneurs in the U.S. and Europe. It contains interviews with the founders of Vimeo, Soundcloud, Kiip, InDinero, Dropbox, Foodspotting and many others who talk about how they started their company and their lives as an entrepreneur. The movie is made by two Icelandic entrepreneurs, Vala Halldorsdottir and Sesselja Vilhjalmsdottir, who founded their first company shortly after the economic collapse of Iceland and wanted to motivate other young people to become entrepreneurs. Check out the list of screenings or request a screening if you want to host one Request a Screening