Enterprise social network tools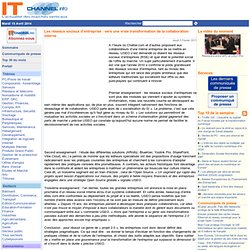 Les réseaux sociaux d'entreprise : vers une vraie transformation de la collaboration interne
Jeudi 3 Février 2011 A l'heure où Chatter.com et d'autres proposent aux collaborateurs d'une même entreprise de se mettre en réseau, USEO s'est demandé où étaient les réseaux sociaux d'entreprises (RSE) et quel était le potentiel social de l'offre du marché. Un sujet particulièrement d'actualité. Il est vrai que l'année 2010 a confirmé le poids grandissant des réseaux sociaux d'entreprise, tant au niveau des entreprises qui ont lancé des projets ambitieux que des éditeurs traditionnels qui socialisent leur offre ou des pure-players qui continuent à innover.
Chatter | Solutions logicielles de collaboration – Outil de travail collaboratif en ligne : Chatter - salesforce.com France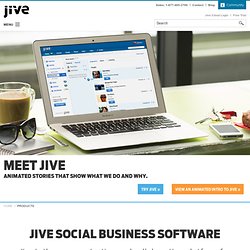 Jive provides all you need to launch thriving social business networks that engage employees, customers, partners and the social web. It opens vast new opportunities to drive breakthrough results through internal collaboration, customer care, marketing and sales – all in ready-to-deploy solutions matched to your business goals. Social networking for the enterprise.
Depuis que j'ai commencé à rédiger ce blog j'ai l'impression de ne parler que de la Silicon Valley. Il est vrai que cette région concentre beaucoup de talents et d'argent, ce qui en fait un lieu très fertile à l'innovation. Ceci étant dit, il n'y a pas que la Silicon Valley et je souhaiterais consacrer cet article à des acteurs français dont nous pouvons être fiers .