MLA
What Is MLA Style? All fields of research agree on the need to document scholarly borrowings, but documentation conventions vary because of the different needs of scholarly disciplines.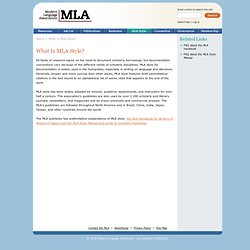 MLA style for documentation is widely used in the humanities, especially in writing on language and literature. Generally simpler and more concise than other styles, MLA style features brief parenthetical citations in the text keyed to an alphabetical list of works cited that appears at the end of the work. MLA style has been widely adopted by schools, academic departments, and instructors for over half a century.
The association's guidelines are also used by over 1,100 scholarly and literary journals, newsletters, and magazines and by many university and commercial presses. MLA Documentation: Printed & Other Sources. MLA In-Text Citations (printable version here) Modern Language Association (MLA) documentation is used primarily for English papers and uses a parenthetical format.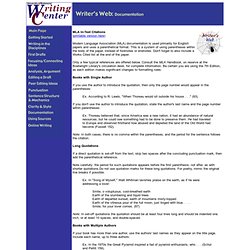 This is a system of using parentheses within the body of the paper, instead of footnotes or endnotes. Don't forget to also include a Works Cited list at the end of the paper. MLA Documentation Guide. Download printable version Try our animated tutorial that explains the why and how of MLA documentation in a visual way.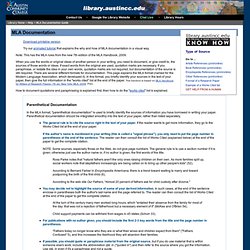 Note: This has the MLA rules from the new 7th edition of the MLA Handbook, 2009. When you use the words or original ideas of another person in your writing, you need to document, or give credit to, the sources of those words or ideas. If exact words from the original are used, quotation marks are necessary. If you paraphrase, or restate the idea in your own words, quotation marks are not required, but documentation of the source is still required.
---