Faulkner, William
A Guide to the Works of William Faulkner « Knopf Doubleday - Reading Group Center. About this guide The questions, discussion topics, and author biography that follow are designed to enhance your group's reading of three of William Faulkner's greatest novels: The Sound and the Fury, As I Lay Dying, and Absalom, Absalom!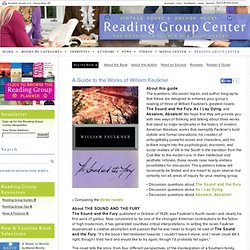 We hope that they will provide you with new ways of thinking and talking about three works that stand as major landmarks in the history of modern American literature, works that exemplify Faulkner's bold stylistic and formal innovations, his creation of unforgettably powerful voices and characters, and his brilliant insight into the psychological, economic, and social realities of life in the South in the transition from the Civil War to the modern era. In their intellectual and aesthetic richness, these novels raise nearly endless possibilities for discussion. The questions below will necessarily be limited and are meant to open several, but certainly not all, areas of inquiry for your reading group. Magazine Cover: William Faulkner - July 17, 1964 - Writers - Books.
William Faulkner Biography. William Faulkner Reads from As I Lay Dying. William Faulkner's As I Lay Dying is widely considered one of the great American novels.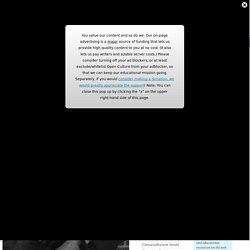 Quite an accomplishment, especially considering that Faulkner wrote the novel in six weeks while working at a power plant in 1929-30. Read more about his day jobs here. Thanks to HarperCollins, you can now listen to Faulkner, himself, reading from his masterpiece: .au file (4.4 Mb), .gsm file (0.9 Mb), .ra file (0.5 Mb). The audio can be a little difficult to make out at times. But you can read right along with the text in Google Books. Faulkner Collection, Small Library, UVa. William Faulkner's choice of a repository for the major manuscripts and personal papers in his possession at the time of his death was the University of Virginia.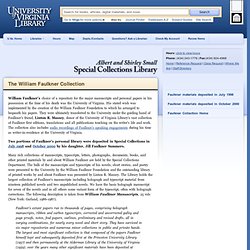 His stated wish was implemented by the creation of the William Faulkner Foundation to which he arranged to bequeath his papers. They were ultimately transferred to the University under the guiding hand of Faulkner's friend, Linton R. Massey, donor of the University of Virginia Library's vast collection of Faulkner first editions, translations and all publications touching on the writer's life and work. William Faulkner (1897-1962) Contributing Editor: John Lowe Classroom Issues and Strategies Students are resistant to texts that withhold key information, to narrative that is obscure and/or convoluted, and to characters who don't seem to have "common sense.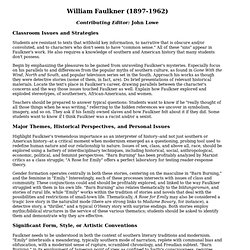 " Lit100_SS2. Faulkner at Virginia. Mississippi Plantation Diary That Inspired William Faulkner Discovered. William Faulkner Literary Criticism. Photo of William Faulkner by Carl Van Vechten, public domain photo Literary criticism and analysis for the twentieth-century American novelist and short-story writer William Faulkner.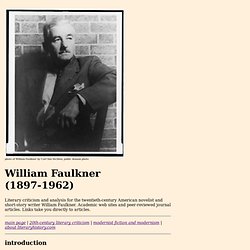 Academic web sites and peer-reviewed journal articles. William Faulkner : William Faulkner News and Photos. American Writers: William Faulkner. William Faulkner Nobel Prize speech. William Faulkner (1897-1962) PAL: Perspectives in American Literature - A Research and Reference Guide - An Ongoing Project © Paul P.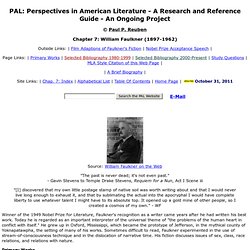 Reuben Chapter 7: William Faulkner (1897-1962) Outside Links: | Film Adaptions of Faulkner's Fiction | Nobel Prize Acceptance Speech | Page Links: | Primary Works | Selected Bibliography 1980-1999| Selected Bibliography 2000-Present | Study Questions | MLA Style Citation of this Web Page | William Faulkner on the Web. Use the "Faulkner Sites Only" option to search for resources within this site, The Mississippi Writers Page and selected other Faulkner-related Web sites.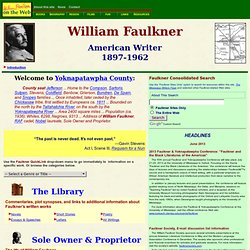 June 2013 2013 Faulkner & Yoknapatawpha Conference: "Faulkner and the Black Literatures of the Americas" Faulkner University - Home.
---