Solar Power
Solar power blog - Google News. Solar power - Google News. Solar Power. Low-Cost Solar Solar cells can produce 10 times more electricity per gram of silicon thanks to this system.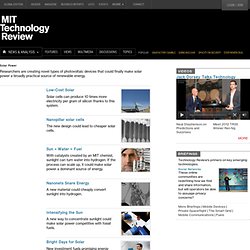 Nanopillar solar cells The new design could lead to cheaper solar cells. Space-Based Solar Power. Solar Electric Power Association (SEPA) Website. Solarbuzz | Solar Energy Industry Research and Consultancy. We are solar powered. Many of the energy options in WilderHill Indexes are technologies that we not only address in a technical sense but also utilize everyday.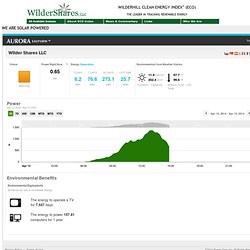 We believe practical knowledge-gained can assist in discussing clean energy ahead. For example we are intimately familiar with how solar power, electric cars, and efficiency can be sensible today. This is more than theoretical; at our 1-acre San Diego site we utilize several different systems to: generate electricity and harness solar power to run electric vehicles and provide building hot water.To visualize combining solar panels with electric cars, arguably a better solution for powering both transport and buildings, start with the solar. UO SRML: Sun chart program. Solar power. Solar news - Google News. Solar Energy News. Ford May Be SYNCing With BlackBerry, Ditching Microsoft TheStreet (Feb. 24, 2014) — Shares of BlackBerry are rising on Monday on reports that Ford is turning to the beleagured tech company to power its Sync voice-activated system.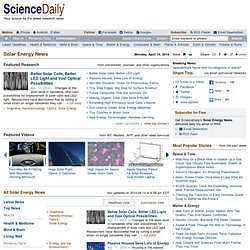 A partnership would be a significant achievement for BlackBerry, which has been struggling for years. In effect, Ford will be ditching Microsoft, whose voice-activated software has been the basis of Ford's Sync system since it was introduced in 2007. Solar power. Average insolation showing land area (small black dots) required to replace the world primary energy supply with solar electricity (18 TW or 568 Exajoule, EJ, per year).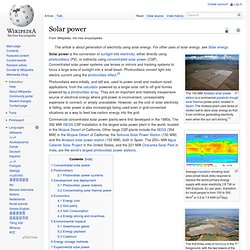 Insolation for most people is from 150 to 300 W/m2 or 3.5 to 7.0 kWh/(m2day). The first three units of Solnova in the foreground, with the two towers of the PS10 and PS20 solar power stations in the background. Solar Training & Renewable Energy Education for a Sustainable Future | Solar Energy International.
---