Energy Storage
Hétfőtől péntekig minden nap 10, 19 és 21 órakor Talk Fusion online prezentáció! Szombaton és vasárnap 17 és 21 órától . Ne maradj le! Várunk szeretettel! A számítógéped előtt ülve teát kortyolgatva, nyugodt otthoni környezetben hallgathatod , és nézheted végig bemutatónkat . Belépéshez görgess lentebb .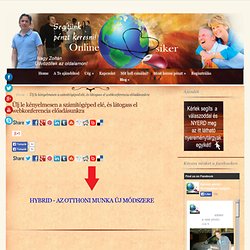 Gyere el Talk Fusion webkonferencia előadásunkra!
Nem kell mennem sehova? Nem termék eladás? Azonnal pénzt keresek? Talk Fusion.
Company: Utilities battery video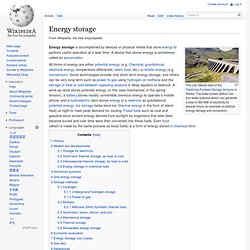 Energy storage
The Llyn Stwlan upper reservoir and dam of the Ffestiniog Pumped Storage Scheme in north Wales. The lower power station has four water turbines which can generate 360 MW of electricity, an example of artificial energy storage and conversion. Energy storage is accomplished by devices or physical media that store energy to perform useful operation at a later time. A device that stores energy is sometimes called an accumulator .
The Need for Electricity Storage Storage on the electric grid is the only environmentally friendly way to reliably add large amounts of intermittent renewable generation, such as wind and solar. The challenge with intermittent renewables is that they have unpredictable outputs that can cause system instability and unreliability (e.g. blackouts when the wind stops blowing). Texas has already experienced grid instability problems due to unexpected falloff in wind:
Electricity Storage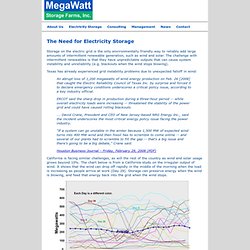 Technologies for energy storage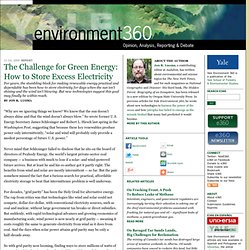 13 Jul 2009: Report by jon r. luoma "Why are we ignoring things we know? We know that the sun doesn't always shine and that the wind doesn't always blow." So wrote former U.S.
The Challenge for Green Energy: How to Store Excess Electricity
The Convoluted Economics of Storing Energy
SolarReserve An artist's rendering of SolarReserve's solar thermal project in Nevada. Thousands of mirrors will focus the sun's heat, and the energy will be stored in the form of molten salt. As I reported in Tuesday's paper , some companies think that one form of renewable energy is going to open a window for another — that solar photovoltaic panels, which convert sunlight directly into electricity, are going to increase the grid's need for a type of solar energy that can be stored. That would be solar thermal power, which harnesses heat from the sun and converts it to steam to make electricity as the need arises, especially when the sun has disappeared behind a cloud or dropped below the horizon.
Energy Storage for Solar Power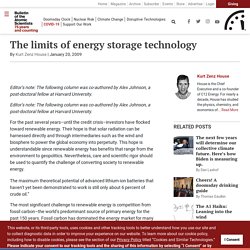 The limits of energy storage technology | Bulletin of the Atomic
Editor's note: The following column was co-authored by Alex Johnson, a post-doctoral fellow at Harvard University. For the past several years--until the credit crisis--investors have flocked toward renewable energy. Their hope is that solar radiation can be harnessed directly and through intermediaries such as the wind and biosphere to power the global economy into perpetuity.
Thermal Energy Storage Myths
FAQ: Energy Storage for the Smart Grid
New Battery Could Be Just What the Grid Ordered
A Simple Way to Boost Battery Storage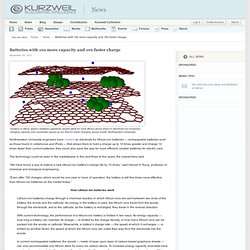 Clusters of silicon (green) between graphene sheets allow for more lithium atoms (blue) in electrodes for increased charging capacity and nanoholes speed up ion flow for faster charging speed (credit: Northwestern University) Northwestern University engineers have created an electrode for lithium-ion batteries — rechargeable batteries such as those found in cellphones and iPods — that allows them to hold a charge up to 10 times greater and charge 10 times faster than current batteries; they could also pave the way for more efficient, smaller batteries for electric cars. The technology could be seen in the marketplace in the next three to five years, the researchers said. "We have found a way to extend a new lithium-ion battery's charge life by 10 times," said Harold H. Kung, professor of chemical and biological engineering.
Batteries with 10x more capacity and 10x faster charge
in Share 2 This entry is the latest in a Worldwatch blog series on innovations in the climate and energy world. Soon to be obsolete? The Nissan Leaf proudly advertises that it can go 100 miles on a single charge. Chevrolet, Toyota, and other car companies have promoted their plug-in gas-electric hybrids as the more rational alternative, since you can switch to the gasoline option when you need extra range. But what if charging your electric car were as easy as filling your gas tank?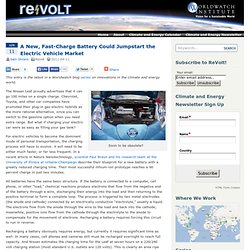 A New, Fast-Charge Battery Could Jumpstart the Electric Vehicle Market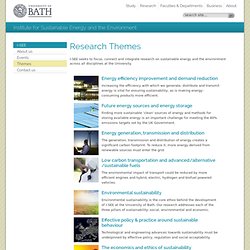 Future energy sources and energy storage
An important challenge in addressing the demands of climate change and meeting the 60% emissions targets set by the UK Government is to find more sustainable 'clean' sources of energy and methods for storing energy when it cannot be immediately used. There is, however, no one universal fix. Over the next century the development of a variety of energy sources and technologies will be needed to alleviate the problems of both supply and pollution while also meeting the spiraling demand for energy.
Future Energy Storage
Market analysis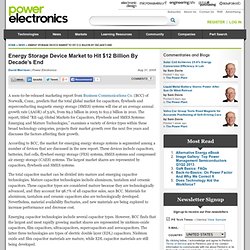 Energy Storage Device Market to Hit $12 Billion By Decade's End
A soon-to-be-released marketing report from Business Communications Co. (BCC) of Norwalk, Conn., predicts that the total global market for capacitors, flywheels and superconducting magnetic energy storage (SMES) systems will rise at an average annual growth rate (AAGR) of 5.9%, from $9.2 billion in 2005 to $12.2 billion in 2010. The report, titled "RE-145 Global Markets for Capacitors, Flywheels and SMES Systems: Emerging and Mature Technologies," examines a variety of device types within these broad technology categories, projects their market growth over the next five years and discusses the factors affecting their growth. According to BCC, the market for emerging energy storage systems is segmented among a number of devices that are discussed in the new report. These devices include capacitors, batteries, fuel cells, flywheel energy storage (FES) systems, SMES systems and compressed air energy storage (CAES) systems.
unnamed pearl
Market Analysis in NY
Greentech Media: Grid Energy Storage: Big Market, Tough to Tackl
Grid-scale energy storage – it's a tricky market to tackle, but one that offers billions of dollars to those that can get it right. The grid storage market is set to grow from roughly $365 million today to nearly $2.5 billion by 2015, according to a new research report from GTM Research . That growth will include a larger role for lithium-ion, flow battery and advanced lead-acid battery technologies than they now hold in grid storage, as well as growing pressure to expand energy storage to meet the anticipated needs of adding unprecedented amounts of intermittent solar and wind power generation to the grid. But companies making the first moves into grid storage will have to navigate a complex regulatory and economic environment to put together commercially viable projects, report author John Kluza warned.
Greentech Media: A123 Batteries to Help Stabilize Electric Grid
Unnamed electric utilities have signed on to use A123Systems' lithium-ion batteries to help stabilize the grid, CNET reported this week. Ric Fulop, vice president for business development at A123Systems, said the company has been working with General Electric to develop batteries to help squeeze more power into the grid, when needed, so that the power supply matches the demand, according to the CNET story . GE, which led a $40 million round of funding for A123 in February, already supplies products such as software to utilities. The idea of using batteries for the electric grid has long been a Holy Grail in the industry, but the cost and size of the batteries – including all the maintenance and replacement every few years – have been major impediments. Battery companies have been making some strides, however.
http://209.83.147.85/publications/files/BCG_Electricity_Storage_