Companies & associations
Energy Storage Council. Electricity Storage Association - power quality, power supply. Greentech Media: Top Ten Smart Grid. 9.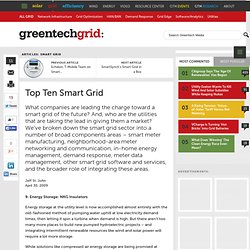 Energy Storage: NKG Insulators Energy storage at the utility level is now accomplished almost entirely with the old-fashioned method of pumping water uphill at low electricity demand times, then letting it spin a turbine when demand is high. Energy Technology - Distributed Energy and Energy Storage - Proj. HOME. A123Systems :: Home. NGK INSULATORS, LTD. MegaWatt. Sun Catalytix :: Home.
---