Companies & associations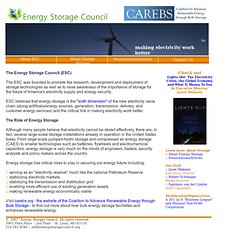 The ESC was founded to promote the research, development and deployment of storage technologies as well as to raise awareness of the importance of storage for the future of America's electricity supply and energy security. ESC believes that energy storage is the "sixth dimension" of the new electricity value chain (along withfuels/energy sources, generation, transmission, delivery, and customer energy services) and the critical link in making electricity work better. The Role of Energy Storage
Energy Storage Council
Electricity Storage Association - power quality, power supply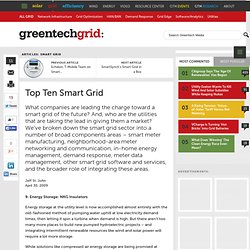 9. Energy Storage: NKG Insulators Energy storage at the utility level is now accomplished almost entirely with the old-fashioned method of pumping water uphill at low electricity demand times, then letting it spin a turbine when demand is high.
Greentech Media: Top Ten Smart Grid
Energy Technology - Distributed Energy and Energy Storage - Proj
HOME
A123Systems :: Home
NGK INSULATORS, LTD.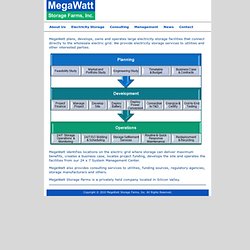 MegaWatt
MegaWatt plans, develops, owns and operates large electricity storage facilities that connect directly to the wholesale electric grid. We provide electricity storage services to utilities and other interested parties. MegaWatt identifies locations on the electric grid where storage can deliver maximum benefits, creates a business case, locates project funding, develops the site and operates the facilities from our 24 x 7 System Management Center. MegaWatt also provides consulting services to utilities, funding sources, regulatory agencies, storage manufacturers and others.
Sun Catalytix :: Home