Energy Environment
'They're killing us': world's most endangered tribe cries for help | World news | The Observer. Loggers strip trees from Amazonian tribe's territory Link to video: Loggers strip trees from Amazonian tribe's territory Trundling along the dirt roads of the Amazon, the giant logging lorry dwarfed the vehicle of the investigators following it.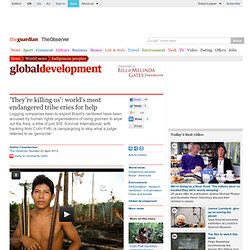 The trunks of nine huge trees were piled high on the back – incontrovertible proof of the continuing destruction of the world's greatest rainforest and its most endangered tribe, the Awá. Yet as they travelled through the jungle early this year, the small team from Funai – Brazil's National Indian Foundation – did not dare try to stop the loggers; the vehicle was too large and the loggers were almost certainly armed. All they could do was video the lorry and add the film to the growing mountain of evidence showing how the Awá – with only 355 surviving members, more than 100 of whom have had no contact with the outside world – are teetering on the edge of extinction. WIND-ASSISTED SHIPS. Kite Assisted ShipsTech Level: 10 Using the wind for propulsion on the seas is hardly a new idea; it is in fact one of mankind's oldest ocean-going technologies.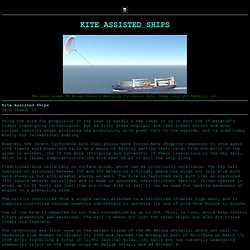 But as first steam engines, and then diesel motors and even nuclear reactors began providing sea propulsion, wind power fell to the wayside, and is used today mostly for recreational boating. However, the recent turbulence with fuel prices have forced many shipping companies to once again look toward wind power and sails as a means of helping getting their cargo from one point on the globe to another. One of the more intriguing and successful of these innovations is the Sky Sail, which is a large, computer-controlled kite that helps to pull the ship along. Traditional ship sails rely on surface winds, which can be notoriously unreliable. Desalination without a membrane | Green Tech. People have wanted to turn sea water into drinking water for years.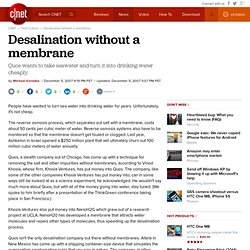 Unfortunately, it's not cheap. The reverse osmosis process, which separates out salt with a membrane, costs about 50 cents per cubic meter of water. Reverse osmosis systems also have to be monitored so that the membrane doesn't get fouled or clogged. Last year, Ashkelon in Israel opened a $250 million plant that will ultimately churn out 100 million cubic meters of water annually. Ocean currents can power the world, say scientists. Seaweed study boosts prospects for marine biofuels. Seaweed biofuel farms have come a step closer to reality with an improvement in the way seaweed sugars can be converted to ethanol.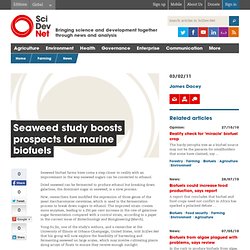 Dried seaweed can be fermented to produce ethanol but breaking down galactose, the dominant sugar in seaweed, is a slow process. Now, researchers have modified the expression of three genes of the yeast Saccharomyces cerevisiae, which is used in the fermentation process to break down sugars to ethanol. The improved strain creates more enzymes, leading to a 250 per cent increase in the rate of galactose sugar fermentation compared with a control strain, according to a paper in the current issue of Biotechnology and Biongineering (March).
Tar sands oil and Keystone XL's dirty secret | Bernie Sanders. Picture this: a large, multibillion dollar Canadian corporation comes to the president of the United States and wants to build a 1,700-mile oil pipeline from Canada all the way to the Gulf of Mexico.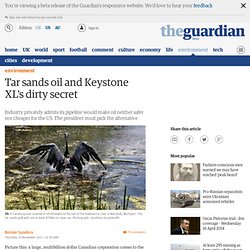 After reviewing the project, it becomes clear that instead of reducing America's reliance on oil from overseas, this pipeline would carry oil across America, risking spills on our land and waters, just to export the oil to other countries. In addition, the pipeline would increase gasoline prices in America, add to our air pollution, and most importantly, be a major setback in the fight to reverse global warming.
Clearly, the president would say no to Big Oil on this one, wouldn't he? Keystone XL: Nebraskans take pipeline issue all the way to the White House | Environment. The woman seated before the row of suited state legislators in her red Husker team hoodie was choking on tears.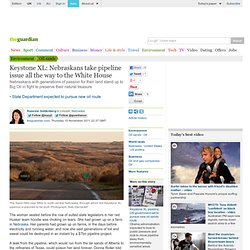 She had grown up on a farm in Nebraska. Her parents had grown up on farms, in the days before electricity and running water, and now she said generations of toil and sweat could be destroyed in an instant by a $7bn pipeline project. A leak from the pipeline, which would run from the tar sands of Alberta to the refineries of Texas, could poison her land forever, Donna Roller told the hearing this week during a special session of the state legislature. "This thing shouldn't even be built. Oil Tanker rates to remain low through 14' Frontline Ltd.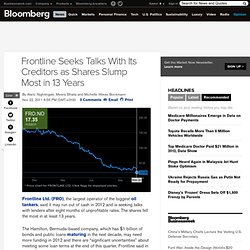 (FRO), the largest operator of the biggest oil tankers, said it may run out of cash in 2012 and is seeking talks with lenders after eight months of unprofitable rates. The shares fell the most in at least 13 years. The Hamilton, Bermuda-based company, which has $1 billion of bonds and public loans maturing in the next decade, may need more funding in 2012 and there are "significant uncertainties" about meeting some loan terms at the end of this quarter, Frontline said in a statement today. Billionaire Chairman John Fredriksen "has the funds available and he is prepared to go in and try to find solutions," Tor Olav Troim, one of his aides, said in an interview in Oslo today.
NASUCA - National Consumer Assoc
Solar. WARF - Wisconsin Alumni Research Foundation. WARF - Wisconsin Alumni Research Foundation. Multistate Energy Production Organizations. Energy news. Pew Environment Group. Welcome To The API Website. Municipalization. NERC. Dynegy Says It May Violate Credit Covenants This Year. Green Innovation.
US Regulators. Green Media Toolshed | Opening the door to successful communications campaigns for the environmental movement. The Center for a Sustainable Coast was formed in 1997 by a group of public-spirited environmental professionals and concerned citizens.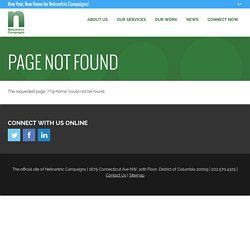 The purpose of the organization is to improve the responsible use, protection, and conservation of this region's resources - natural, historic, and economic. The Center for a Sustainable Coast works to protect, preserve, and sustain coastal Georgia's vital natural, cultural, and economic resources. Troubled power plant reaches agreement with creditors _ Budapest Business Journal _ bbj.hu. Troubled power plant , a unit of state-owned Hungarian Electricity Works (MVM), has reached an agreement with its creditors after more than five months under bankruptcy protection, the company said on Monday.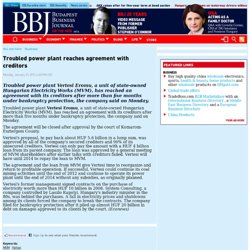 The agreement will be closed after approval by the court of Komarom-Esztergom County. Vertesi's proposal, to pay back about HUF 5.6 billion in a lump sum, was approved by all of the company's secured creditors and 90% of its unsecured creditors. Vertesi can only pay the amount with a HUF 4 billion loan from its parent company. The loan was approved by a general meeting of MVM shareholders after earlier talks with creditors failed.
Battery. Wind. Electricity Pricing Factors. WI Climate Change. Financing Solar Energy Projects for Municipalities - Sustainable City Network, Inc.: Finance: news, solar energy, solar panels, solar america communities, national league of cities. How can municipalities help generate electricity from solar energy without actually paying for the development?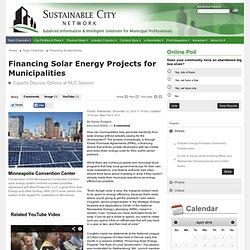 The answer, increasingly, is through Power Purchase Agreements (PPAs), a financing device that entices private developers with tax credits and locks down energy costs for their public-sector partners. While there are numerous grants and municipal bond programs that help local governments pay for their own solar installations, one federal authority said cities should think twice about investing in solar if they haven't already made their municipal operations as energy efficient as possible. Risø DTU National Laboratory for Sustainable Energy. Research in energy technology, energy planning, energy systems of the future and climate technology.
Riso Energy Report 9: CO2-free energy can meet the world's energy needs in 2050. Americanchemistry.com : Chemistry is essential2living - The American Chemistry Council.
WiserEarth's Blog: Connecting You to Communities of Action. River Alliance of Wisconsin. National Electric Energy Associations. The Green Economy Post. EERE Technology Commercialization Portal: Home Page. Carbon Capture: The Algae Alternative. A few days ago, I wrote about a deal between South African company De Beers Fuel Limited and Massachusetts-based Green Fuel Technologies Corporation to install and operate Green Fuel's Emissions- to-Biofuels™ algae bioreactor systems that could produce 16 to 24 billion liters of biodiesel from algae.
As I reported, the most intriguing aspect of this technology is its ability to use CO2 emissions from power plants to feed the algae, thereby capturing CO2 and creating a feedstock for biodiesel at the same time. In a Press Release on De Beer's Infiniti Biodiesel Website, company Chairman Frik DeBeer claims "When algae are introduced to a rich carbon source, such as the flue gas emissions of a power plant, they propagate exponentially compared to traditional agricultural crops and do not compete for land or water that might otherwise be used for food production." Also in a press release , this time from the Institute of Science in Society, Dr. A New Class of Jet Fuel - Biodiesel Magazine. Airlines are under serious pressure to reduce greenhouse gas emissions, so when the most prolific oil refinery technology provider on the planet teams up with the world's biggest airplane manufacturer, they produce results-and a new class of fuel.
UOP sells technology, so research and development is its biggest investment. PHOTO: UOP LLC The only difference between bio-derived SPK and petroleum jet fuel is the biofuel's lack of aromatics. PHOTO: UOP LLC. International | The Leader in Diversified Technology and Manufacturing. Small Nukes Go Big with TerraPower-Toshiba Deal: Who's Next? : Greentech Media. TerraPower, the nuclear spin-out from Intellectual Ventures, is in preliminary talks with Toshiba about developing a modular reactor in tandem.
It's a good sign for the modular nuclear industry. These companies hope to produce reactors that can put out 25 to 125 megawatts of power and are about the size of a hot tub or conference room. The reactors can be deployed independently or chain-ganged together to generate as much power as a conventional nuclear plant. The key is in the construction. The design of a modular reactor can be certified independently. Commodity Trading & Risk Management Solutions - Triple Point Technology, Inc. Dynamic Maps, GIS Data, and Analysis Tools - MapSearch.
EnviroMapper for Envirofacts. Scorecard Home.
Federal Trade Commission Proposes Revised "Green Guides"
---