Accords Bilatéraux
Taiwan. Coordinates: Taiwan ( i/ˌtaɪˈwɑːn/ TY-WAHN Chinese: 臺灣 or 台灣; pinyin: Táiwān; see below), officially the Republic of China (ROC; Chinese: 中華民國; pinyin: Zhōnghuá Mínguó), is a state in East Asia.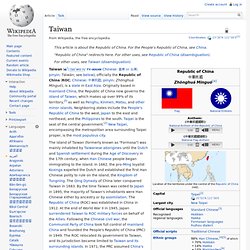 Originally based in mainland China, the Republic of China now governs the island of Taiwan, which makes up over 99% of its territory,[f] as well as Penghu, Kinmen, Matsu, and other minor islands. National Taiwan University of Science and Technology. United States. The United States of America (USA), commonly referred to as the United States (US), America or simply the States, is a federal republic[10][11] consisting of 50 states and a federal district.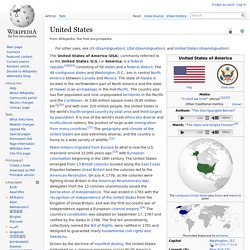 The 48 contiguous states and the federal district of Washington, D.C., are in central North America between Canada and Mexico. The state of Alaska is the northwestern part of North America and the state of Hawaii is an archipelago in the mid-Pacific. University of California, Berkeley. Embry-Riddle Aeronautical University - World's Leader in Aviation and Aerospace Education. University of Washington - washington.edu. University of Washington - Official. China. China ( i/ˈtʃaɪnə/; Chinese: 中国; pinyin: Zhōngguó), officially the People's Republic of China (PRC), is a sovereign state located in East Asia.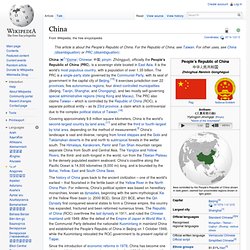 It is the world's most populous country, with a population of over 1.35 billion. The PRC is a single-party state governed by the Communist Party, with its seat of government in the capital city of Beijing.[15] It exercises jurisdiction over 22 provinces, five autonomous regions, four direct-controlled municipalities (Beijing, Tianjin, Shanghai, and Chongqing), and two mostly self-governing special administrative regions (Hong Kong and Macau). 南京航空航天大学. Nanjing University of Aeronautics and Astronautics Nanjing University of Aeronautics and Astronautics (NUAA), established in 1952, is situated on the very site of the ancient Ming Palace of Nanjing.
Its campus covers an area of 160 hectares, with a building space of 510,000 square metres. The library has a collection of over 1,000,000 books.
---