Ember.js | Framework
EmberJS Router Example | jsFiddle
EmberJS Bootstrap | Ember.js
Connection details - freenode Web IRC
Emblr, the Ember.js Tumblr
Ember.js Dashboard
ember js: rockin' javascript MVC framework
Newest 'emberjs' Questions
The Emberist
Tutorials/Guides/Articles/Etc | Ember.js
Plugins/Modules/Etc | ember.js
Backbone vs Ember | Articles/Etc - Framework/Template/Etc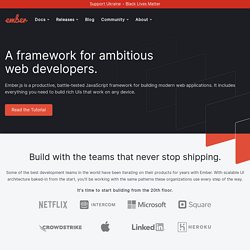 More Productive Out of the Box. Write dramatically less code with Ember's Handlebars integrated templates that update automatically when the underlying data changes. Don't waste time making trivial choices. Ember.js incorporates common idioms so you can focus on what makes your app special, not reinventing the wheel. Ember.js is built for productivity.
emberjs's Profile - GitHub
ember.js Ember.js - A JavaScript framework for creating ambitious web applications Updated website Source for emberjs.com list-view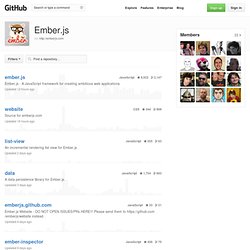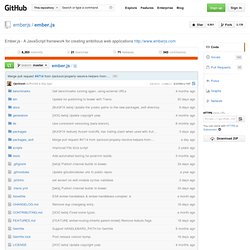 emberjs/ember.js - GitHub
README.md Ember.js Ember.js is a JavaScript framework that does all of the heavy lifting that you'd normally have to do by hand.
Ember.js API Docs
In a Giving Mood? Contribute to the Project The Ember.js source is hosted on Github. To contribute patches, create a fork of the project on GitHub and submit a pull request. Please be sure to include unit tests and documentation for any new features you add. See the full guidelines for more information.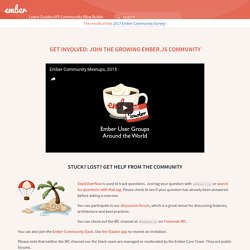 Ember.js - Community
Home · emberjs/ember.js Wiki
README.md Ember.js Ember.js is a JavaScript framework that does all of the heavy lifting that you'd normally have to do by hand. There are tasks that are common to every web app; Ember.js does those things for you, so you can focus on building killer features and UI. These are the three features that make Ember.js a joy to use: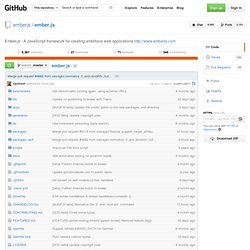 README.md Ember.js Ember.js is a JavaScript framework that does all of the heavy lifting that you'd normally have to do by hand. There are tasks that are common to every web app; Ember.js does those things for you, so you can focus on building killer features and UI. These are the three features that make Ember.js a joy to use:
Links · emberjs/ember.js Wiki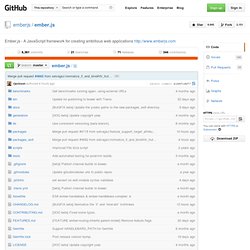 Projects · emberjs/ember.js Wiki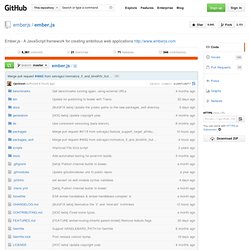 README.md Ember.js Ember.js is a JavaScript framework that does all of the heavy lifting that you'd normally have to do by hand.
README.md Ember.js Ember.js is a JavaScript framework that does all of the heavy lifting that you'd normally have to do by hand. There are tasks that are common to every web app; Ember.js does those things for you, so you can focus on building killer features and UI. These are the three features that make Ember.js a joy to use:
Modules · emberjs/ember.js Wiki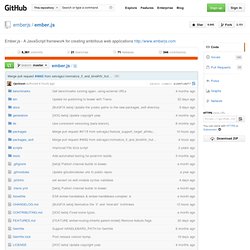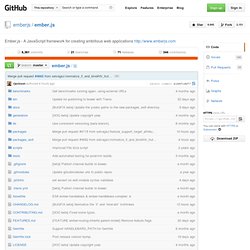 README.md Ember.js Ember.js is a JavaScript framework that does all of the heavy lifting that you'd normally have to do by hand. There are tasks that are common to every web app; Ember.js does those things for you, so you can focus on building killer features and UI. These are the three features that make Ember.js a joy to use: BindingsComputed propertiesAuto-updating templates
Buildtools · emberjs/ember.js Wiki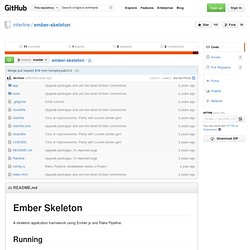 README.md Ember Skeleton A skeleton application framework using Ember.js and Rake Pipeline. Running $ bundle install $ bundle exec rackup
interline/ember-skeleton
README.md Ember.js Template Overview
JCBarry/ember-template
abelaska/nodejs-emberjs-mongodb
readme.md Node.js + Ember.js + MongoDB Proof of concept application. Dependencies: How to run in development environment You have to start local MongoDB instanceGo to the project directory $ cd nodejs-emberjs-mongodb Install required Node.js modules $ npm install Start Node.js HTTP server $ npm start Visit address http://localhost:3000Enjoy!