Ember.js | Framework
EmberJS Router Example | jsFiddle.
EmberJS Bootstrap | Ember.js
Connection details - freenode Web IRC. Emblr, the Ember.js Tumblr. Ember.js Dashboard. Ember js: rockin' javascript MVC framework. Newest 'emberjs' Questions. The Emberist. Tutorials/Guides/Articles/Etc | Ember.js. Plugins/Modules/Etc | ember.js.
Backbone vs Ember | Articles/Etc - Framework/Template/Etc. Ember.js. Emberjs's Profile - GitHub. Emberjs/ember.js - GitHub. Ember.js API Docs. Community. In a Giving Mood?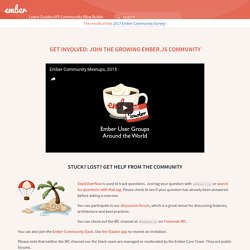 Contribute to the Project The Ember.js source is hosted on Github. To contribute patches, create a fork of the project on GitHub and submit a pull request. Please be sure to include unit tests and documentation for any new features you add. See the full guidelines for more information. Home · emberjs/ember.js Wiki. Links · emberjs/ember.js Wiki. README.md Ember.js Ember.js is a JavaScript framework that does all of the heavy lifting that you'd normally have to do by hand.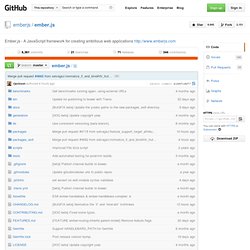 There are tasks that are common to every web app; Ember.js does those things for you, so you can focus on building killer features and UI. These are the three features that make Ember.js a joy to use: Projects · emberjs/ember.js Wiki. README.md Ember.js Ember.js is a JavaScript framework that does all of the heavy lifting that you'd normally have to do by hand.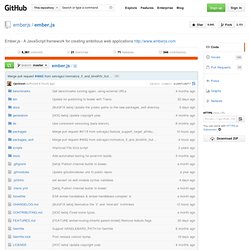 Modules · emberjs/ember.js Wiki. README.md Ember.js Ember.js is a JavaScript framework that does all of the heavy lifting that you'd normally have to do by hand.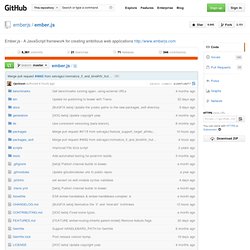 There are tasks that are common to every web app; Ember.js does those things for you, so you can focus on building killer features and UI. These are the three features that make Ember.js a joy to use: Buildtools · emberjs/ember.js Wiki. README.md Ember.js Ember.js is a JavaScript framework that does all of the heavy lifting that you'd normally have to do by hand.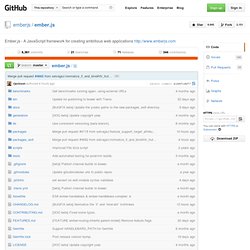 There are tasks that are common to every web app; Ember.js does those things for you, so you can focus on building killer features and UI. These are the three features that make Ember.js a joy to use: BindingsComputed propertiesAuto-updating templates. Interline/ember-skeleton. JCBarry/ember-template. Abelaska/nodejs-emberjs-mongodb.
Ember-Runner
---