Embellisments
Embellish gifts, hats, scarves, or whatever else you can think of with these adorable heart shaped pom poms. Simple directions below. SuppliesScissorsYarn Wrap yarn around fingers (at least 50 times). The more yarn the better. Slip the yarn off your fingers.
Craft Project: Heart Shaped Pom Pom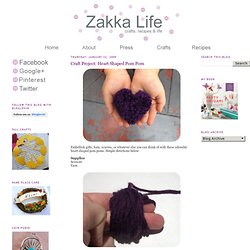 Back during the summer when I got interested in fabric and all those great flowers everyone was making, I tried my hand at a couple. I finally got around to deciding how I might use these flowers and added the pin backs this weekend so it could be a brooch. I made this one from the following you tube video: http://www.youtube.com/watch?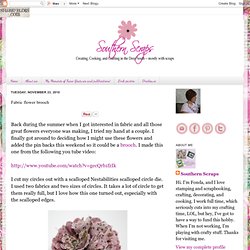 Fabric flower brooch
3 Simple Ways to Share What You Make With Instructables you can share what you make with the world and tap into an ever-growing community of creative experts. Create on the go: Groups » Forums » Answers »
DIY Christian Louboutin "Petal" Sandals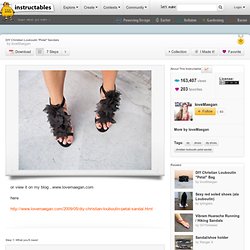 February 6, 2010 1:59 pm Per popular demand, here is the Pratia tank tutorial! Start off with a t-shirt or tank top. What I did was get a larger t-shirt so I could gather it at bottom like the pratia tank. I cut off the sleeves so it would be a tank.
Decorating your 'Quirky Kit' canvas bag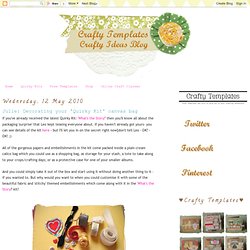 If you've already received the latest Quirky Kit: 'What's the Story?' then you'll know all about the packaging 'surprise' that Leo kept teasing everyone about. If you haven't already got yours- you can see details of the kit here - but I'll let you in on the secret right now[don't tell Leo - OK?
Yes, I am a nerd. I came up with a brilliant idea for a Harry Potter t-shirt and I couldn't resist. "Expecto Patronum!" However, you can make whatever kind of design you want with a freezer paper stencil.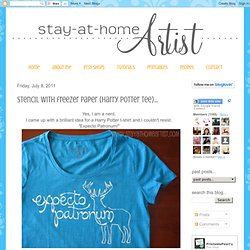 The silk lotus flower is easy to construct, but looks very luxurious. You can make it in any size, but pick fabrics that tend to be stiff, like silk taffeta or dupione. You can singe the edges of the petals with a flame, or just leave the cut edges raw. After you master the basic technique, you can experiment with different petal shapes. Become a Threads Insider today to get access to this and other exclusive Insider-only blog posts. Become an Insider and enjoy unlimited access to: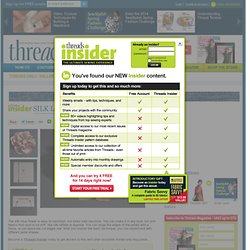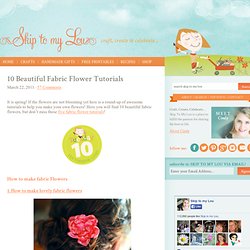 It is spring! If the flowers are not blooming yet here is a round-up of awesome tutorials to help you make your own flowers! Here you will find 10 beautiful fabric flowers, but don't miss these five fabric flower tutorials! 1. How to make lovely fabric flowers
I look at the embellished t-shirts and cardigans at Anthropologie, J. Crew, and even Old Navy -- since last year, these retailers have featured thin, flimsy items with embellishments for $40-$70. I wonder who would buy these items, since looking at them shows that the work involved is quite simple. I'm obviously not the only person thinking these embellishments are easy to do.
How To Create Today's Embellished Tops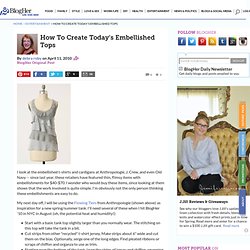 If you're looking for a simple and quick summer project, you've come to the right spot! Here's a list of 101 fresh and fabulous sewing tutorial for Summer! You can find beach chairs, picnic totes, home decor projects and some beautiful summer dresses that I love, love, love!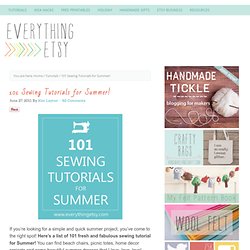 DIY Upcycled Clothing
Thank you for all of the sweet love on my Felt Flower Scarf! Really, my goodness, I didn't expect so many people to be interested in it. I'm happy to share this tutorial for you on how to make one of your own! Materials needed: 1/2 yard of 72" Felt or Felted Wool (this measurement is to be safe... but you'll end up with some extra here for sure.) Scissors Needle and Coordinating Thread *optional - Fast Grab Tacky Glue or Hot Glue *optional - Small hook and eye Let's get started shall we?
Ideas for TeeShirt Embellishing
More Design Please - MoreDesignPlease
Lizzie Water Fall Front Polka Dot Vest Top at boohoo