Infrared
HOW TO: Make infrared goggles
Looking at the coated side of the hot mirror, it seemed to be thin and delicate, scratching if gently touched. Not so. It's an absolute pig to remove. I decided that I would use a slighty abrasive paint renovator cream made by Auto Glym to try and polish it off.
Remove the IR reflective coating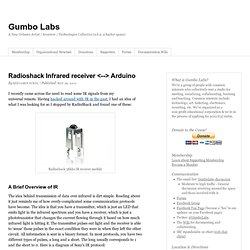 I recently came across the need to read some IR signals from my universal remote. Having hacked around with IR in the past , I had an idea of what I was looking for so I stopped by RadioShack and found one of these: Radioshack 38khz IR receiver module
Radioshack Infrared receiver Arduino
Making an IR object tracking system | Let's Make Robots!
In an earlier tutorial on IR object detection sensors I mentioned that they could be used for object tracking. Now I show you how and my progress so far. I've also posted a challenge based on object tracking to squirt pets with a waterpistol. Object tracking with these sensors is more complicated than object detection so I'm going to try and explain it in more detail here including problems I've had as this is still a work in progress.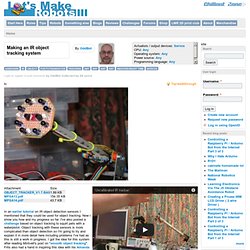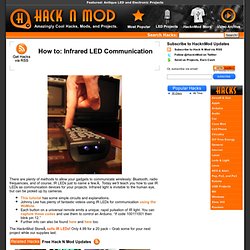 How to: Infrared LED Communication - HacknMod.com - Amazingly Cool Hacks, Mods, and Projects.
There are plenty of methods to allow your gadgets to communicate wirelessly: Bluetooth, radio frequencies, and of course, IR LEDs just to name a few. Today we'll teach you how to use IR LEDs as communication devices for your projects. Infrared light is invisible to the human eye, but can be picked up by cameras. This tutorial has some simple circuits and explanations. Johnny Lee has plenty of fantastic videos using IR LEDs for communication using the WiiMote . Each button on a universal remote emits a unique, rapid pulsation of IR light.
With a digital camera in movie mode, or with a camcorder, the diy infrared filter can also be used to record videos, giving them an eerie and mysterious atmosphere. However, due to the short exposure of video shots, it is hard to get satisfactory results with two pieces film. In the video on the first page of this instructable, as well as the one underneath, the footage was recorded through a single slide of photographic film, which does let in a fair amount of natural light, as well as IR light.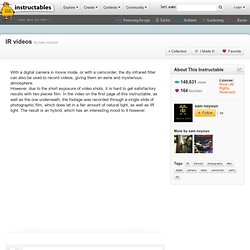 A better diy infrared filter - Take stunning digital IR pictures, and video footage.
Take Infrared Pictures With Your Digital Camera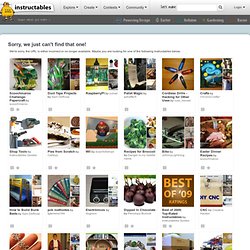 Set the white levels manually, if your camera allows you (refer to the manual on how to do that). Otherwise your pictures will come out red (see picture below). Generally, the lower the ISO, the less grainy your pictures will be. I was able to obtain good results in very average daylight with an ISO of 100, and a shutter speed of 10 seconds. Obviously, a tripod is required for such pictures.
Robot Magazine: Scribbler Robot's IR Capabilities
NightRobot Norris Labs