DIY HOW TO
"A standalone face recognition access control system" project soundbyte We created a standalone face recognition system for access control. Users enroll in the system with the push of a button and can then log in with a different button.
FaceAccess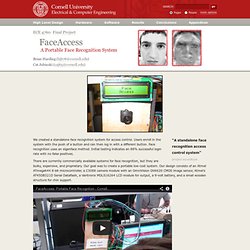 MPR121 Touch Sensor Controller
1394427.pdf (application/pdf Object)
Another clever trick from the world of electronics – Pulse Width Modulation is a simple method for controlling analog devices via a digital signal. It's also a very efficient way to drive motors, lamps, LEDs, & more. If you've ever faded an LED with an Arduino – you've used PWM. But you don't need a microcontroller to generate a PWM signal.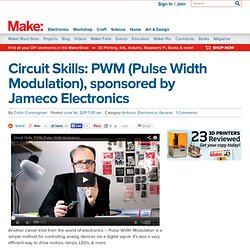 Make: Online | Circuit Skills: PWM (Pulse Width Modulation), sponsored by Jameco Electronics
Circuit Skills: PWM (Pulse Width Modulation)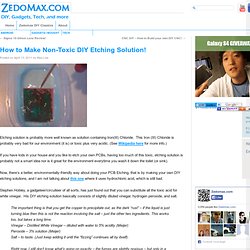 How to Make Non-Toxic DIY Etching Solution!
If you have kids in your house and you like to etch your own PCBs, having too much of this toxic, etching solution is probably not a smart idea nor is it great for the environment everytime you wash it down the toilet (or sink). Now, there's a better, environmentally-friendly way about doing your PCB Etching, that is by making your own DIY etching solutions, and I am not talking about this one where it uses hydrochloric acid, which is still bad.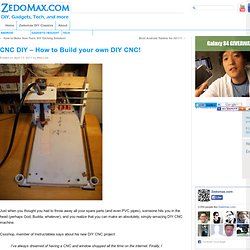 CNC DIY – How to Build your own DIY CNC!
Just when you thought you had to throw away all your spare parts (and even PVC pipes), someone hits you in the head (perhaps God, Budda, whatever), and you realize that you can make an absolutely, simply-amazing DIY CNC machine. Cssshop, member of Instructables says about his new DIY CNC project: I've always dreamed of having a CNC and window shopped all the time on the internet.
World's Smallest DIY USB PC with HDMI Output!
Dino Segovis from HackAWeek.com, has put an excellent tutorial on how to build your own DIY Amplifier for less than $20 with LM386 chip and parts bought from RadioShack. As you can see in the video below, this 1/2 watt DIY amplifier is pretty powerful little amp, all encased in an altoids tin.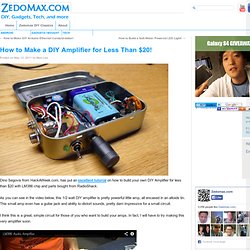 How to Make a DIY Amplifier for Less Than $20!
DIY Geiger Counter Kit!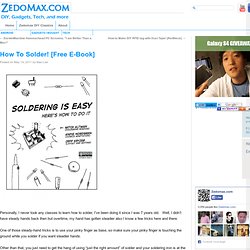 Personally, I never took any classes to learn how to solder, I've been doing it since I was 7 years old. Well, I didn't have steady hands back then but overtime, my hand has gotten steadier also I know a few tricks here and there.
How To Solder! [Free E-Book]
How to Make a Low-Cost DIY Eye-Movement Detector!
Need to add eye-movement detector for your next project?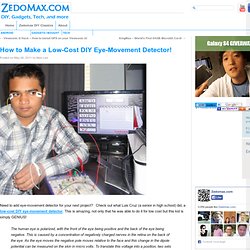 Amazing Lasers! - New 007 Laser Weapon - Revealed!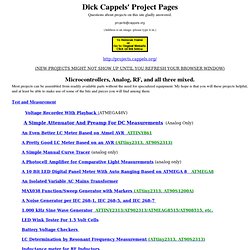 Dick Cappels' Project PagesQuestions about projects on this site gladly answered. (Address is an image -please type it in.) http://projects.cappels.org/ Microcontrollers, Analog, RF, and all three mixed. Most projects can be assembled from readily available parts without the need for specialized equipment.
Electric projects
Details Category: Plugins Published on Saturday, 01 January 2011 00:00 Hits: 5310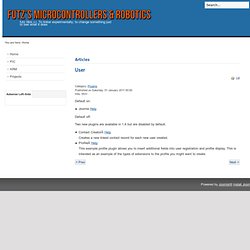 MPR121 Touch Sensor Controller
MPR121 Product Summary Page
There's little that excites us more than a DIY synth, but slapping an arcade-style joystick onto a fuzzy, glitchy, beeping analog monster practically pushes us over the edge. Synth-master Unearthed Circuits has combined four oscillators with various levels of pitch adjustment and come up with Drone Machine; the joystick individually mutes or activates each one. Pitch is either controlled by the cluster of retro knobs in the lower left-hand corner, or can be thrown over to the bank of photo-resistors up near the top.
DIY Drone Machine synth with arcade control