Elearning
The following information is organized to match the sections of the SOAR ® program and details the educational research that supports each section. SOAR ® Section 1 How Are You Smart? Howard Gardner's Theory of Multiple Intelligences 1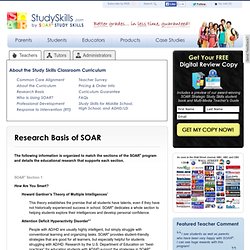 Research Basis of SOAR® - SOAR Study Skills
Bonjour, Voici un classement inspiré d'un article anglophone de Christopher Pappas que j'ai modifié avec notamment un avis sommaire, une sélection différente des logiciels et la licence.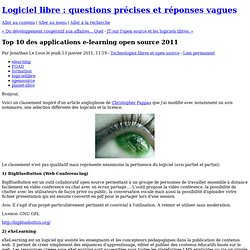 Source: Arsac, G., Germain, G. & Mante, M. (1988). Problème ouvert et situation-problème. Lyon: IREM n° 64 (Institut de Recherche pour l'Enseignement des Mathématiques), Université Claude Bernard. Les trois modèles très succinctement décrits ci-dessous sont autant de manières d'envisager les processus d'apprentissage.
Exploiter Facebook en plate-forme E-learning pour les langues
The Project GREAT – Game-based Learning Research in Education and Training Action is a project funded by the Leonardo da Vinci Multilateral Projects – Transfer of Innovation with the purpose to provide a methodology and a way to use Game-Based Learning by Training Companies/Organizations (focusing on SMEs and on the Social Economy) and VET organizations (including Higher Education) trough the knowledge producers and distributors: Trainers and Teachers. " We talk about creative learning. However, all learning involves some form of destruction, some form of creation and/or particular co-creation...(…) Learn to create, learn how to create disruptions, learning to create innovation, learning to live together to collaborate.
Game Based Learning on Education and Action Training
forum français pour la formation ouverte et à distance New open, social and participatory media clearly have significant potential to transform learning and teaching. They offer learners and teachers a plethora of ways to communicate and collaborate; to connect with a distributed network of peers, and to find and manipulate information. In addition there are now a significant range of free educational resources and tools. While there is great interest in using these new technologies to the benefit of learning and teaching, there seems to be a gap between the promise and reality of the use of technology in education.
Designing for learning
L'apprentissage devient toujours plus rapide, plus beau, parfois au détriment de l'ergonomie et de la pédagogie. Cela peut paraître évident, mais l'expérience utilisateur est très importante dans n'importe quel logiciel. Elle l'est encore plus dans un didacticiel ou tout produit d'apprentissage comme l'EAO, la FAD, ou le elearning. L'apprenant, au centre du dispositif, doit se sentir à l'aise dans cet environnement. Une interface ergonomique va donc faire en sorte de mettre en confiance son esprit et permettre à la formation de remplir plus facilement les objectifs pédagogiques. La conception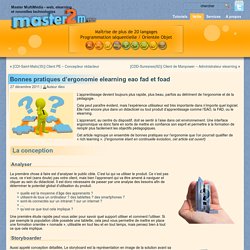 Le droit d'auteur et le droit à l'image - Notion d'Exclusivité
Définition Définition du mot exclusivité selon "Larousse" « Caractère exclusif de quelque chose : L'exclusivité de son goût. » « Propriété exclusive de quelque chose : Nous avons l'exclusivité de ce modèle. » « Chose, objet dont on a la propriété exclusive : C'est une exclusivité de notre magasin. » « Article, information ou document obtenus en priorité par un journal ou réservés à son seul usage pendant une période donnée. » Remarque En matière de propriété intellectuelle, la notion d' « exclusivité » est souvent présente dans les contrats de cession de droits d'auteur. On cède à un tiers et à un seul le privilège d'exploiter l'œuvre dont on est l'auteur.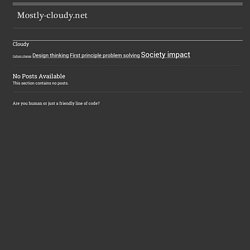 Mythbusting the "Digital Natives" | mostly-cloudy.net
Every time I hear the term Digital Natives, I release the safety-catch of my virtual mythbuster kit! I heard Marc Prentsky speak about three years ago – and he's a man with many interesting points about gamebased learning – he is also known for coining the term " Digital Natives " to refer to the technology savvy youngsters. Now his own use of the term was fairly relaxed – but since then people (often in the public speaking industry) have been nailing down the definition, trying to decide whether 1980 or 1985 is the magic year. Making it sound like every single child born after that year are inherently tech-savvy, almost like some innate Chomskyan natural tech skills… This is usually the point in the conference, where I raise my hand and ask something like: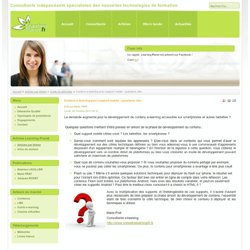 La demande augmente pour le développement de contenu e-learning accessible sur smartphones et autres tablettes ? Quelques questions méritent d'être posées en amont de la phase de développement du contenu : Quel support mobile ciblez-vous ?
Contenu e-learning pour support mobile : questions clés
elearning job - List
Ingénieur techno-pédagogique TICE - CDD - Montpellier - UNIVERSITE DE MONTPELLIER 3 Ingénieur techno-pédagogique, TICE Projet Idefi Université Paul Valéry, Montpellier 3 Informations générales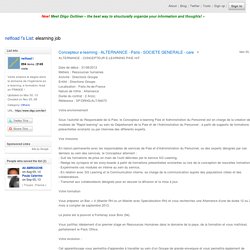 slideshare
Un nouvel élan pour Skolanet : Skolanet e-learning
December 18, 2007
Guild eBooks: 162 Tips and Tricks for Working with e-Learning Tools
100 Mobile Tools for Teachers | Cellphones.org
By Cherrye Moore
E-learning in CIS – 2010-2013 trends of development | E-learning
On the threshold of international educational forum "E-learning Russia: e-learning possibilities today" and international conference E-learn Expo 2010 we've decided to prepare this review of CIS's actual trends of development in 2010-2013. May be our picture is a bit of too corporative perspective, but it's the consequence of Smart education portal's specific character. While working on the review, with the help of experts we managed to formulate 20 key trends of e-learning industry's development in CIS (Commonwealth of Independent States). How did we work? The basis of this review lies in our own experience in observations and analysis of market situation.
Le QR code outil d'aide à la formation?
Laurent Reich propose, sur le Blog de la Formation Professionnelle, 10 idées intéressantes d'usage du QR code dans le cadre de sessions de formation.
We're always excited to find the next best thing.
Guild eBooks: Handbook on Synchronous e-Learning
Video: A Brief History of Tech in Education #edtech – eLearning Blog Dont Waste Your Time | E-Learning-Inclusivo
E-learning pour la formation des formateurs
Offre-090911 - Signus - exemple
Guide scénarisation pédagogique
100 Reasons to Mind Map
outils pour l'elearning/fad
research-and-markets-e-learning
Totara Feature close-up: Competency Frameworks | Totara Insights
Let's Start a Learning Revolution on Vimeo
Learning 3.0
ITworldEdu 2011 Award: Rewarding best educational technology solutions developed and applied in schools and companies
TIES 2012. Call for papers from the critical perspective of the use of IT in Education and Society
Add Interactivity to eLearning
Site News | eLearning 3.0
» Key social learning resources: part 3 Learning in the Social Workplace
Usages pédagogiques du web 2.0
IF@²D Santé Recrute
Self-Organization in Open Online Courses
Quelques sites sur l'actualité du e-learning à découvrir
Reconnaitre les apprentissages informels
Social learning is not the same as social media
Learning In The Future – Exploring Five Themes
2011 Learning Tools Directory - Interactyx
The 4 Passions of an Instructional Designer
Checklist for strong elearning » Making Change
50 Web 2.0 Tools Your Students Want You to Use
360_e-learning20_final
List of OER (Open Educational Resources) Websites | Online and Distance Learning
Газета про e-learning
Заметки про e-learning: Агентурная сеть