Apps for the classroom
Get flash to fully experience Pearltrees
Description The simple way to create your own beautiful iBooks, right on the iPad. Read them in iBooks, send them to your friends, or submit them to the iBookstore. Ideal for children's picture books, photo books, art books, cook books, manuals, textbooks, and the list goes on. ★ The no #1 Book app for the iPad in 54 countries ★ "Book Creator makes e-book publishing easy" - wired.com ★ One of the Top 50 Apps for the iPad - The Guardian ★ Winner of a Parents' Choice Gold Award
More App Info description & screenshots Free TeacherPal by ITWorx Since taking attendance and keeping a gradebook is a regular task for all teachers, having a great solution on your iPhone or iPad is a must. This simple, effective, free, universal app belongs on every teacher's iDevice. Take attendance; track grades and behavior for your students.
iPad: If you've been waiting for a utility that finally lets you take notes on a tablet screen like you would a piece of paper, either with a stylus or with your finger, 7notes for iPad may be the app you've been waiting for. Not many tablet apps really allow you to use your tablet to take notes the way you would if you had a piece of paper, but 7notes changes all of that.
Description Apple lists Notability as the best selling note taker of 2012!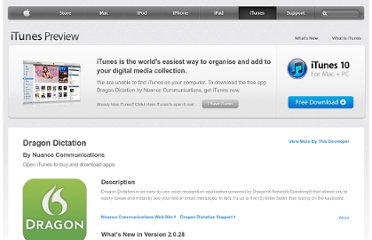 Description Dragon Dictation is an easy-to-use voice recognition application powered by Dragon® NaturallySpeaking® that allows you to easily speak and instantly see your text or email messages. In fact, it's up to five (5) times faster than typing on the keyboard. With Dragon Dictation you can also update your Facebook status, send notes and reminders to yourself, or Tweet to the world….all using your voice. So when you're on-the-go, stop typing and start speaking – from short text messages to longer email messages, and anything in between.
Description ComicBook! is your FULL featured comic book creation app! In just seconds turn yourself and your friends into comic heroes or villains. Star in your own comic book adventures!
Description Create your own unique shows with animation and audio in real time! Simply pick out your actors and backdrops, drag them on to the stage, and tap record.
Description
Description Turn your iPad into your personal interactive whiteboard! ShowMe allows you to record voice-over whiteboard tutorials and share them online. It's an amazingly simple app that anyone can use, no matter how young or old! - Record your ShowMe tutorial right away — no manuals or complicated menus needed - Drop in images onto the whiteboard - Easily switch between drawing and erasing (as well as pausing and playing) to make your ShowMe flow from concept to concept - You can make your ShowMe as long or as short as it needs to be, and record as many ShowMe's as you want.
I love this app. Its great for getting the kids to reflect on what they have learnt. They can replay it if they missed anything, or can repeat what you have taught them by getting them to redraw the lesson. by mrwright Oct 25
Description