Educational Technology
Bodycard 0232
Inside the Flipped Classroom -- THE Journal | The 21st Century. Internet Catalogue. Educational Technology Journals. Infographic: Education and Social Media - Social Media Delivered | The 21st Century. Educational Technology Guy: Game On - Increasing Learning through Online Games | A New Society, a new education! Educational Technology Guy: Game On - Increasing Learning through Online Games | The 21st Century. ICT and Creativity in Education. Educational Technology Guy: The Road Ahead - resources on electricity generation from Discovery Education | The 21st Century. Ten Critical Components That Guarantee Learning Will Stick | The 21st Century | Scoop.it. 60+ educational resources to teach yourself anything. | The 21st Century. The Social Media Alphabet - Social Media Today | The 21st Century.
Teaching Appz - a guide to great educational apps for teachers - The Whiteboard Blog | The 21st Century. Why Making Creative Schools Requires Radical Change | Transformational Leadership. Top 10 Educational Technology Resources for the Classroom (Grades K-12) - TeacherVision.com | The 21st Century. YouTube Launches Site Specifically for Teachers | MindShift | The 21st Century. Blended learning; What is it and why try it? | Educational Technology Services | The 21st Century. Ten Ideas for Exercises in the Virtual Classroom — Web Conference Guru | Collaboration in teaching and learning. Web 2.0 Tools for Math Educators | The 21st Century. Time to Change STEM to STEAM - THE DAILY RIFF - Be Smarter. About Education. | The 21st Century. A physical place for virtual education | The 21st Century. Examples of educational wikis | The 21st Century.
Un-Stuffy Museum: The Louvre Goes High-Tech with Video Console Guides | The 21st Century. Educational Technology and Mobile Learning: PBL – the best teaching method in the 21st century instruction | The 21st Century. The History of Typography - Animated Short | Th... Technology Tidbits: Thoughts of a Cyber Hero: Top 10 Sites for Educational Resources | The 21st Century. Educational Technology Guy: Teacher Evaluations - ideas and lessons from other professions | The 21st Century. EdTech - Insights: Connectivism explained by Freire? | Connectivism.
EQAO Test Results Suggest Child-Centred Learning Can Be Harmful: Education Activist | Our Kids Blog | The 21st Century. Why We Live Longer - Interactive Educational Game | The 21st Century. Education for Change | Transformational Leadership. Itweetlive search tutorial | The 21st Century. Typing Tutor: Fastest Typing Tutor Ever | The 21st Century. Change in education focus has delayed transition to adulthood | The 21st Century. Six Questions for Entrepreneurial Leadership and Innovation in Distance Education | Leadership in Distance Education. Rethinking How We Teach The 'Net Generation' | Media Literacy for the 21st Century. The Evolution of Classroom Technology - Edudemic | The 21st Century. Virtual Classroom Experience to ignite Mass Live Learning | Kirsten Winkler | Leadership in Distance Education. E-Portfolios Across the Educational Landscape: From K-12 to Doctoral Studies | The Sloan Consortium | Leadership in Distance Education. The Purpose of Reflective Practice | Leadership in Distance Education.
How Students Develop Online Learning Skills (EDUCAUSE Quarterly) | EDUCAUSE | Leadership in Distance Education. Leading the way to cyber-learning « Educational Technology | The 21st Century. The 21st century pedagogy teachers should be aware of | The 21st Century. How Is Technology Boosting Our Traditional Educational Experience? | The 21st Century. What's the use of having a teacher?…wayfinding + social sensemaking. | Master en Redes Sociales. Ten Best Practices for Teaching Online | Leadership in Distance Education.
Peer-to-Peer Learning Handbook | Peeragogy.org. Educational Technology: Educational Technology Needs a Lesson Plan | The 21st Century. Educational technology: The evolution of classroom technology | The 21st Century. Juandoming: #Education Week #Teacher:... Online Education Humor: The Spice of Learning | Leadership in Distance Education. The death of Web 2.0 is nigh | Technology | Technology | The Observer. Publisher Tim O'Reilly at a recent conference.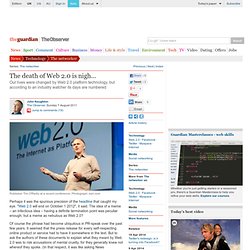 Photograph: esri.com Perhaps it was the spurious precision of the headline that caught my eye. 13 reasons to use educational technology in lessons | The 21st Century. Web 3.0: The way forward? How Can Web 2.0 Curation Tools Be Used in the Classroom? Digital Tools Jeff Thomas "Curation" may be one of the big buzzwords of 2011.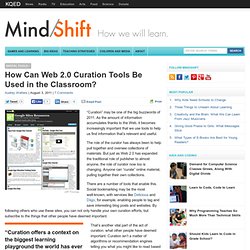 As the amount of information accumulates thanks to the Web, it becomes increasingly important that we use tools to help us find information that's relevant and useful. The role of the curator has always been to help pull together and oversee collections of materials. Free Technology for Teachers: Create Webpages in Minutes With Pagefin | The 21st Century. Free Technology for Teachers: 7 Tools for Collaboratively Creating Image Galleries | The 21st Century. Educational Technology Promotes Visual Literacy | The 21st Century. 108 Ways to Use Word Clouds in the Classroom…Word Clouds in Education Series: Part 2 | The 21st Century. Cloud Computing is simple | The 21st Century. 100 Pages, 100 Keys to Effective Social Media Strategy | The 21st Century. The 21st Century. 21 Things That Will Be Obsolete by 2020.
Big Ideas Digital Tools Flickr: Corey Leopold Inspired by Sandy Speicher's vision of the designed school day of the future, reader Shelly Blake-Plock shared his own predictions of that ideal day.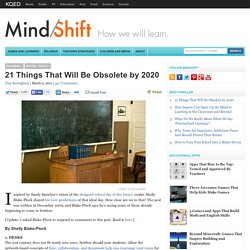 How close are we to this? The post was written in December 2009, and Blake-Plock says he's seeing some of these already beginning to come to fruition. [Update: I asked Blake-Plock to respond to comments to this post. Educational Uses of Digital Storytelling | The 21st Century | Scoop.it. Five Ideas for Quality Control in K-12 Digital Learning. Popplet | Collect, curate and share your ideas, inspirations, and projects! KooBits – Ebook software, digital publishing and marketing | The 21st Century.
Chris Anderson: How web video powers global innovation. Taking 'the fear out of technology' | The 21st ... The Super Book of Web Tools for Educators. Green Eggs & Facebook: 15 Social Media Tips from Dr. Seuss. The older I get the more I realize how smart my mother & Dr.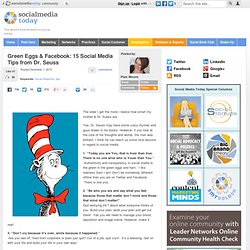 Suess are. Yes, Dr. Student Reporting in Moodle 2.0 video  Welcome to Moodlenews.com A resource site for all Moodle-related news, tutorials, video, course content information and original resources.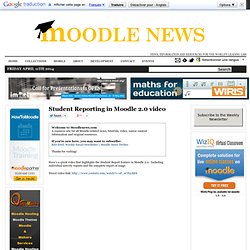 If you're new here, you may want to subscribe: RSS feed| Weekly Email Newsletter | Moodle News Twitter Thanks for visiting! Here's a quick video that highlights the Student Report feature in Moodle 2.0. 13 Influential Women In Technology (PHOTOS) Considering the pace at which technology is progressing, it's important to highlight and recognize the key players in the field that keep innovation going.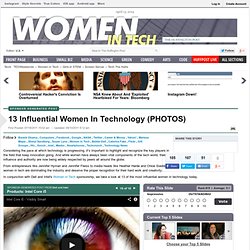 And while women have always been vital components of the tech world, their influence and authority are now being widely respected by peers all around the globe. From entrepreneurs like Jennifer Hyman and Jennifer Fleiss to media heads like Heather Harde and Chloe Sladden, women in tech are dominating the industry and deserve the proper recognition for their hard work and creativity. In conjunction with Dell and Intel's Women in Tech sponsorship, we take a look at 13 of the most influential women in technology today. loading...
8 tech tools for college students. By Mark W.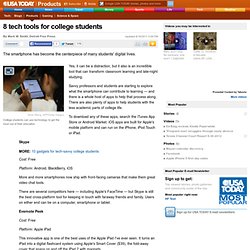 Smith, Detroit Free Press Updated 8/16/2011 3:59 PM The smartphone has become the centerpiece of many students' digital lives. Simin Wang, AFP/Getty Images. 15 Keyboard Shortcuts That Will Enhance Your PC Productivity at www.matchmove.com. Web 3.0: The 'Social Wave' and How It Disrupts the Internet. As far as Travis Katz is concerned, it is impossible to name the single best hotel in Cabo San Lucas or the absolute tastiest cheesesteak in Philadelphia.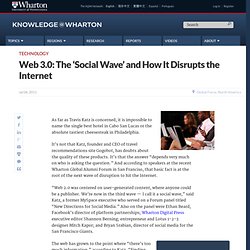 It's not that Katz, founder and CEO of travel recommendations site Gogobot, has doubts about the quality of these products. It's that the answer "depends very much on who is asking the question." And according to speakers at the recent Wharton Global Alumni Forum in San Franciso, that basic fact is at the root of the next wave of disruption to hit the Internet. "Web 2.0 was centered on user-generated content, where anyone could be a publisher. 300 Exabytes: An Inventory of the World's Information - Global Challenges. 2020's Learning Landscape. 2020's Learning LandscapeA Retrospective of Dyslexia David H.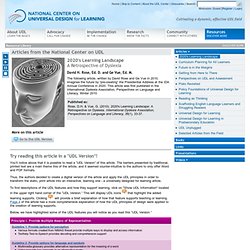 Rose, Ed. D. and Ge Vue, Ed. M. The following article, written by David Rose and Ge Vue in 2010, imagines the future by "pre-creating" the Presidential Address at the IDA Annual Conference in 2020. Create Tutorials in One Click on Tildee ! Creative Education's Lesson Plan Search Engine. We've recently discovered they joy of Google Custom Search engines – you can quite easily create your own – but this time we've done the hard work for you and indexed some of the most popular sites for lesson plans so you can search to your heart's content for lesson plans and resources a plenty.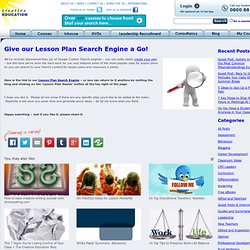 Here is the link to our Lesson Plan Search Engine – or you can return to it anytime by visiting the blog and clicking on the 'Lesson Plan Search' button at the top right of the page. I hope you like it. Please let me know if there are any specific sites you'd like to be added to the index. Hopefully it will save you some time and generate some ideas – do let me know what you think. Happy searching – and if you like it, please share it. Web 2.0. This is hardly a marvel of prophecy, but bear with me... The signs are that this year will be one marked by something of a backlash against social media/ web 2.0/ any internet stuff. I don't mean from the traditional media, who've always been suspicious, but from people who know what they're talking about and have been advocates.
In other words, increasingly 'us lot' will be declaring that this stuff is peripheral, uncool, over- rated, etc. Googlios. Google Cultural Institute Project - where Histo... Q&A: Bill Gates on Teaching, Ed Tech, and P... Complete Class Organizer - Student Assistant for Taking Notes, Recording Lectures, Storing Documents. Description The one app to organize all your classes! Take notes while recording lectures and the audio syncs to the text, manage homework & exam dates, store & calculate grades, and organize info for every class. Back to School, First Days of School - FREE Presentations in PowerPoint format, Free Interactives and Games. Apps in Education.
85+ Resources: Educator Guide for Integrating Social Media. I hope this post will be a handy reference guide, especially for those teachers new to social media technologies and how to integrate them into the classroom. This resource is by no means exhaustive, but it's a good starting point for finding the information and people that will help you make the transition into a '21st century learning environment'. I intend for this to be a wikipost (I will update resources as they are shared with me by others), so feel free to bookmark the page and check in periodically for new material. Enjoy. 50 Reasons to Invite Facebook Into Your Classroom. Teaching Strategies Uncategorized Lenny Gonzalez Editor's Note: It's not an easy decision to bring Facebook into the classroom. Organize your resources in an online binder - LiveBinders.
The Anatomy Of An Infographic: 5 Steps To Create A Powerful Visual | SpyreStudios | The 21st Century. Educational Technology and Mobile Learning: Top 36 Social Networks for Educators | Educación y TIC. Distance Learning Universities – Tips for the Global Citizen | Leadership in Distance Education. Study assesses how megafoundations have changed role of higher ed philanthropy - Inside Higher Ed | Leadership in Distance Education. Hamdan Bin Mohammed e-University attains International Council for Open and Distance Education membership | Leadership in Distance Education.
---