Educational technology
Search Result
Top 3 Ways to Make Your Search More Accurate Most of the time, you just want to find content that has a particular phrase. Here are the three easiest steps to get what you want: Enclose your search phrase in quotes. A search for "black cat" is going to return content with the phrase "black cat".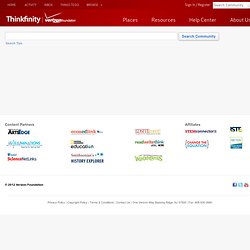 Create online Make movies in minutes from any web browser anywhere. Express your opinion Share a joke with friends Bring creative ideas to life Send unique invites or greetings Sign Up for your FREE account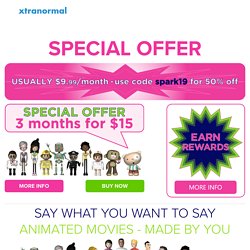 With the start of the new school year, many teachers and students are seeking new products and technologies to help them through their upcoming academics. With the increase of teachers using blogs and wikis, and students networking and utilizing online tools, the demand for easier and more efficient ways of learning is on the rise. To me, the growing interest for web-based learning is amazing, which brought me to thinking; what if I were to consolodate some of the helpful online products and services that can help students, teachers and administrators alike? Well, I convinced myself. The following is a compilation of Web 2.0 products that I've personally researched and tested.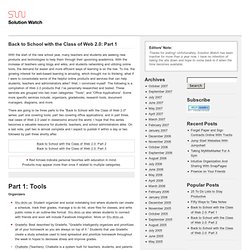 www.comancheisd.net/default.aspx?name=TechTools
ActivInspire - List
Educational Technology and Mobile Learning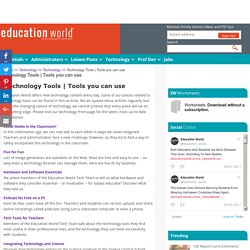 Education World offers new technology content every day. Some of our pieces related to technology tools can be found in this archive. We do update these aritcles reguarly, but given the changing nature of technology, we cannot promse that every piece will be on the cutting edge.
Technology Tools | Tools you can use
There are many free options for creating surveys on the web. Yarp may be the simplest of all the options. Using Yarp you can a simple one question survey or one line event invitation.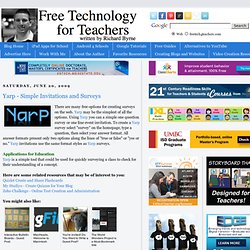 Yarp - Simple Invitations and Surveys
ALTEC, the umbrella organization for the 4teacher tools, manages the Technology Rich Classroom (TRC),Title II-D initiative in Kansas. Take a look at the powerful 21st Century learning taking place in these classrooms! 4Teachers.org works to help you integrate technology into your classroom by offering online tools and resources. This site helps teachers locate and create ready-to-use Web lessons, quizzes, rubrics and classroom calendars. There are also tools for student use.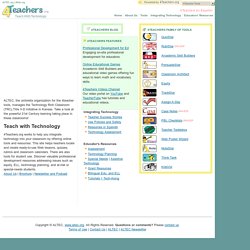 Web Doc is a new service that is best described as a blog platform that offers rich multimedia commenting. If you've ever tried Tumblr, Web Doc will initial look familiar to you. Web Doc makes it easy to create a new post full of multiple media formats. Web Doc provides templates for changing the visual background of each post, widgets for all kinds of purposes (calendar, games, etc), and of course lots of options for video and image display. What makes Web Doc unique is that people who visit your Web Doc can reply with Web Docs of their own. In other words, the comments written in reply to your Web Doc can contain all of the rich multimedia elements that a Web Doc started from scratch can contain.
Web Doc - Multimedia Conversations Made Easy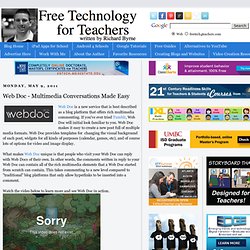 Ideas For Great Lessons | An Expat Educator in Asia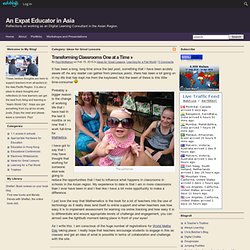 Transforming Classrooms One at a Time » By Paul McMahon on Feb 15, 2010 in Ideas for Great Lessons, Learning for a Flat World | 5 Comments It has been a long, long time since the last post, something that I have been acutely aware of! As any reader can gather from previous posts, there has been a lot going on in my life that has kept me from the keyboard.
Literacy & Technology Integration at The Literacy Web
The Internet Is Rich With Free Tools for Educators. Here's A Bunch. I've been meaning to put together this list of the many free apps that I've blogged about, and make it available as a tabbed section on the site. I've got the list mostly together now and realized it would make for a nice mid-week post. All of the articles below reference free technologies and/or resources.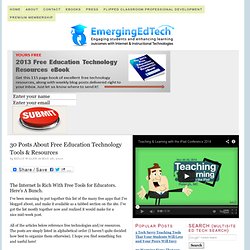 K-12 Home | English | Math | Science | Social Studies SOL Review websites tests, games, and practice sol websites Teacher Resources ideas, SOL flash cards, posters, bubble sheet, textbook resources, online manipulatives, web sites, etc.
RCPS