Educational technology
Search Result
Top 3 Ways to Make Your Search More Accurate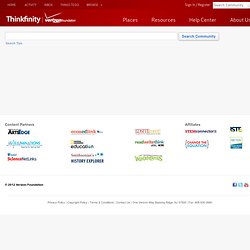 With the start of the new school year, many teachers and students are seeking new products and technologies to help them through their upcoming academics.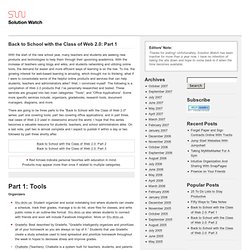 www.comancheisd.net/default.aspx?name=TechTools
ActivInspire - List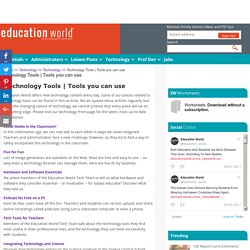 Education World offers new technology content every day. Some of our pieces related to technology tools can be found in this archive. We do update these aritcles reguarly, but given the changing nature of technology, we cannot promse that every piece will be on the cutting edge.
Technology Tools | Tools you can use
There are many free options for creating surveys on the web. Yarp may be the simplest of all the options. Using Yarp you can a simple one question survey or one line event invitation. To create a Yarp survey select "survey" on the homepage, type a question, then select your answer format. All answer formats present only two options along the lines of "true or false" or "yes or no." Yarp invitations use the same format styles as Yarp surveys.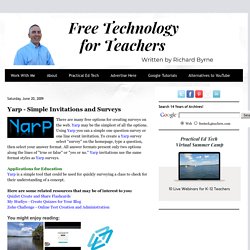 Yarp - Simple Invitations and Surveys
Web Doc is a new service that is best described as a blog platform that offers rich multimedia commenting. If you've ever tried Tumblr, Web Doc will initial look familiar to you. Web Doc makes it easy to create a new post full of multiple media formats.
Web Doc - Multimedia Conversations Made Easy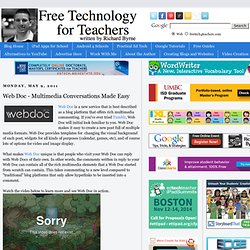 Ideas For Great Lessons | An Expat Educator in Asia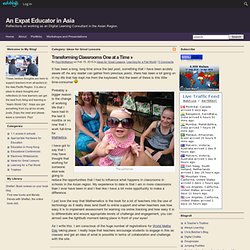 Transforming Classrooms One at a Time »
Literacy & Technology Integration at The Literacy Web
The Internet Is Rich With Free Tools for Educators.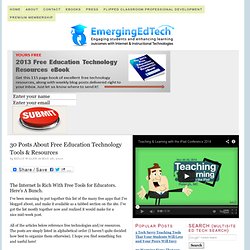 K-12 Home | English | Math | Science | Social Studies SOL Review websites tests, games, and practice sol websites Teacher Resources ideas, SOL flash cards, posters, bubble sheet, textbook resources, online manipulatives, web sites, etc.
RCPS