Wordpress
Microformats. Mimbo. About BuddyPress. About BuddyPress is a powerful plugin that takes your WordPress.org powered site beyond the blog with social-network features like user profiles, activity streams, user groups, and more.
Some fantastic uses might be: A campus wide social network for your university, school or college.An internal communication tool for your company.A niche social network for your interest topic.A focused social network for your new product. If you're using BuddyPress in a unique or interesting way, be sure to let people know on the forums; we're always interested! Using WordPress for a Course Website. 10 excellents thèmes gratuits pour WordPress - Geek. Bust A Theme. WP Themes News | All the buzz about Free and Premium Wordpress Themes. 13 Wordpress Magazin-Themes | Blogs | Dr. Web Weblog. Webdesign Javascript Wallpaper Icons Fonts WordPress.
Free WordPress Themes | Quality free WordPress Themes. Plugin wordpress de gestion des droits. Sous wordpress, il existe plusieurs niveaux / rangs d'utilisateurs, dans l'ordre: Abonné, contributeur, auteur, éditeur et administrateur.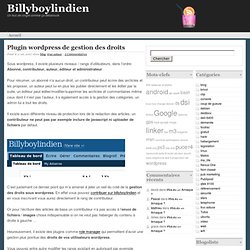 Pour résumer, un abonné n'a aucun droit, un contributeur peut écrire des arcticles et les proposer, un auteur peut lui en plus les publier directement et les éditer par la suite, un éditeur peut éditer/modifier/supprimer les arcticles et commentaires même ceux dont il n'est pas l'auteur, il a également accès à la gestion des catégories, un admin lui a tout les droits. Il existe aussi différents niveau de protection lors de la redaction des articles, un contributeur ne peut pas par exemple inclure de javascript ni uploader de fichiers par defaut. C'est justement ce dernier point qui m'a amener à jeter un oeil du coté de la gestion des droits sous wordpress. En effet vous pouvez contribuer sur billyboylindien et en vous inscrivant vous aurez directement le rang de contributeur. Free Themes | JAUHARI 2.1. Tutoriels: Créez le design de votre blog Wordpress avec Photoshop! Après la création des templates pour un thème WordPress et les tutoriels sur le référencement pendant l'été, il est temps d'aborder toute la partie design du blog.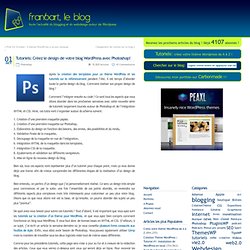 Comment réaliser son propre design de blog ? Comment l'intégrer ensuite au code ? Free Wordpress Themes and More at Fresheezy!
---