wordpress
Get flash to fully experience Pearltrees
About BuddyPress was conceived in 2008 while working to add social networking features to a WordPress MU powered site. The first official stable release was in May 2009. The platform has grown and morphed considerably since then, into the dynamic, easily extensible package you see today. Just like its parent project WordPress, BuddyPress is a completely open source endeavor.
Webdesign Javascript Wallpaper Icons Fonts WordPress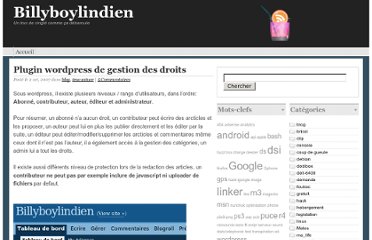 Sous wordpress, il existe plusieurs niveaux / rangs d'utilisateurs, dans l'ordre: Abonné, contributeur, auteur, éditeur et administrateur . Pour résumer, un abonné n'a aucun droit, un contributeur peut écrire des arcticles et les proposer, un auteur peut lui en plus les publier directement et les éditer par la suite, un éditeur peut éditer/modifier/supprimer les arcticles et commentaires même ceux dont il n'est pas l'auteur, il a également accès à la gestion des catégories, un admin lui a tout les droits. Il existe aussi différents niveau de protection lors de la redaction des articles, un contributeur ne peut pas par exemple inclure de javascript ni uploader de fichiers par defaut. C'est justement ce dernier point qui m'a amener à jeter un oeil du coté de la gestion des droits sous wordpress . En effet vous pouvez contribuer sur billyboylindien et en vous inscrivant vous aurez directement le rang de contributeur.
WordPress est certainement LA plateforme de blogging opensource la plus populaire et la plus aboutie. Des centaines (voire des milliers) d'applications, de plugins, de templates…. sont proposés et disponibles un peu partout sur la toile. Dans cet article nous vous avons compilé notre Top +100. Enjoy !
Après la création des templates pour un thème WordPress et les tutoriels sur le référencement pendant l'été, il est temps d'aborder toute la partie design du blog. Comment réaliser son propre design de blog ? Comment l'intégrer ensuite au code ?