InternetLearningAcademy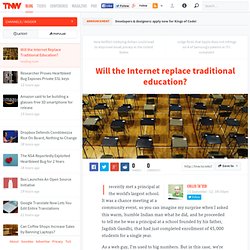 I recently met a principal at the world's largest school.
Will the Internet Replace Traditional Education?
Coursera's Huge Online Classes Roar Into Brazil, India and China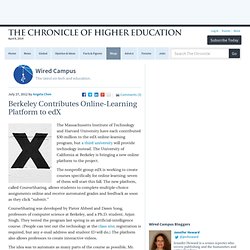 Berkeley Contributes Online-Learning Platform to edX - Wired Campus
The Massachusetts Institute of Technology and Harvard University have each contributed $30-million to the edX online-learning program, but a third university will provide technology instead. The University of California at Berkeley is bringing a new online platform to the project.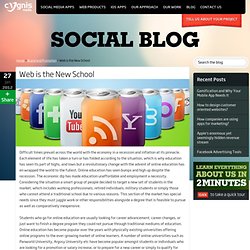 Difficult times prevail across the world with the economy in a recession and inflation at its pinnacle.
Web is the New School - Cygnis Media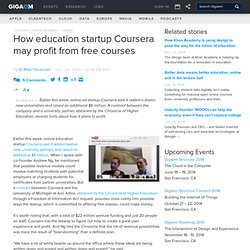 Earlier this week, online education startup Coursera said it added twelve new university partners and raised an additional $6 million.
How education startup Coursera may profit from free courses
Consortium of Colleges Takes Online Education to New Level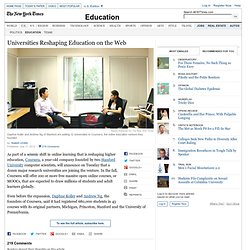 Even before the expansion, Daphne Koller and Andrew Ng, the founders of Coursera, said it had registered 680,000 students in 43 courses with its original partners, Michigan, Princeton, Stanford and the University of Pennsylvania.
A Video Critique of Khan Academy | Wired Science
This is a great idea. Dan Meyer and Justin Reich are sponsoring the MTT2K Prize.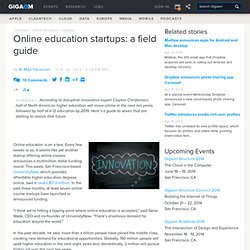 Online education startups: a field guide
Online education is on a tear. Every few weeks or so, it seems like yet another startup offering online classes announces a multimillion dollar funding round. This week, San Francisco-based UniversityNow, which provides affordable higher education degrees online, said it raised $17.3 million.
Faculty members are far less excited by, and more fearful of, the recent growth of online education than are academic technology administrators, according to a new study by Inside Higher Ed and the Babson Survey Research Group. But professors are hardly the luddites many still assume them to be.
Conflicted: Faculty and Online Education, 2012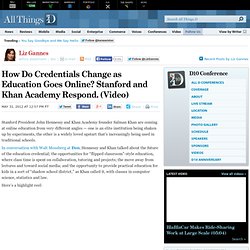 Stanford President Hennessy and Khan Academy Founder Khan (Video) - Liz Gannes - D10
Stanford President John Hennessy and Khan Academy founder Salman Khan are coming at online education from very different angles — one is an elite institution being shaken up by experiments, the other is a widely loved upstart that's increasingly being used in traditional schools.
Top Schools from Berkeley to Yale Now Offer Free Online Courses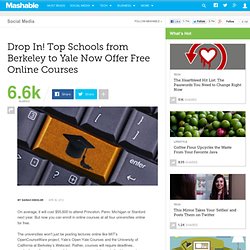 On average, it will cost $55,600 to attend Princeton, Penn, Michigan or Stanford next year.
The Internet is revolutionizing education, as several companies and organizations disrupt the online education space including Open Yale, Open Culture, Khan Academy, Academic Earth, P2PU, Skillshare, Scitable and Skype in the Classroom.
Coursera Raises $16 Million To Bring Free Online Education to Millions
Stanford Professors Launch Online University Coursera - Liz Gannes
There seems to be something in the water at Stanford University that's making faculty members leave their more-than-perfectly-good jobs and go teach online.
Sebastian Thrun and Peter Norvig in the basement of Thrun's guesthouse, where they record class videos.Photo: Sam Comen Stanford doesn't want me.
Khan Academy and the Effectiveness of Science Videos | Action-Reaction
This must-watch video is from our friend Derek Muller, physics educator and science video blogger.
Khan Academy Gets $5 Million to Expand Faculty & Platform & to Build a Physical School
by Maria Popova
Mathemagician Vi Hart Explains Spirals and Fibonacci Numbers in Doodles and Vegetables
Stanford Professor Gives Up Teaching Position, Hopes to Reach 500,000 Students at Online Start-Up - Wired Campus
Learn How Model Thinking Can Make You a Better Thinker
Why Get a Pricey Diploma When a Badge Will Do?
4 Reasons Your Brain Loves to Learn Online
In 2011: How the Internet Revolutionized Education
Virtual Schools Booming As States Mull Warnings
The Cassiopeia Project: Free Science Education Online
Khan Academy founder: "Helping people is more important than making money"
Khan Academy Triples Unique Users To 3.5 Million