Helping Every Student
Get flash to fully experience Pearltrees
My staff describe it as a "year of wonder."
Recently we presented an in-service to the Board of Education on The Digital Foundations of Teaching and Learning: Preparing for a Future that is Here Today . An abbreviated slideshare is included below.
Key Questions Right Now: What practical steps can educators take to personalize learning for their students in 2012–13, and how can technology facilitate this? The Big Picture: How close are we to being able to realize the dream of personalized, differentiated, passion-based learning for educators and students, and what still has to happen to make this fully real?
I write this blog to share ideas and resources with teachers, parents, and young people. This community supports those interested in sharing ideas about learning in ways that are innovative and relevant to generation text. Disclaimer: The opinions expressed in The Innovative Educator are strictly those of Lisa Nielsen and its contributors.
Order "Teaching Generation Text" at this link . What's it about?
On August 4-6, 2010, more than 150 invited education leaders convened in Boston around the need for the systemic redesign of our K-12 education system to one that is centered on the personalized learning needs of each student. Attendees identified the top 10 essential elements and policy enablers.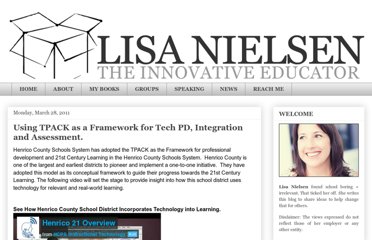 Henrico County Schools System has adopted the TPACK as the Framework for professional development and 21st Century Learning in the Henrico County Schools System.