Education sites
Around The World with 80 Schools.
Blogs
21st Century Schools. 21st Century Teacher. We have heard alot about the 21st Century Learner.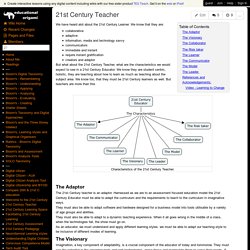 We know that they are:collaborativeadaptiveinformation, media and technology savvycommunicatorsimmediate and instantrequire instant gratificationcreators and adaptorBut what about the 21st Century Teacher, what are the characteristics we would expect to see in a 21st Century Educator. We know they are student centric, holistic, they are teaching about how to learn as much as teaching about the subject area. We know too, that they must be 21st Century learners as well. But teachers are more than this The 21st Century teacher is an adaptor. Harnessed as we are to an assessment focused education model the 21st Century Educator must be able to adapt the curriculum and the requirements to teach to the curriculum in imaginative ways.
The 21st Century Teacher. Edublogs – education blogs for teachers, students and institutions. K-12 Education & Learning Innovations with Proven Strategies that Work. Bully | March 30 | Official Site. K5 Stars - Don't let your kids fall behind! - Educational Games for Kids. Give Your Child a Boost with Over 300 Fun Online Games!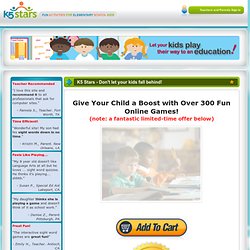 (note: a fantastic limited-time offer below) Click the button above to join for less than 6 cents a day. Is homework a nightly struggle, for both you and your child? Virtual Field Trips. Home Browse: By Categories All Administrator ResourcesAssessment & Review Blended LearningBloggingBundles & ToolkitsBusiness EducationClassroom ManagementCollege & Career ReadinessCommon CoreCommunication & CollaborationDesktop ApplicationsDifferentiated LearningDigital CitizenshipDigital MediaDigital StorytellingESL/ELLGoogleInteractive WhiteboardsInternet SearchesiPads & Mobile LearningLearning Theories & StrategiesMembershipsNETS-TOrganizational & Time-saving ToolsPersonal EnrichmentPodcastingReading & WritingResponse to Intervention (RTI)School SafetySocial MediaSpecial Education STEMTech Integration BasicsTools for Student ProjectsVirtual LearningWeb Tool OverviewsWebsite CreationWikisWorkplace more...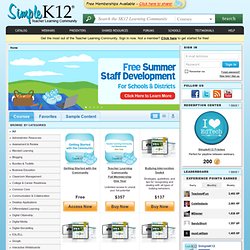 SelfDesign Global | Nurturing the Love of Learning. LVL Homepage. Dr.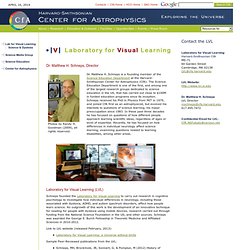 Matthew H. Schneps, Director Laboratory for Visual Learning (LVL) Yale Center For Dyslexia & Creativity. Project-Based Learning. Why You Need a Personal Learning Network [video] Home » Classroom Technology, Education Today I get to share with you something special - a sneak peek of one of our EdTech UNconference Sessions!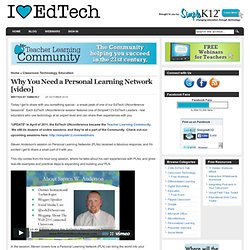 Each EdTech UNconference session features one of SimpleK12's EdTech Leaders - real educators who use technology at an expert level and can share their experiences with you. *UPDATE* In April of 2011, the EdTech UNconference became the Teacher Learning Community. World Education. CAST: Center for Applied Special Technology. The GoodWork Project | Excellence Ethics Engagement. Scratch | Home | imagine, program, share. Digital Age with Jim Zirin. The e5 Instructional Model. <div class='noindex'>You may be trying to access this site from a secured browser on the server.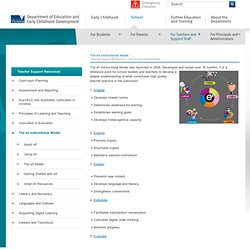 Please enable scripts and reload this page. </div> Turn on more accessible mode.
---