Nuevas Tendencias
Modern Trends In Education: 50 Different Approaches To Learning. Modern Trends In Education: 50 Different Approaches To Learning by Lisa Chesser, opencolleges.edu.au Education sprouts in many forms depending on how you look at it.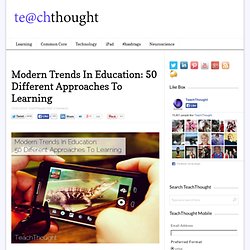 Our views of what it should look like and how it should materialize depend on our value of it and our experience with it. What if a class consisted of words that led to information that whirled into blended realms of creativity set up just for students, created by students. 20 Options for Real-Time Collaboration Tools. About ETR Community EdTechReview (ETR) is a community of and for everyone involved in education technology to connect and collaborate both online and offline to discover, learn, utilize and share about the best ways technology can improve learning, teaching, and leading in the 21st century.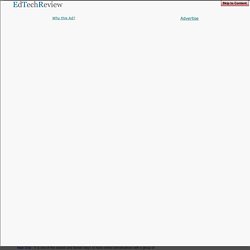 EdTechReview spreads awareness on education technology and its role in 21st century education through best research and practices of using technology in education, and by facilitating events, training, professional development, and consultation in its adoption and implementation. Las 12 tendencias en las tecnologías educativas de los próximos cinco años. El reporte anual de New Media Consortium (NMC) y EDUCAUSE Learning ha sido publicado y presenta interesantes predicciones sobre las tendencias en las tecnologías educativas en los próximos cinco años.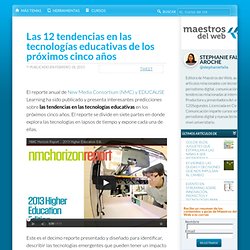 El reporte se divide en siete partes en donde explora las tecnologías en lapsos de tiempo y expone cada una de ellas. Este es el decimo reporte presentado y diseñado para identificar, describir las tecnologías emergentes que pueden tener un impacto en el aprendizaje, la enseñanza y la investigación creativa en la educación superior. Puede descargarse en su versión .PDF en este enlace: Download the NMC Horizon Report > 2013 Higher Ed Edition. Tendencias en 1 año o menos. How To Use Social Content Curation For Marketing Your Brand: 10 Tips.
I'm seeing more Scoopit links in my Twitter stream and I'm not crazy about it.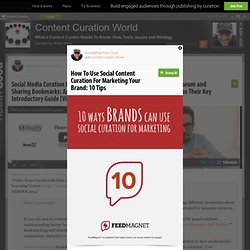 Sure it's quick and easy to share with Scoopit. But it not quick and easy to consume. For me it's all about the econ... Marty Note (here is comment I wrote on Dr. V's blog) Fundación Telefónica - Curalia: Red educativa de selección, curación y compartición de contenidos. Footprints of emergence | Williams. Roy Trevor Williams (1), Jenny Mackness (2), and Simone Gumtau (1) (1) University of Portsmouth, United Kingdom, (2) Independent Consultant, United Kingdom Abstract It is ironic that the management of education has become more closed while learning has become more open, particularly over the past 10-20 years.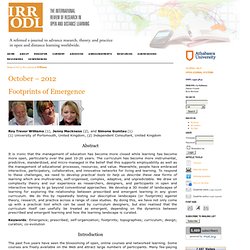 The curriculum has become more instrumental, predictive, standardized, and micro-managed in the belief that this supports employability as well as the management of educational processes, resources, and value. Meanwhile, people have embraced interactive, participatory, collaborative, and innovative networks for living and learning.
MicroLearning
BYOD (Bring Your Own Device) Networked Learning. Game-Based Learning. MOOC (Masive Open Online Courses) Othervoices » Blog Archive » The Role of Libraries and Information Professionals in OER Initiatives. Gema Bueno de la Fuente of the University Carlos III of Madrid reports on the outputs of a survey, undertaken with R.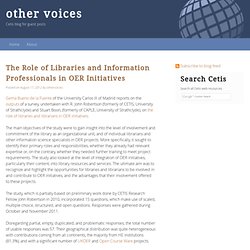 John Robertson (formerly of CETIS, University of Strathclyde) and Stuart Boon, (formerly of CAPLE, University of Strathclyde), on the role of libraries and librarians in OER initiatives. The main objectives of the study were to gain insight into the level of involvement and commitment of the library as an organizational unit, and of individual librarians and other information science specialists in OER projects.
E-Learning 2.0: la nueva tendencia de capacitación en las empresas. El interés de las empresas por implementar programas de formación orientados a garantizar resultados de negocio, se evidencia en el crecimiento de una modalidad que está cambiando la forma en que aprendemos, al involucrar herramientas y servicios de la Web 2.0 en los procesos educativos.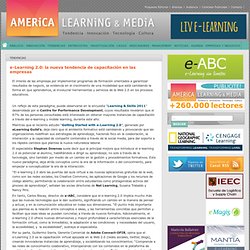 Un reflejo de este paradigma, puede observarse en la encuesta "Learning & Skills 2011" desarrollada por el Centre for Performance Development, cuyos resultados revelaron que el 87% de los personas consultadas está interesado en obtener mayores instancias de capacitación a través del e-learning y mobile learning, durante este año. Internet Society - Los líderes de Internet. The success of the Internet is not an accident.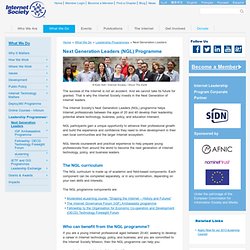 And we cannot take its future for granted. That is why the Internet Society invests in the Next Generation of Internet leaders.
---