EduBlogs and Wiki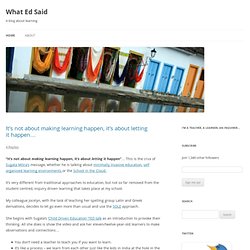 This guest post was written by Tali, a pre-service teacher in her final year of studying to be a primary school teacher. You may have read an earlier guest post by a pre-service teacher in the UK – A conversation with Tali indicates that it's not much better in Australia. Why can't so called education experts figure out how to prepare teachers? Recently, I was informed that technology is dangerous.
The Ignite Show
MegOrmiston
#BYOTchat | A web site for the #BYOTchat twitter chat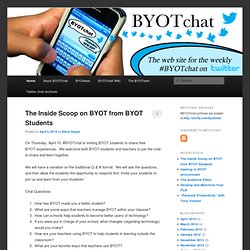 Two Years of BYOTChat, a Retrospective Last week's chat marks #BYOTChat's second anniversary! In a fit of nostalgia, I looked back for the original call to action that Steve Hayes @SteveHayes_RB60 sent out.
Assembling talking points, lists, and tedious outlines is a rather drab exercise that neither challenges your creative abilities or leads to a rewarding experience for you or your audience. But if you are going to do something different, if you are going to craft a talk that engages, illuminates, and even inspires, then the preparation is going to take creativity. This is especially true for the creation of a short-form presentation such as a TED/TEDx talk, or an Ignite or Pecha Kucha presentation, etc. In spite of much our formal schooling's efforts to mold us into compliance seekers rather than curious and intelligent creatives, we are still at our core creative beings. Creativity is in all of us—in fact it's who we are. And yet, regardless of our professions, we can benefit greatly from being even more creative.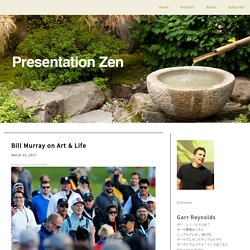 Educational Origami is a blog and a wiki, about 21st Century Teaching and Learning. This wiki is not just about the integration of technology into the classroom, though this is certainly a critical area, it is about shifting our educational paradigm. The world is not as simple as saying teachers are digital immigrants and students digital natives.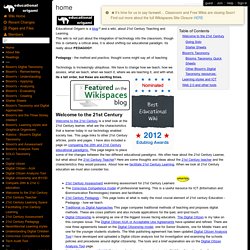 The acronym BYOT stands for Bring Your Own Technology, and this practice is also referred to as BYOD – Bring Your Own Device. It is an initiative that is having an impact in business as well as education. From a user's point of view, there are so many forms of technology devices that are capable of being customized to one's needs and interests. As students utilize their personal technology devices, they can become more proficient with them than they do with school-owned devices. When they bring their own technology tools to school, they can learn new ways to use them for learning purposes as they collaborate and interact with their teachers and each other to research information, solve complex problems, create original products, and publish their work to show what they have learned. Social Learning
About BYOT
Had a long year? Then maybe it's time to have a laugh. Here are some of my favourite Christmas jokes. "I once bought my kids batteries for Christmas with a note saying, toys not included." (Bernard Manning).
Tony Ryan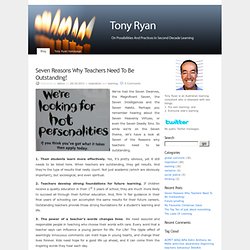 #BYOTchat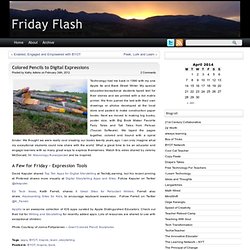 Technology had me back in 1990 with my one Apple IIe and Bank Street Writer. My special education/exceptional students typed text for their stories and we printed with a dot matrix printer. We then paired the text with their own drawings or photos developed at the local store and pasted to make construction paper books.
Friday Flash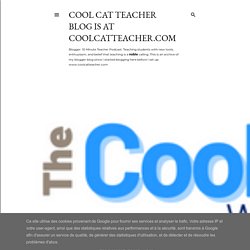 It is official, I'm moving from Blogger to Wordpress. It has taken almost 4 months but it is as ready as it is going to get. I've powered up the wordpress over at coolcatteacher.com and made the jump from weebly. (nothing against weebly, it is a great place for static sites.) I thought some of you might want to know why I am moving and also how I did it: My new blog is on Wordpress using the Get Noticed theme.
This is a guest post from Samantha Morra of EdTechTeacher.org, an advertiser on Free Technology for Teachers. Many of us using technology in the classroom find ourselves caught between two worlds: Apple and Google. Apple's iPad is a fantastic tool in the classroom which provides students with various opportunities to consume, create, and communicate. Similar to a swiss-army knife, it is only limited by how we choose to use it. At the same time, Google apps provide students with cloud-based services, from search to document creation and sharing, that work seamlessly on iPad. So, what are some of the best ways to experience Google on the iPad?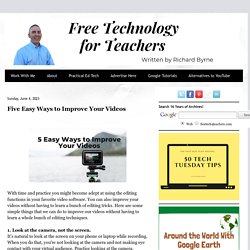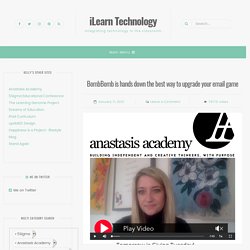 It's hard to describe to people all of the magic that happens at Anastasis on a daily basis. It really does feel like something special, a magical quality of falling down the rabbit hole into another world where school is fun and challenging and wonderful. The learning that happens here is very organic, it lacks a formulaic approach.