Blogs / Sites
Your Subtitle text Resources Hot Topics in Technology It is difficult for users to keep up with what is new and important in the world of digital technology. This page has been created to provide some resources for teachers/parents/users on some of the latest technological changes.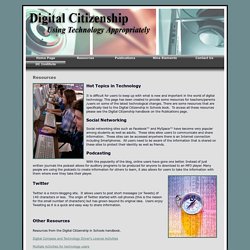 Resources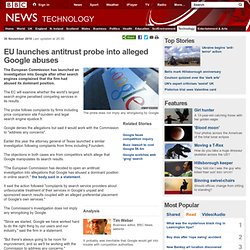 30 November 2010 Last updated at 15:30 ET The probe does not imply any wrongdoing by Google The European Commission has launched an investigation into Google after other search engines complained that the firm had abused its dominant position. The EC will examine whether the world's largest search engine penalised competing services in its results. The probe follows complaints by firms including price comparison site Foundem and legal search engine ejustice.fr. Google denies the allegations but said it would work with the Commission to "address any concerns".
EU launches antitrust probe into alleged Google abuses
Insafe blog - Insafe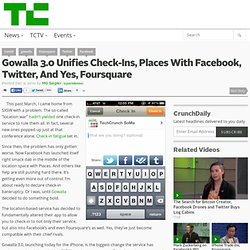 Gowalla 3.0 Unifies Check-Ins, Places With Facebook, Twitter, And Yes, Foursquare
This past March, I came home from SXSW with a problem. The so-called "location war" hadn't yielded one check-in service to rule them all. In fact, several new ones popped up just at that conference alone. Check-in fatigue set in.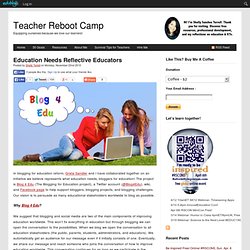 Education Needs Reflective Educators
Posted by Shelly Terrell on Monday, November 22nd 2010 In blogging for education reform, Greta Sandler and I have collaborated together on an initiative we believe represents what education needs, bloggers for education! The project is Blog 4 Edu (The Blogging for Education project), a Twitter account ( @Blog4Edu ), wiki, and Facebook page to help support bloggers, blogging projects, and blogging challenges.
30 November 2010 · No Comments · Uncategorized The Confessions of a Bibiophile This post was partly inspired by Dan Brown's " An Open Letter to Educators ". After some days of mulling, my grey cell finally asked itself "When was the last time you recommended a text book to your students?". The answer is "never". So how do I provide texts to students, and am I using appropriate technologies?
The Book is Dead! Long Live the Book! | A techie's view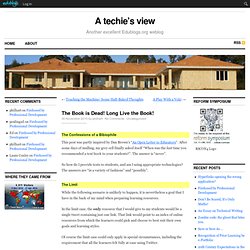 The future of cloud computing
Teaching in the clouds | Home