EdTech Blogs
7 Ways to Use Technology With Purpose. Why are you using technology?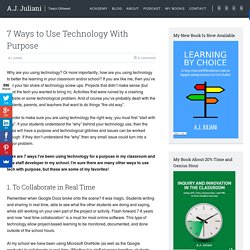 Or more importantly, how are you using technology to better the learning in your classroom and/or school? If you are like me, then you've had your fair share of technology screw ups. Projects that didn't make sense (but used the tech you wanted to bring in). Activities that were ruined by a crashing website or some technological problem. Joanqueralto.visibli.com/share/J76PvP. Teaching English with Technology. 30 Web Sites to Teach You About Technology Integration. Edvoices | greggfesta.
Top 100 Education Blogs. Education blogs are becoming a means for educators, students, and education administrators to interact more effectively than ever before.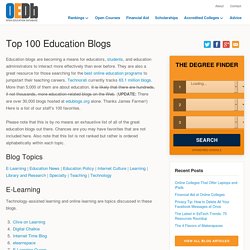 They are also a great resource for those searching for the best online education programs to jumpstart their teaching careers. Technorati currently tracks 63.1 million blogs. More than 5,000 of them are about education. It is likely that there are hundreds, if not thousands, more education-related blogs on the Web. (UPDATE: There are over 30,000 blogs hosted at edublogs.org alone. Top 50 Education Technology Blogs. Education technology has many supporters in its movement to alter traditional teaching methods.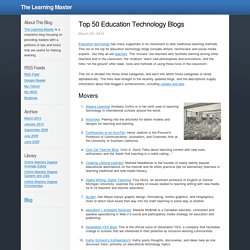 This list of the top 50 education technology blogs includes writers, technicians and social media experts…but they all are teachers. The "movers" are teachers who facilitate learning among other teachers and in the classroom, the "shakers" teach new philosophies and innovations, and the folks "on the ground" offer news, tools and methods of using those tools in the classroom. This list is divided into those three categories, and each link within those categories is listed alphabetically. E-learning. The Best Education Technology Blogs | Campus & Online Degree Programs | WorldWideLearn.com. Earning My Degree Earning Your Degree Abroad: Benefits and Considerations Have you ever thought about getting your degree abroad?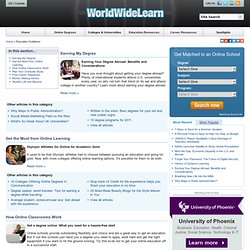 Plenty of international students attend U.S. universities every year, so why not turn that trend on its ear and attend college in another country? Open Culture. Engaging Educators - Learn. Teach. Engage.
---