EdTech Blogs
joanqueralto.visibli.com/share/J76PvP
Teaching English with Technology
Edvoices | greggfesta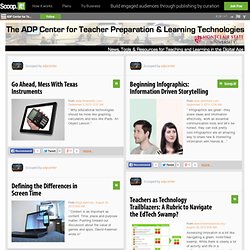 Assessing innovation is a bit like navigating a green, mold-filled swamp. While there is clearly a lot of activity and life in a swAssessing innovation is a bit like navigating a green, mold-filled swamp. While there is clearly a lot of activity and life in a swamp, it's a bit difficult to tell exactly what is lurking below the surface. Yup. Innovation is like that.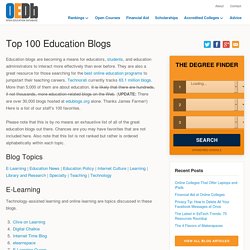 Education blogs are becoming a means for educators, students, and education administrators to interact more effectively than ever before. They are also a great resource for those searching for the best online education programs to jumpstart their teaching careers. Technorati currently tracks 63.1 million blogs. More than 5,000 of them are about education. It is likely that there are hundreds, if not thousands, more education-related blogs on the Web. (UPDATE: There are over 30,000 blogs hosted at edublogs.org alone.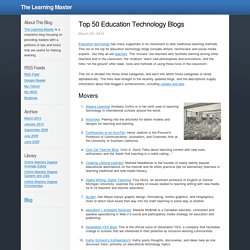 Education technology has many supporters in its movement to alter traditional teaching methods. This list of the top 50 education technology blogs includes writers, technicians and social media experts…but they all are teachers. The "movers" are teachers who facilitate learning among other teachers and in the classroom, the "shakers" teach new philosophies and innovations, and the folks "on the ground" offer news, tools and methods of using those tools in the classroom. This list is divided into those three categories, and each link within those categories is listed alphabetically.
The Best Education Technology Blogs | Campus & Online Degree Programs | WorldWideLearn.com
Earning My Degree Earning Your Degree Abroad: Benefits and Considerations Have you ever thought about getting your degree abroad? Plenty of international students attend U.S. universities every year, so why not turn that trend on its ear and attend college in another country?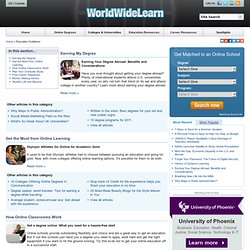 In a classic essay of Joan Didion's, "Goodbye to All That," the novelist and writer breaks into her narrative—not for the first or last time—to prod her reader. She rhetorically asks and answers: "…was anyone ever so young? I am here to tell you that someone was." The wry little moment is perfectly indicative of Didion's unsparingly ironic critical voice. Didion is a consumate critic, from Greek kritēs, "a judge." But she is always foremost a judge of herself.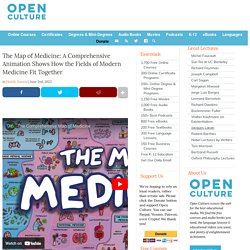 Engaging Educators - Learn. Teach. Engage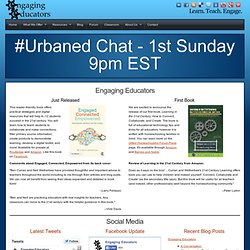 Just Released First Book This reader-friendly book offers practical strategies and digital resources that will help K–12 students succeed in the 21st century.