The Euro Crisis
On the Franco-German Euro Contradiction and Ultimate Euro Battleground
The Euro Debt Crisis and Germany's Euro Trilemma
Germany And The Euro: Paragon Or Parasite?
Nabataeans - Euro Economy paper - sources
The Economics and Politics of the Euro Crisis: A Varieties-of-Capitalism Perspective
The future of Europe's economy: Disaster or deliverance?
Austerity and the Eurozone Crisis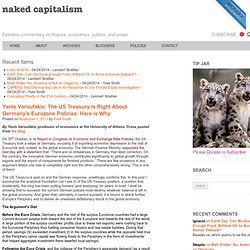 By Yanis Varoufakis, professor of economics at the University of Athens. Cross posted from his blog
Yanis Varoufakis: The US Treasury is Right About Germany's Eurozone Policies: Here is Why
Towards a Model OF THE unfolding EUROZONE crisis
The Economics of Monetary Unions
European elites can't stop themselves crashing their own project
The European Banking System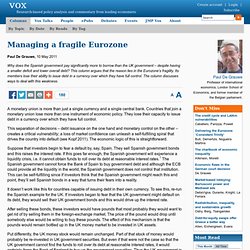 A monetary union is more than just a single currency and a single central bank. Countries that join a monetary union lose more than one instrument of economic policy. They lose their capacity to issue debt in a currency over which they have full control. This separation of decisions – debt issuance on the one hand and monetary control on the other – creates a critical vulnerability; a loss of market confidence can unleash a self-fulfilling spiral that drives the country into default (see Kopf 2011).
Managing a fragile Eurozone