Ray Dalio / Bridgewater
Bridgewater - Welcome to Bridgewater Associates, LP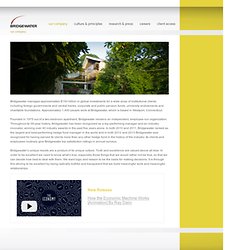 Bridgewater manages approximately $130 billion in global investments for a wide array of institutional clients, including foreign governments and central banks, corporate and public pension funds, university endowments and charitable foundations. Approximately 1,200 people work at Bridgewater, which is based in Westport, Connecticut. Founded in 1975 out of a two-bedroom apartment, Bridgewater remains an independent, employee-run organization. Throughout its 37-year history, Bridgewater has been recognized as a top-performing manager and an industry innovator, winning 24 industry awards in the past five years alone. In both 2010 and 2011, Bridgewater ranked as the largest and best-performing hedge fund manager in the world.
Speaker: Ray Dalio, Founder and Co-Chief Investment Officer, Bridgewater Associates, L.P. Presider: Maria Bartiromo, Anchor, CNBC September 12, 2012, New York Council on Foreign Relations MODERATOR: Good morning, everyone. Thank you so much for joining us bright and early this morning. We appreciate it.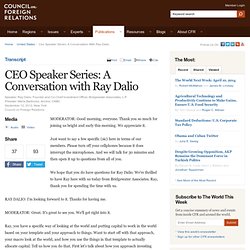 CEO Speaker Series: A Conversation with Ray Dalio
A Conversation with Ray Dalio (Video)
Ray Dalio
DEEP THOUGHTS FROM RAY DALIO
There Is No Joy In Muddlethroughville: World's Biggest Hedge Fund Is Bearish For 2012 Through 2028, And Is Long Gold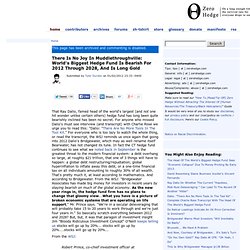 That Ray Dalio, famed head of the world's largest (and not one hit wonder unlike certain others) hedge fund has long been quite bearishly inclined has been no secret. For anyone who missed Dalio's must see interview (and transcript) with Charlie Rose we urge you to read this: "Dalio: " There Are No More Tools In The Tool Kit ."
a-template-for-understanding--ray-dalio-bridgewater
Ray Dalio: Man and machine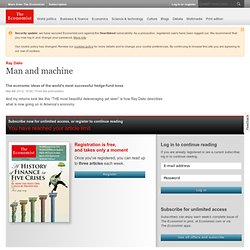 And my returns look like this "THE most beautiful deleveraging yet seen" is how Ray Dalio describes what is now going on in America's economy. As America has gone through the necessary process of reducing its debt-to-income ratio since the financial crash of 2008, he reckons its policymakers have done well in mixing painful stuff like debt restructuring with injections of cash to keep demand growing.