Behavioural Economics / Finance
Absolute beginners: behavioural economics and human happiness
Behavioural Economics Applied
Behavioural Investing: A Practitioners Guide to Applying Behavioural Finance
Psychology/Sentiment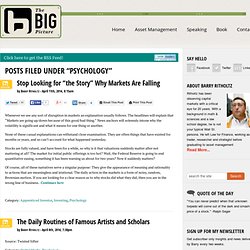 Before Todd Harrison created Minyanville, he was an options trader at Morgan Stanley, eventually becoming President of Cramer Berkowitz, where he toiled as head trader at Jim Cramer's hedge fund. Todd has an excellent analysis of the various biases that endanger investors.
The Psychology and Judgment of Decision Making
Dan Ariely's second TEDTalk premieres today — and so does the second, revised and expanded edition of his book Predictably Irrational .
Dan Ariely: 2008 was a good year for behavioral economics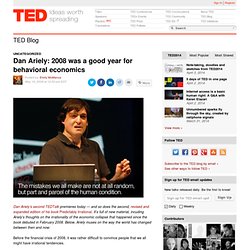 Dan Ariely asks, Are we in control of our own decisions?
Dan Ariely, the author of Predictably Irrational , presented a jaw-dropping talk on cheating and dishonesty at TED2009. We're posting Ariely's TEDTalk next Tuesday, and we asked him for his thoughts on the Bernie Madoff scandal unfolding now in New York:
Dan Ariely offers 3 irrational lessons from the Bernie Madoff scandal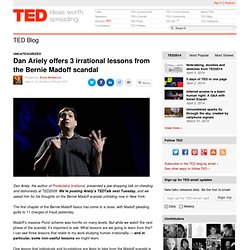 Dan Ariely on our buggy moral code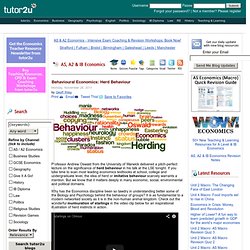 Available from 27 March: our comprehensive support guide for OCR A2 Economics Unti F585 (The Global Economy) for Summer 2013
Herd Behaviour
Economics | 14.127 Behavioral Economics and Finance, Spring 2004 | Lecture Notes
I am constantly amazed how individuals react to articles written about stocks they maintain in their portfolio. Recently, much discussion has occurred on this website and across the internet on the purchase of Skype by Microsoft ( MSFT ). Those that hold Microsoft are certain that it is a great buy and a great product that will allow the company to expand.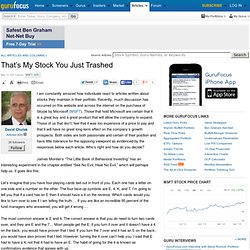 That's My Stock You Just Trashed -- GuruFocus.com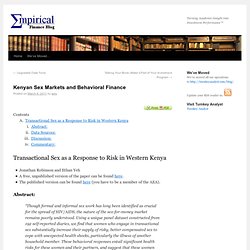 Jonathan Robinson and Ethan Yeh A free, unpublished version of the paper can be found here . The published version can be found here (you have to be a member of the AEA). Abstract:
Kenyan Sex Markets and Behavioral Finance | Empirical Finance Blog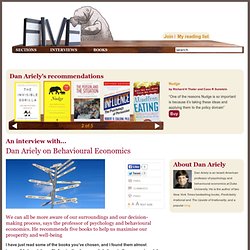 Let's go through the books, and you can tell me what's important about them and why you like them. The first one on your list is The Invisible Gorilla: How Our Intuitions Deceive Us , by Christopher Chabris and Daniel Simons . These are the guys who did one of the most important pieces of research in social science, which is to show how little we actually see in the world around us. The basic demonstration of this is a movie in which there are two groups playing basketball.
Robert Shiller on Behavioral Economics
Your Decisions Are Irrational--And You Don't Realize It‬‏