Eckhart tolle
Welcome to the team. There is a bit of controversy over Echart Tolle, personally I do not know much about him.
He has a rather large following. I've listened to some of his talks, He does not seem to be congruent, that might be a just result of not having a prepaid presentation. I believe he has things to teach a person or he wouldn't be pearled here.
lets add to the body of knowledge about him.
Happy Pearling timepeaces Dec 27
Eckhart Tolle - Awakening to your Life's Purpose
Inner Body Meditation -- Eckhart Tolle Webcast
How to Live From Your Inner Essence - Eckhart Tolle
Eckhart Tolle, Untying the knot (the not) www.soundstrue.com
One Conscious Breath
Enlightenment: A Response to Eckhart Tolle by a Himalayan Enlightened Yogi
Enlightenment - Eckhart Tolle - www.eckharttolle.com
Why do senseless events happen? - www.eckharttolle.com
What is Meditation? - www.eckharttolle.com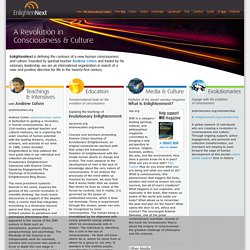 This interview was re-edited and reprinted with a special introduction for our 15th anniversary edition. Click to read the new interview or to view the full issue . ANDREW COHEN: Eckhart, what is your life like? I've heard that you're a bit of a recluse and that you spend a lot of time in solitude. Is that true?
Eckhart Tolle: Ripples on the Surface of Being
News: June 2008 - New Eckhart Tolle Book: Milton's Secret According to amazon.com , the book will be released on October 31, 2008. The full title is Milton's Secret: An Adventure of Discovery through Then, When, and The Power of Now . To see the book covers and read a bit more about the book, click here .
Eckhart Tolle: a fan site (Quotes, Excerpts, Biography, Photos)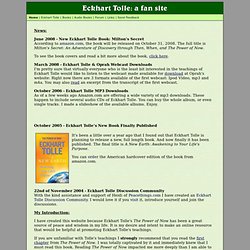 Eckhart Tolle - Project Meditation Community Forum
'Life's Purpose' author Eckhart Tolle is serene, critics less so
Eckhart Tolle - 'Silence and Stillness'
Eckhart Tolle ( pron.: / ˈ ɛ k ɑr t ˈ t ɒ l ə / EK -art TO -lə ; German pronunciation: [ˈɛkaʁt ˈtɔlə] , born Ulrich Leonard Tolle on February 16, 1948) is a German-born Canadian resident, best known as the author of the The Power of Now and A New Earth , which were written in English. In 2011, he was listed by the Watkins Review as the most spiritually influential person in the world. [ 1 ] In 2008, a New York Times writer called Tolle "the most popular spiritual author in the United States ." [ 2 ] Tolle says he was depressed for much of his life until he underwent, at age 29, an "inner transformation", then spent several years wandering and unemployed "in a state of deep bliss" before becoming a spiritual teacher. Later, he moved to North America where he began writing his first book, The Power of Now , which was published in 1997 [ 3 ] and reached the New York Times Best Seller lists in 2000. [ 4 ] Tolle settled in Vancouver, Canada, where he has lived for more than a decade.