Echanges
Etyssa - Plateformes Web de mise en réseau des habitants et des acteurs locaux
Sharing in your Neighbourhood
Wishlist
Billiz - Accueil
Colocation pour maman et son fils à Paris (75) - 75000 Paris - Colocation Monoparentale - Petites Annonces famille
Les Jules, des hommes à ( presque ) tout faire
localblu.com
Autour.com
annoncer & communiquer autour de vous
en effet .. j'ai remis le lien qui fonctionne: http://autour.com/#content by sizolabarchitecture Mar 2
TaskTurtle - Slow and steady wins the race
Online marketplace connects the homeless with tasks in exchange for food
TaskRabbit - Task Rabbit
TaskRabbit Confession
TaskRabbit is a hot startup that everyone is buzzing about. Like Zaarly, it is a local network that allows users to post and complete tasks in their neighborhoods. Think Craigslist and Twitter mushed together. TaskRabbit was founded by Leah Busque in 2008. It raised $5 million last spring and was featured on the ABC Nightly News as a solution for America's job crisis.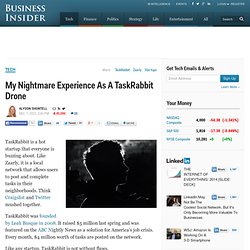 COMMUNITY STIMULUS: Local Currency + Barter Networks as Social and Economic Drivers | | BEAHIVE
Map Data Map data ©2014 Google COMMUNITY STIMULUS: Local Currency + Barter Networks as Social and Economic Drivers Sat, Oct 22, 2011 10:30 AM - 12:30 PM BEAHIVE [Beacon] Current economic structures are arguably inadequate.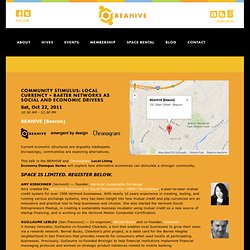 Sharetribe
Friendly Quarters | YOU'RE WELCOME
forum soft CYclos - Français
Cyclos
Cyclos
easyswap
Superfluid, une plateforme d'échange made in USA « 1001 monnaies
J'ai découvert l'année dernière une plateforme d'échange intéressante et assez simple, créée aux Etats-Unis : Superfluid . Elle est en anglais, et il n'y a apparemment pas de projet de traduction du système pour l'instant. Cette plateforme comprend 2 sections : une section de particulier à particulier (peer-to-peer, ou p2p), et une section business. Elle utilise une monnaie d'échange, les Quids (apparemment, cela vient de l'argot irlandais ou anglais, pour désigner un euro ou une livre).
superfluid | start something!
Download this image to your phone, take it to Starbucks and scan it at the cash register: It'll get you a free coffee. It's part of a radical experiment in sharing that's teaching us something about mobile money in the process.
Radical Sharing Works: This Guy Lets the World Use His Starbucks Card for Free - Business
Starbucks has put an end to a the Jonathan's Card free coffee bonanza, citing concerns about fraud.
Lessons From the End of the Free Starbucks Card Experiment (UPDATED) - Business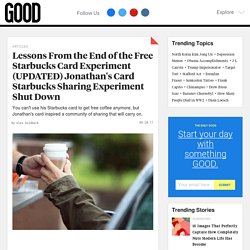 Free Money Day | Sharing Is Common Cents