Echanges
Trustlr. Troovon. If you want to exchange services, to share experience between colleagues, or to earn money with forgotten equipment in your garage, Troovon gives you a choice of different packs to answer your needs.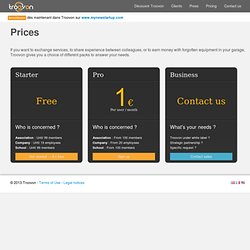 Starter Free Who is concerned ? Association : Until 99 members Company : Until 19 employees School : Until 99 members Get started — it s free Pro 1€ Per user / month Who is concerned ? Association : From 100 members Company : From 20 employees School : From 100 members Sign up Business Contact us What's your needs ? Etyssa - Plateformes Web de mise en réseau des habitants et des acteurs locaux. Sharing in your Neighbourhood. Wishlist. Billiz - Accueil. Colocation pour maman et son fils à Paris (75) - 75000 Paris - Colocation Monoparentale - Petites Annonces famille. Les Jules, des hommes à ( presque ) tout faire. Localblu.com. Autour.com. TaskTurtle - Slow and steady wins the race.
Online marketplace connects the homeless with tasks in exchange for food. TaskRabbit - Task Rabbit. TaskRabbit Confession. TaskRabbit is a hot startup that everyone is buzzing about.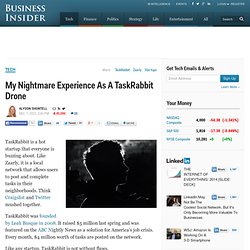 Like Zaarly, it is a local network that allows users to post and complete tasks in their neighborhoods. Think Craigslist and Twitter mushed together. TaskRabbit was founded by Leah Busque in 2008. It raised $5 million last spring and was featured on the ABC Nightly News as a solution for America's job crisis. COMMUNITY STIMULUS: Local Currency + Barter Networks as Social and Economic Drivers | | BEAHIVE. BEAHIVE [Beacon]291 Main Street - BeaconDetails Map Data Map data ©2014 Google COMMUNITY STIMULUS: Local Currency + Barter Networks as Social and Economic Drivers Sat, Oct 22, 2011 10:30 AM - 12:30 PM BEAHIVE [Beacon]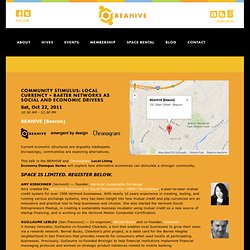 Sharetribe. Friendly Quarters | YOU'RE WELCOME. Forum soft CYclos - Français. Cyclos. Cyclos. Easyswap. Superfluid, une plateforme d'échange made in USA « 1001 monnaies. J'ai découvert l'année dernière une plateforme d'échange intéressante et assez simple, créée aux Etats-Unis : Superfluid .
Elle est en anglais, et il n'y a apparemment pas de projet de traduction du système pour l'instant. Cette plateforme comprend 2 sections : une section de particulier à particulier (peer-to-peer, ou p2p), et une section business. Elle utilise une monnaie d'échange, les Quids (apparemment, cela vient de l'argot irlandais ou anglais, pour désigner un euro ou une livre). Superfluid | start something! Radical Sharing Works: This Guy Lets the World Use His Starbucks Card for Free - Business. Download this image to your phone, take it to Starbucks and scan it at the cash register: It'll get you a free coffee.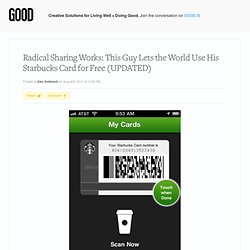 It's part of a radical experiment in sharing that's teaching us something about mobile money in the process. "It's been extremely uplifting," Jonathan Stark tells GOOD. About one month ago, Stark posted the barcode image for his personal Starbucks card online, for anyone to use. Surprisingly, it still has money on it. Lessons From the End of the Free Starbucks Card Experiment (UPDATED) - Business. Starbucks has put an end to a the Jonathan's Card free coffee bonanza, citing concerns about fraud.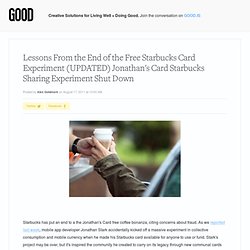 As we reported last week, mobile app developer Jonathan Stark accidentally kicked off a massive experiment in collective consumption and mobile currency when he made his Starbucks card available for anyone to use or fund. Stark's project may be over, but it's inspired the community he created to carry on its legacy through new communal cards and other good deeds. "This proved that people are generally good," Stark tells GOOD. "Way more people involved, from a person by person basis, did the right thing. " Free Money Day | Sharing Is Common Cents.
---