eBooks
UDL Book Builder. Sourcefabric. "I was looking for a way to give our authors a simple, powerful way to edit and create books and Booktype is it!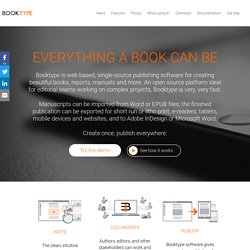 " Alessandro De Giorgi Youcanprint.it "Booktype is becoming the ideal platform for open publishing. With the booksprint methodology, Booktype enabled us generate the Spending Data Handbook in a few days, while remaining open to feedback and development. " Friedrich Lindenberg Head of Labs (Technology), "I was impressed at how seamless and almost invisible Booktype was in the project. It was very empowering for all involved, it seemed to remove hierarchy and made the whole editing process very transparent.
" eBook Hatch. Widbook - Write, read and share. Simplebooklet.com. Welcome to PrimaryAccess. Design & Make A Book With Our Simple Free Guide | Bookemon.com. ZooBurst. Myebook - get it out there! ePub Bud - Publish, Convert, Store, and Download free children's ebooks online for the iPad and nook color! Create A Book. My StoryMaker : Carnegie Library of Pittsburgh. My Storymaker was named one of the Best Websites for Teaching and Learning by the American Association of School Librarians, a division of the American Library Association.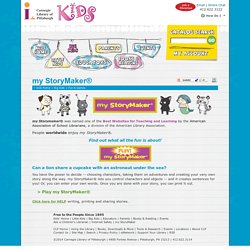 People worldwide enjoy my StoryMaker. Find out what all the fun is about! You have the power to decide -- choosing characters, taking them on adventures and creating your very own story along the way. my StoryMaker lets you control characters and objects -- and it creates sentences for you! Or, you can enter your own words. Once you are done with your story, you can print it out. Seven Places to Find Free eBooks. Every year schools around the world spend thousands of dollars on textbooks that are often outdated by the end of their first year in the classroom.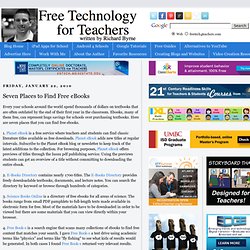 Ebooks, many of them free, can represent huge savings for schools over purchasing textbooks. Here are seven places that you can find free ebooks. 1. Planet eBook is a free service where teachers and students can find classic literature titles available as free downloads. FlipSnack | PDF to Flash page flip - flipping book software. Collaborative storytelling. Self Publishing - Lulu.com. Our revolutionary print-on-demand model will connect you to the most sustainable and risk-free opportunities in the publishing industry.
Ready to try self publishing? Simply upload your document, set your book's selling price, and just like that, you're a published author. Books are printed as they are sold, so you'll never have to worry about inventory or order fulfillment again. Plus you'll get 80% of the royalty and manage full rights to your book…when you win, we win! Lulu eliminates traditional publishing barriers and enables you to sell your work directly to your target audience. Little Bird Tales - Home.
StoryJumper: publish your own children's book.
---