Ereaders
Published Online: October 15, 2010 Published in Print: October 20, 2010, as Digital Readers & Dyslexia Features —iStockphoto/Leah-Anne Thompson, iStockphoto/gabyjalbert Educators are turning to e-reader devices to help students with dyslexia and other reading disabilities, but the jury is still out on the impact those digital tools are having on reading skills Educators seeking new ways to personalize instruction for students with dyslexia and other reading disabilities are turning more and more to e-readers such as Amazon's Kindle, Apple's iPad, Barnes & Noble's Nook, and the Intel Reader.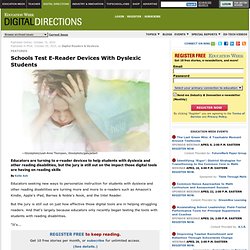 Schools Test E-Reader Devices With Dyslexic Students
Amazon's Kindle e-book reader.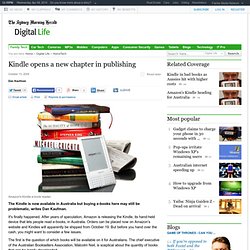 Kindle in Australia: Which Books Are Available? | Kindle Alternatives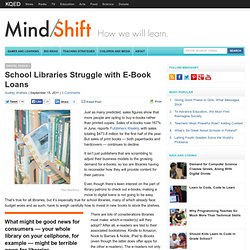 Digital Tools Paul Stainthorp Just as many predicted, sales figures show that more people are opting to buy e-books rather than printed copies. Sales of e-books rose 167% in June, reports Publishers Weekly, with sales totaling $473.8 million for the first half of the year.
School Libraries Struggle with E-Book Loans
In Kindle Debut, Library Turns a New Page - News - The Hoya - Georgetown University's Newspaper of Record Since 1920
Published: Friday, September 9, 2011 Updated: Friday, September 9, 2011 17:09