eBook stores
Links to eBook stores.
Free delivery worldwide on all books from The Book Depository. Best Sources of E-Books. Post your favorite sources of e-books here as replies to this thread.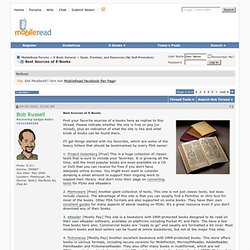 Please indicate whether the site is free or pay (or mixed), plus an indication of what the site is like and what kinds of books can be found there. I'll get things started with my favorites, which are some of the heavy hitters that should be bookmarked by every PDA owner: ManyBooks.net - Ad-free eBooks for your iPad, Kindle, or eBook reader. Fictionwise eBooks: Free eBooks, eBooks for your iPhone, BlackBerry, Android device, Symbian Mobile Phone, Windows Mobile Smartphone, Palm handheld, PC, Mac and more! eBooks.com The World's Leading Source of eBooks. Feedbooks | Free eBooks for Android & iPhone/iPad. Largest independent ebook store - eBooks & downloadable Audio Books - half million ebooks - first to sell ebooks on iPhone | Ebooks | BooksOnBoard.
World Famous eBook Store | Diesel eBook Store. eBook Downloads - Get eBooks - eBookMall.
---