Ebenistes / Woodworkers
Stéphane Diss. AVENEL L, ébénistes et créateurs à Paris - entre Arts et Design. WoodLabo - home | Woodlabo, Bordeaux France. Design contemporain, luminaire / mobilier / espace. Ebenisterie contemporaine - Saint-Etienne - Lyon. PROTIS. Épur, ébéniste d'art. Ebenisterie Paris - ETS FABRY : ebeniste, 75, Paris 15, Yvelines, restauration de meuble, réparation de meuble, restauration de meubles. Ludovic Avenel: ébéniste créateur Paris. Maison Dissidi, ébénisterie d'art à Paris. Comptoir de la - Accueil. Ébéniste Paris. Tegnestuen Indigo. Cheshire Furniture Maker, John Bullar. Designer seating by furniture maker David Savage. This gorgeous blonde chair is called Andromeda.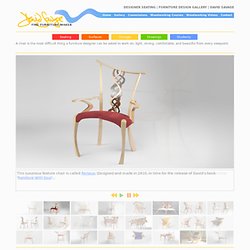 Designed as a feature chair, to express a feminine balance to another feature chair, Perseus. This luxurious feature chair is called Perseus. Designed and made in 2010, in time for the release of David's book 'Furniture With Soul'. "Love Chairs" are Bespoke seats designed to invoke the ideals of a perfect loving relationship. Two chairs, two personalities, perfect apart, come together, to form a third identity; a relationship. David Moore Furniture. Ameublement design personnalisable de qualité à prix usine. Picasa Albums Web - D.M.A. L'atelier Folie Douce. YANN JALLU — REALISATIONS. Accueil. Ebéniste et créateur de mobilier d'art : Aisthésis Paris. Fabrique HACKTION | ENSCI – FabLab. Fabrique / Hacktion intervient dans les espaces publics et collectifs en installant des greffes, compléments d'objets, qui favorisent un usage, augmentent ou questionnent les dispositifs existants.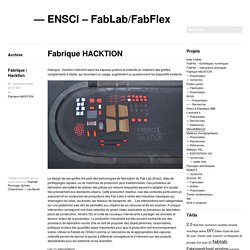 Fabrique Hacktion est un projet mené par Raphaël Pluvinage, Sylvain Chassériaux et Léa Bardin Le design de ces greffes tire parti des technologies de fabrication du Fab-Lab (Ensci), dites de prototypages rapides, ou de machines de production plus traditionnelles. Ces processus de fabrication permettent de réaliser des pièces sur mesure lesquelles peuvent s'adapter et s'ajuster très précisément aux standards urbains. Cette production réactive, vise des contextes particuliers en associant et en comparant les productions des Fab-Labs à celles des industries classiques qui aménagent les villes, les écoles, les réseaux de transports, etc… Les interventions sont catégorisées sur une plateforme web afin de permettre aux citadins de les retrouver et de les localiser. Atelier von Nagel - Clavecins.
Untitled Document. Re-Form Furniture. David Fay Custom Furniture. Custom Rocking Chairs by Scott Morrison inspired by Sam Maloof. About Ted Curtin and Rob Tarule. Heart of the WoodSpecializing in reproductions of 17th century furniture and woodwork We are the artisans behind the reproduction furniture that you see on these pages.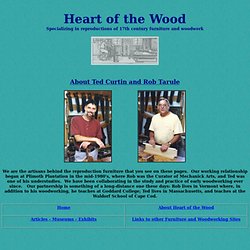 Our working relationship began at Plimoth Plantation in the mid-1980's, where Rob was the Curator of Mechanick Arts, and Ted was one of his understudies. We have been collaborating in the study and practice of early woodworking ever since. Philippe Lachaise | création sur mesure de mobilier | Damien HAMON Mobilier création de mobilier contemporain. Anne-Marie Choain, marqueterie de paille. Ateliers Lison de Caunes.
---