ToDoLists
Collaborate on shared tasks Share tasks with anyone – colleagues, family, friends – and collaborate on shared plans and goals. Watch a video Access tasks everywhere With apps and extensions for 13 platforms, your tasks are always there: on mobile devices, browsers, mailboxes, and more. Watch a video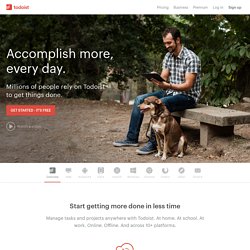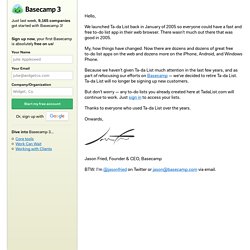 Hello, We launched Ta-da List back in January of 2005 so everyone could have a fast and free to-do list app in their web browser. There wasn't much out there that was good in 2005. My, how things have changed. Now there are dozens and dozens of great free to-do list apps on the web and dozens more on the iPhone, Android, and Windows Phone.
To do list, simple, easy, fast, sharable: Ta-da List
Doomi. A to do list application.
The Hit List helps you manage the daily chaos of your modern life. It's easy to learn — it's as easy as making lists. And it's powerful enough to let you plan, then forget, then act when the time is right.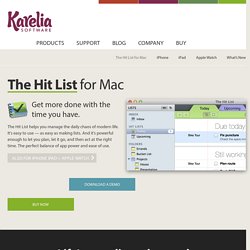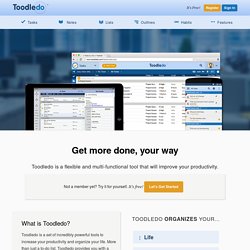 Organize Your Tasks. Use folders, tags, contexts, subtasks and more to organize, search and sort through your tasks. Improve Your Productivity.
Just click and type to add new tasks, set due dates or add notes, and (most satisfyingly) check them off as you're done. Your task list stays up to date no matter how you access it. It's a simple list that's with you everywhere you go. Gmail Easily convert emails into tasks and use keyboard shortcuts to save time.