ToDoLists
Free todo list and task manager: Todoist. To do list, simple, easy, fast, sharable: Ta-da List. Hello, We launched Ta-da List back in January of 2005 so everyone could have a fast and free to-do list app in their web browser.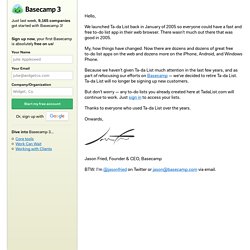 There wasn't much out there that was good in 2005. My, how things have changed. Now there are dozens and dozens of great free to-do list apps on the web and dozens more on the iPhone, Android, and Windows Phone. Doomi. A to do list application. HiTask - free online task management. The Hit List | Potion Factory. The Hit List helps you manage the daily chaos of your modern life.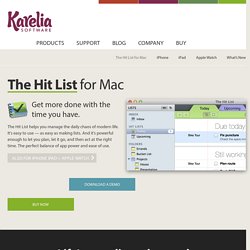 It's easy to learn — it's as easy as making lists. And it's powerful enough to let you plan, then forget, then act when the time is right. A to-do list to organize your tasks. Remember The Milk. Tasks. ToDo Lists.
---