eLearning
didacta - Die Bildungsmesse: Auf einen Blick
Die didacta – die Bildungsmesse findet zum achten Mal auf dem Gelände der Messe Stuttgart statt. Als Europas größte Fachmesse rund um Bildung bietet sie Angebote von rund 900 Ausstellern und ein umfangreiches Fortbildungsprogramm für Lehrkräfte, Erzieher, Ausbilder, Trainer und Personalentwickler. Hochrangige Vertreter aus Politik, Wirtschaft, Wissenschaft und Gesellschaft kommen zur didacta, um hier Wege für die Bildung der Zukunft zu finden und sich auszutauschen.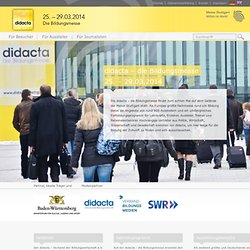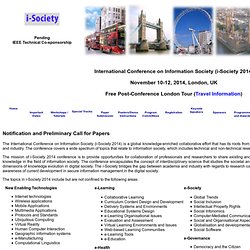 Notification and Preliminary Call for Papers The International Conference on Information Society (i-Society 2014) is a global knowledge-enriched collaborative effort that has its roots from both academia and industry. The conference covers a wide spectrum of topics that relate to information society, which includes technical and non-technical research areas.
i-Society 2011. International Conference on Information Society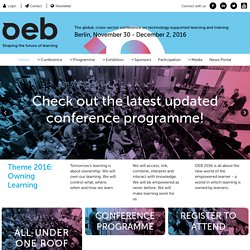 ONLINE EDUCA BERLIN is the largest global conference on technology supported learning and training for the corporate, education and public service sectors. This front-running event offers learning professionals from all sectors the opportunity to discover innovative solutions, absorb new thinking and bring home ideas in order to take action and implement change. ONLINE EDUCA BERLIN returns in 2014, 3 – 5 December, for its 20th edition. Join us as we look forward to interactive sessions and a diverse programme exploring a vast range of topics across the e-learning spectrum under this year's overall theme Changing Learning, two words inextricably linked in this transformative digital age. Learn more about the themes and how to submit your proposal here.
ICBL - International Conference on Interactive Computer aided Bl
IADIS Mobile Learning 2010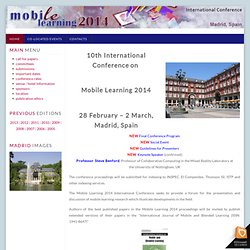 NEW Final Conference ProgramNEW Social EventNEW Guidelines for Presenters NEW Keynote Speaker (confirmed):Professor Steve Benford, Professor of Collaborative Computing in the Mixed Reality Laboratory at the University of Nottingham, UK The conference proceedings will be submitted for indexing to INSPEC, EI Compendex, Thomson ISI, ISTP and other indexing services. The Mobile Learning 2014 International Conference seeks to provide a forum for the presentation and discussion of mobile learning research which illustrate developments in the field. Authors of the best published papers in the Mobile Learning 2014 proceedings will be invited to publish extended versions of their papers in the "International Journal of Mobile and Blended Learning (ISSN: 1941-8647)"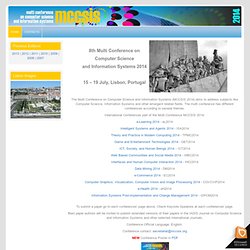 IADIS Multi Conference on Computer Science and Information Syste
The Multi Conference on Computer Science and Information Systems (MCCSIS 2014) aims to address subjects like Computer Science, Information Systems and other emergent related fields. The multi conference has different conferences according to several themes. International Conferences part of the Multi Conference MCCSIS 2014: e-Learning 2014 - eL2014 Intelligent Systems and Agents 2014 - ISA2014 Theory and Practice in Modern Computing 2014 - TPMC2014
IMCL - Interactive Mobile And Computer Aided Learning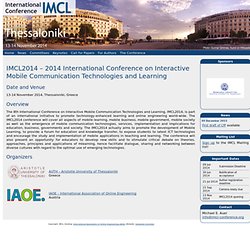 Date and Venue 13-14 November 2014, Thessaloniki, Greece Overview The 8th International Conference on Interactive Mobile Communication Technologies and Learning, IMCL2014, is part of an international initiative to promote technology-enhanced learning and online engineering world-wide. The IMCL2014 conference will cover all aspects of mobile learning, mobile business, mobile government, mobile society as well as the emergence of mobile communication technologies, services, implementation and implications for education, business, governments and society. The IMCL2014 actually aims to promote the development of Mobile Learning, to provide a forum for education and knowledge transfer, to expose students to latest ICT technologies and encourage the study and implementation of mobile applications in teaching and learning.
UOC UNESCO Chair in e-Learning
ICL - Interactive Computer Aided Learning
The EDEN Executive Committee assigned Dr. Ulrich Bernath as Chief Editor of the European Journal of Open, Distance and E-Learning – EURODL. Dr Bernath gives an insight to his vision for EURODL: "EURODL is one of the leading learned journals in the world and provides publishing space for scholarly works in the thematic areas of distance education, open, flexible, online, technology-enhanced, and e-learning. It is outstanding in practicing open access policies.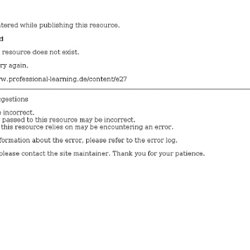 An error was encountered while publishing this resource. Resource not found Sorry, the requested resource does not exist. Check the URL and try again.
PLE 2010 - Programm 2010