Eau
A New Map Of The U.S., Created From Where We Get Our Water. This map shows what America would look like if it followed its watersheds.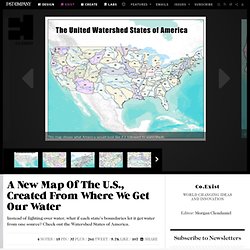 It's an America designed to use water more efficiently, and reduce state conflicts over water. Think state conflicts over water aren't a big deal? Then you don't know that Georgia, Florida, and Alabama are engaged in a massive battle over their water sources. There's a similar situation in the dry Southwest. Etats-Unis: Le gouverneur du Maryland taxe l'eau de pluie. La taxe, officiellement dénommée «frais de gestion des eaux pluviales, » sera appliquée dans neuf comtés de l'État.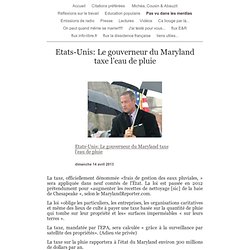 La loi est passée en 2012 prétendument pour «augmenter les recettes de nettoyage [sic] de la baie de Chesapeake », selon le MarylandReporter.com. La loi «oblige les particuliers, les entreprises, les organisations caritatives et même des lieux de culte à payer une taxe basée sur la quantité de pluie qui tombe sur leur propriété et les« surfaces imperméables « sur leurs terres ». La taxe, mandatée par l'EPA, sera calculée « grâce à la surveillance par satellite des propriétés».
Organisations
Water Footprint. Pollution de l'eau. Business de l'eau. Manque d'eau. Eau potable. Economiser l'eau. VIDEO. Pouvoir de l'eau. Jeux et outils Eau.
---