Eau - Associations, ONG
People for Rainwater/TOP. Antea : Accueil. Réseau Projection. RECORD Recherche coopérative sur les déchets. WASTE - WASTE. NIELSEN MAGHREB. Bienvenue Le constructeur d'équipement appartient au groupe et exerce dans le domaine de l'environnement, de la collecte, du tri et du recyclage des dèchets et matériaux depuis 1988.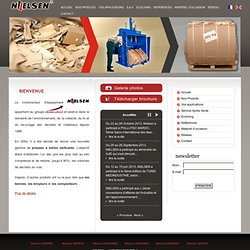 En 2004, il a été décidé de lancer une nouvelle gamme de presses à balles verticales. L'objectif étant d'atteindre l'un des prix les plus bas au kilo compressé et de réduire, jusqu'à 90%, les volumes de déchets en vrac. Gevalor. INCPEN - The Industry Council for Packaging and the Environment. ISWA - Waste & Climate 2009. ***15 December 2009 - Presentations from the conference are now online, an email will be sent out to the delegates later today including a paper regarding the conclusions from the conference.
Please find the link to the presentations here 14 December 2009 - Presentations from the conference: ***Presentations from the conference online on the website. Pollutec Horizons : Salon des solutions d'avenir au service des enjeux environnementaux et économiques.
---