Eau - Associations, ONG
People for Rainwater/TOP
Antea : Accueil
Réseau Projection
RECORD Recherche coopérative sur les déchets
WASTE - WASTE
NIELSEN MAGHREB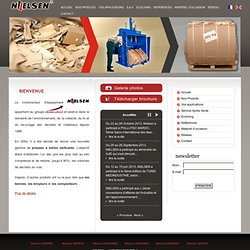 Bienvenue Le groupe NIELSEN® exerce dans le domaine de l'environnement, de la collecte, du tri et du recyclage des déchets et matériaux depuis 1988. En 2004, un accord de partenariat a été signé avec la société PSI, dans le but de lancer la fabrication d'une nouvelle gamme de presses à balles verticales . L´objectif étant d´atteindre l´un des prix les plus bas au kilo compressé et de réduire, jusqu'à 90%, les volumes de déchets en vrac. Depuis, d´autres produits ont vu le jour, tels que les broyeurs et les compacteurs . Leader sur ses marchés, le rôle de NIELSEN® est de vous recommander la meilleure solution, en répondant aux exigences suivantes :
Gevalor
INCPEN - The Industry Council for Packaging and the Environment
***15 December 2009 - Presentations from the conference are now online, an email will be sent out to the delegates later today including a paper regarding the conclusions from the conference. Please find the link to the presentations here 14 December 2009 - Presentations from the conference: ***Presentations from the conference online on the website.
ISWA - Waste & Climate 2009