Earthquakes
Science - Digital Education Resources | Japan Earthquake: before and after - ABC News
Science - Digital Education Resources | Predicting earthquakes - splash.abc.net.au
Science - Digital Education Resources | Earthquakes and volcanoes - splash.abc.net.au
Want to stay on top of all the space news?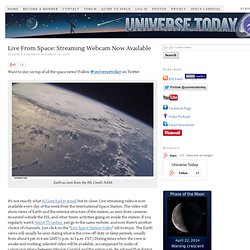 Live From Space: Streaming Webcam Now Available | Universe Today
Peliculas y series on line
National Oceanographic Data Center
Current Seismicity
Faultline: Earthquake History and Science
National Oceanographic Data Center
Current Seismicity
Watch TV channels made by real people
A Plan for the next phase in Weather Modification Science and Technology Developement | rezn8d.com
Dramatic aerial video: Strong earthquake hits Christchurch, New Zealand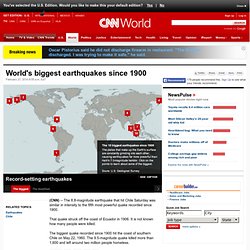 February 27, 2010 -- Updated 1355 GMT (2155 HKT) (CNN) -- The 8.8-magnitude earthquake that hit Chile Saturday was similar in intensity to the fifth most powerful quake recorded since 1900. That quake struck off the coast of Ecuador in 1906. It is not known how many people were killed. The biggest quake recorded since 1900 hit the coast of southern Chile on May 22, 1960.
World's biggest earthquakes since 1900
At 10.27 am on Thursday, 28 December, 1989, the City of Newcastle was devastated by a ML 5.6 (Richter magnitude) earthquake. This was one of the most serious natural disasters in Australia's history. View our photo gallery of earthquake images. Facts and figures The earthquake claimed 13 lives . Nine people died at the Newcastle Workers Club; three people were killed in Beaumont Street, Hamilton and one person died of shock 160 people were hospitalised 50,000 buildings were damaged (approximately 40,000 of these were homes) 300 buildings were demolished 300,000 people were affected and 1,000 were made homeless It left a damage bill estimated to be about A$4 billion The effects were felt over an area of about 200,000 sq. km , with isolated reports of movement from up to 800 km from Newcastle Damage to buildings and facilities occurred within a 9000 sq. km region The earthquake epicentre was at Boolaroo One aftershock (M 2.1) was recorded on 29 December 1989.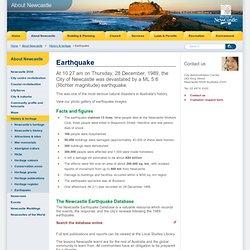 Newcastle City Council - Earthquake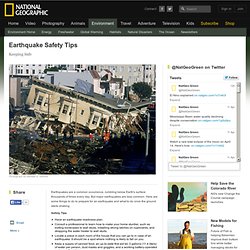 Earthquakes are a common occurrence, rumbling below Earth's surface thousands of times every day. But major earthquakes are less common. Here are some things to do to prepare for an earthquake and what to do once the ground starts shaking. Safety Tips Have an earthquake readiness plan.
Earthquake Safety Tips, Earthquake Preparation, Earthquake Readiness
Virtual Courseware : Earthquake : Epicenter and Magnitude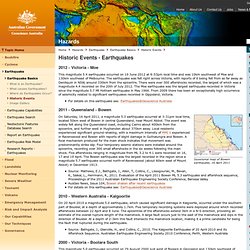 Historic Events - Earthquakes
2010 - Western Australia - Kalgoorlie On 20 April 2010 a magnitude 5.0 earthquake, which caused significant damage in Kalgoorlie, occurred under the southern part of Boulder, at a depth of approximately 1.7km. Five temporary recording systems were deployed around which recorded aftershocks between 22 April and 8 June. The epicentres of the aftershocks extend 3km in a N-S direction, providing an estimate of the overall rupture length of the mainshock. A large fault occurs just to the east of the mainshock and dips in the direction of Boulder.
Geoscience Australia Free Data Download
How does a seismograph work? What is the Richter scale?"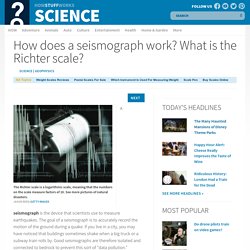 A seismograph is the device that scientists use to measure earthquakes. The goal of a seismograph is to accurately record the motion of the ground during a quake. If you live in a city, you may have noticed that buildings sometimes shake when a big truck or a subway train rolls by. Good seismographs are therefore isolated and connected to bedrock to prevent this sort of "data pollution."
Earthquakes What is an earthquake? Earthquakes are the shaking, rolling or sudden shock of the earth's surface. They are the Earth's natural means of releasing stress. More than a million earthquakes rattle the world each year. The West Coast is most at risk of having an earthquake, but earthquakes can happen in the Midwest and along the East Coast. Earthquakes can be felt over large areas although they usually last less than one minute.
Weather Wiz Kids weather information for kids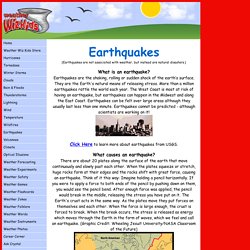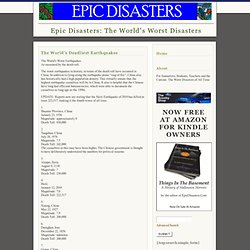 The World's Deadliest Earthquakes | Epic Disasters
The World's Worst Earthquakes As measured by the death toll. The worst earthquakes in history, in terms of the death toll have occurred in China. In addition to lying along the earthquake prone "ring of fire", China also has historically had a high population density. This virtually ensure that the highest earthquake casualties will be in China.
Have you ever assured someone that your friend is reliable by saying that he or she "has both feet on the ground"? The fact that such a phrase exists shows how much comfort we take in the idea that the ground beneath our feet is unmoving, unchanging and dependable. Indeed, much of our civilization, from our houses and buildings to our energy , food and water sources , depends on unmoving earth. In truth, however, our planet's seemingly stable surface is made up of enormous pieces of rock that are slowly but constantly moving. Those pieces continually collide with and rub against one another, and sometimes their edges abruptly crack or slip and suddenly release huge amounts of pent-up energy. These unsettling events are called earthquakes , and small ones happen across the planet every day, without people even noticing.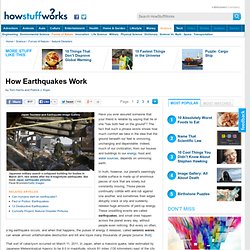 How Earthquakes Work"
Versión en Español This list contains all earthquakes with magnitude greater than 2.5 located by the USGS and contributing networks in the last week (168 hours). Magnitudes 4.5 and above are in bold font. Magnitudes 6 and above are in red. (Some early events may be obscured by later ones on the maps.)