Japan Earthquake, Tsunami Hawaii, Guam & US Territories
Article Excerpt As fears of radiation-contaminated Japanese foods spread in Asia, Hong Kong parents have packed stores to get their hands on what they believe could be the last untainted supply of a highly sought-after product: Japanese milk powder. On an uncomfortably humid morning in Hong Kong's Prince Edward district, hundreds of people were lined up outside a shop that advertised "Japanese milk powder" in Chinese characters on its exterior. The shop is operated by East Trading West, a Hong Kong company that trades in Japanese goods, including baby formula. East Trading West last week was distributing tickets redeemable for milk powder ...
Hong Kong Rations Japan's Precious Milk Powder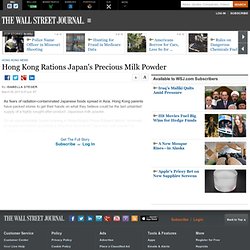 The Japan Earthquake Rattles Supply Chains, Too - Willy C. Shih - HBS Faculty
by Willy C. Shih | 11:35 AM March 23, 2011 Beyond the devastating and saddening human costs, the earthquake in Japan is another reminder of the complexity of the world's supply chains and the great interdependencies in global production systems. The world's supply chains are complex and highly optimized to deliver products efficiently at the lowest cost.
Tuyet : @JDFielder RT @brianstelte
Tuyet : Americans have a tendency
Tuyet : @brianstelter it's lacking
Tuyet : A 74-person team of #USA M