Fukushima Nuclear Plants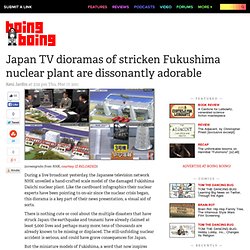 (screengrabs from NHK, courtesy IZ RELOADED)
Japan TV dioramas of stricken Fukushima nuclear plant are dissonantly adorable
Radiation reached around 20 times normal levels in the capital Tuesday morning, the Tokyo Metropolitan Government said, while offering the assurance this reading posed no immediate risk to human health and that the public should remain calm. Notification You've reached your story limit as a non-registered user. To read more, please sign up or log in via one of the services below.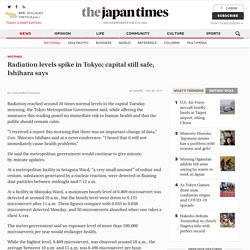 Radiation levels spike in Tokyo; capital still safe, Ishihara says
Govt, TEPCO fail on info-sharing / No N-crisis HQ for 4 days after tsunami disabled reactor cooling system
Analysis: Nuclear power growth at risk if Japan plant leaks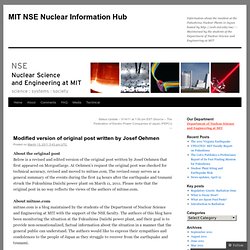 About the original post Below is a revised and edited version of the original post written by Josef Oehmen that first appeared on Morgsatlarge. At Oehmen's request the original post was checked for technical accuracy, revised and moved to mitnse.com. The revised essay serves as a general summary of the events during the first 24 hours after the earthquake and tsunami struck the Fukushima Daiichi power plant on March 11, 2011.
Modified version of original post written by Josef Oehmen | MIT NSE Nuclear Information Hub (http://web.mit.edu/nse/)
Moved Temporarily
Herman_Japan_Q_A_03_15
Russian nuclear authorities said a Chernobyl-type disaster was unlikely to happen at the stricken nuclear plant in Japan, but experts refused to rule out this scenario. "There can be no replay of Chernobyl at the Fukushima nuclear plant," said Sergei Novikov, official spokesman for the Russian nuclear corporation Rosatom. "The worst case scenario in Japan is what happened at the Three Mile Island nuclear plant in the U.S. in 1979, where fuel melted down but stayed inside the reactor."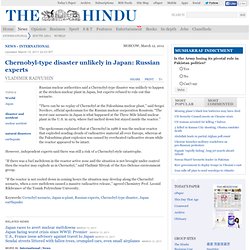 International : Russian experts on Chernobyl scenario in Japan
Please refrain from copy and pasting this manuscript, only share via linking. We are currently in a complicated situation and are continuously collecting information from several experts in order to provide the most up to date scientific information available.
Q&A on the Nuclear Power Stations | サイエンス・メディア・センター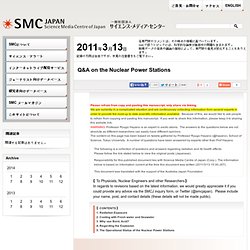 [UPDATE: 5:59 PM ET: The evacuation zone around the power plant has been increased to 10 km, or 6.2 mi.] [UPDATE: 5:46 PM EST: Japanese authorities announced that radiation inside the stricken Fukushima power plant control room has risen to 1,000 times its normal level. Some has leaked outside of the plant, prompting calls for further evacuations beyond the 3,000 people who have been cleared out already in a 1.8-mi. radius.
Nuke Plant Crisis Worsens as Radiation Levels Rise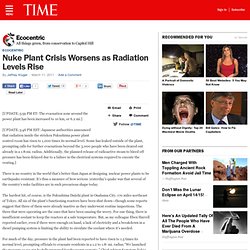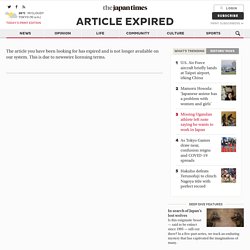 Authorities scrambled Sunday to control an overheating reactor at the problem-prone Fukushima No. 1 nuclear power plant by injecting seawater and venting gas to reduce the pressure inside. While acknowledging that the core of the plant's No. 3 reactor may have overheated and deformed, Chief Cabinet Secretary Yukio Edano denied it led to a meltdown of the critical fuel rods. At a news conference, Edano said that "a very small amount" of radioactive substances had leaked from the No. 3 reactor, dismissing concerns it posed a threat to human health.
Water injected into Fukushima reactor
Energy map provided - Yahoo! News Photos
Japanese authorities began evacuating more than 200,000 people Saturday from areas around two nuclear power plants after an explosion at one of them damaged a building housing an aging U.S.-supplied reactor.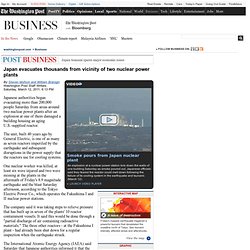 Japanese nuclear reactor in peril after deadly earthquake, tsunami off coast
Fukushima rivals other N-disasters / 1999 Tokaimura, 1979 Three Mile Island on par in seriousness