Crisis Coping & Social Order
Newly Homeless Re-Establish Order Amid Chaos. Shuji Kajiyama/Associated Press A makeshift public bath set up near a shelter for those left homeless by the tsunami that hit northeastern Japan two weeks ago.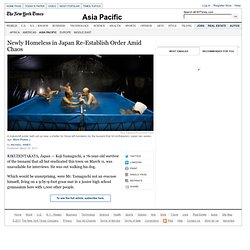 More Photos » Which would be unsurprising, were Mr. Yamaguchi not an evacuee himself, living on a 9-by-9-foot grass mat in a junior high school gymnasium here with 1,000 other people. Ruminations on Citizen Journalism and Media Bias « Gakuranman.com – illuminating Japan. This past week has been truly life-changing.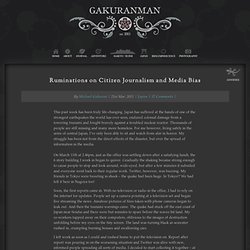 Japan has suffered at the hands of one of the strongest earthquakes the world has ever seen, endured colossal damage from a towering tsunami and fought bravely against a troubled nuclear reactor. Thousands of people are still missing and many more homeless. For me however, living safely in the arms of central Japan, I've only been able to sit and watch from afar in horror. Japan's virtues should help Kan solve its problems | Reuters Breakingviews | Analysis & Opinion.
The author is a Reuters Breakingviews columnist.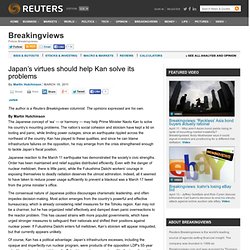 The opinions expressed are his own. By Martin Hutchinson The Japanese concept of 'wa' — or harmony — may help Prime Minister Naoto Kan to solve his country's mounting problems. The mobile-Internet is a lifeline for people in postquake confusion. When the earthquake hit northern Japan on Friday, voice calls from mobile phones became immediately unavailable in order to leave room for emergency calls.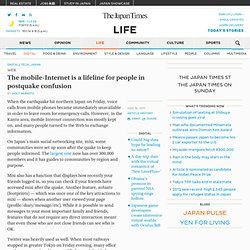 However, in the Kanto area, mobile Internet connection was mostly kept on, and many people turned to the Web to exchange information. On Japan's main social networking site, mixi, some communities were set up soon after the quake to keep people informed. The largest one now has over 300,000 members and it has guides to communities by region and purpose. Mixi also has a function that displays how recently your friends logged in, so you can check if your friends have accessed mixi after the quake.
Another feature, ashiato (footprints) — which was once one of the key attractions to mixi — shows when another user viewed your page (profile/diary/message/etc). Japan. A Long, Painful Reckoning in Japan. Great Tohoku Earthquake « Gakuranman.com – illuminating Japan. I'll be updating this post with ongoing announcements about the huge earthquake that is occurring in the Tohoku region of Japan.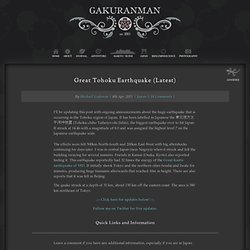 It has been labelled in Japanese the 東北地方太平洋沖地震 (Tohoku-chiho Taiheiyo-oki Jishin), the biggest earthquake ever to hit Japan. It struck at 14.46 with a magnitude of 9.0 and was assigned the highest level 7 on the Japanese earthquake scale. The effects were felt 500km North-South and 200km East-West with big aftershocks continuing for days later. I was in central Japan (near Nagoya) when it struck and felt the building swaying for several minutes. Friends in Kansai (Osaka, Kyoto) also reported feeling it. Stoicism Amid Disaster: Japanese Region Quietly Grinds to a Halt | Asia. The Tohoku region of Japan is grinding to a halt.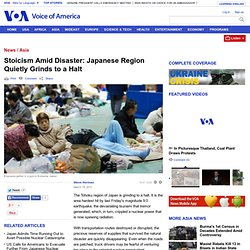 It is the area hardest hit by last Friday's magnitude 9.0 earthquake, the devastating tsunami that tremor generated, which, in turn, crippled a nuclear power that is now spewing radiation. With transportation routes destroyed or disrupted, the precious reserves of supplies that survived the natural disaster are quickly disappearing. Heroes: Hear the Voice of the Heroic Young Woman Who Saved Thousands of... Yesterday we mentioned the emergency workers in Japan's coastal towns who stayed in their posts warning others of the danger right up until the tsunami hit.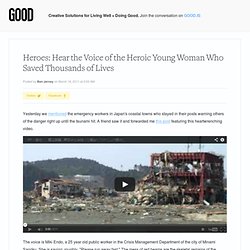 A friend saw it and forwarded me this post featuring this heartwrenching video. The voice is Miki Endo, a 25 year old public worker in the Crisis Management Department of the city of Minami Sanriku. She is saying, roughly, "Please run away fast. " The mess of red beams are the skeletal remains of the building from which Endo made her final broadcast. After Disaster, Laundry. | This Japanese Life. | 生命を外面九天です.
This is a Japanese poster urging people to conserve electricity after the 2011 earthquake.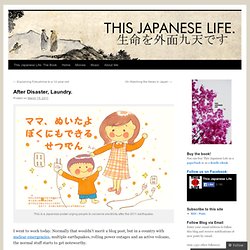 I went to work today. Normally that wouldn't merit a blog post, but in a country with nuclear emergencies, multiple earthquakes, rolling power outages and an active volcano, the normal stuff starts to get noteworthy. As I write this, rescue squads have barely even started the work ahead of them.
---