Earth, Ocean, & Environmental Science
WikiSky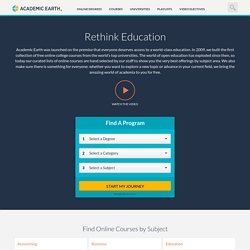 Academic Earth believes everyone deserves access to a world-class education, which is why we continue to offer a comprehensive collection of free online college courses from the world's top universities. And now, we take learning outside the classroom with our original series of thought-provoking videos, designed to spark your intellectual curiosity and start a conversation. Watch, learn, share, debate. After all, only through questioning the world around us, can we come to better understand it.
Academic Earth
Academic Earth
Michael SnyderActivist Post Millions upon millions of fish are suddenly dying in mass death events all over the world, and nobody seems to know why it is happening. In many of the news reports that are linked to below, locals are quoted as saying that they have never seen anything like this before. So is there a connection between all of the fish deaths that are now occurring all over the planet? If there is a connection, is there anything that we can do to stop the fish die-off? Sadly, because the big mainstream news networks in the United States have been virtually silent about this phenomenon, most Americans have absolutely no idea that it is happening.
Why Are Millions Of Fish Suddenly Dying In Mass Death Events All Over The Planet?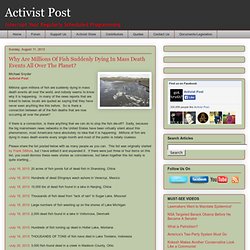 This is a list of cetaceans. The order Cetacea includes whales, dolphins, and porpoises. It has around 90 living species, divided into the suborders Odontoceti (the toothed whales, including dolphins and porpoises) and Mysticeti (the baleen whales). In addition, numerous species of extinct cetaceans exist, but they are not listed here. This list contains only the known, extant cetacean species including several recent discoveries (the baiji is also included, though it is believed to have gone extinct in 2006).
List of cetaceans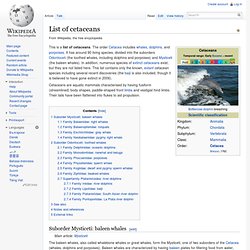 Shark Trust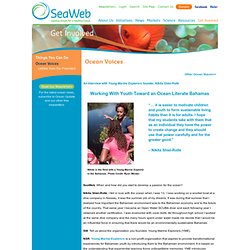 NikitaShielRolle
SeaWeb: When and how did you start to develop a passion for the ocean? Nikita Shiel-Rolle: I fell in love with the ocean when I was 13. I was working on a snorkel boat at a dive company in Nassau, it was the summer job of my dreams. It was during that summer that I realized how important the Bahamian environment was to the Bahamian economy and to the future of the country. That same year I became an Open Water SCUBA diver and each following year I obtained another certification. I was enamored with coral reefs.
Seafood Choices Alliance - Who We Are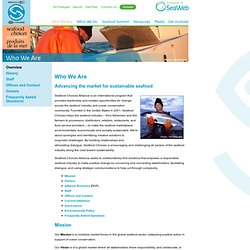 Advancing the market for sustainable seafood Seafood Choices Alliance is an international program that provides leadership and creates opportunities for change across the seafood industry and ocean conservation community. Founded in the United States in 2001, Seafood Choices helps the seafood industry— from fishermen and fish farmers to processors, distributors, retailers, restaurants, and food service providers —to make the seafood marketplace environmentally, economically and socially sustainable. We're about synergies and identifying creative solutions to long-held challenges. By building relationships and stimulating dialogue, Seafood Choices is encouraging and challenging all sectors of the seafood industry along the road toward sustainability.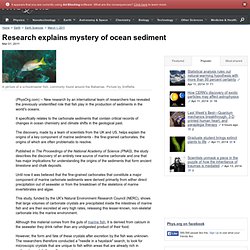 Research explains mystery of ocean sediment
(PhysOrg.com) -- New research by an international team of researchers has revealed the previously unidentified role that fish play in the production of sediments in the world's oceans. It specifically relates to the carbonate sediments that contain critical records of changes in ocean chemistry and climate shifts in the geological past. The discovery, made by a team of scientists from the UK and US, helps explain the origins of a key component of marine sediments - the fine-grained carbonates, the origins of which are often problematic to resolve. Published in The Proceedings of the National Academy of Science (PNAS), the study describes the discovery of an entirely new source of marine carbonate and one that has major implications for understanding the origins of the sediments that form ancient limestone and chalk deposits.
Reference: Ocean Survival is Our Survival
Ocean Survival is Our Survival The oceans are dying . This is not a new thing, it happend several times in the world's history. The causes have differend but one recurring trigger has often been rapid climate change, either warming or cooling. We now experience warming due to CO2 emissions .
"Her Deepness", Marine Biologist Dr. Sylvia Earle, Addresses Ocean Acidification from Climate Change « 350 or bust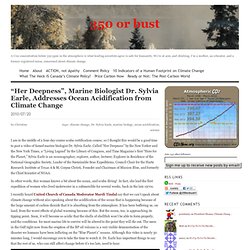 I am in the middle of a four-day course scuba certification course, so I thought this would be a good time to post a video of famed marine biologist Dr. Sylvia Earle. Called "Her Deepness" by the New Yorker and the New York Times, a "Living Legend" by the Library of Congress, and Time Magazine's first "Hero for the Planet," Sylvia Earle is an oceanographer, explorer, author, lecturer, Explorer in Residence of the National Geographic Society, Leader of the Sustainable Seas Expeditions, Council Chair for the Harte Research Institute at Texas A & M, Corpus Christi, Founder and Chairman of Mission Blue, and formerly the Chief Scientist of NOAA. In other words, this woman knows a bit about the ocean, and scuba diving!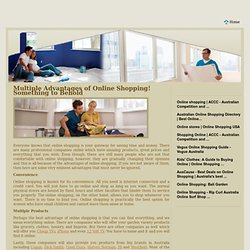 CETO - wave energy for electricity production and desalination of seawater
Everyone knows that online shopping is your gateway for saving time and money. There are many professional companies online which have amazing products, great prices and everything that you wish. Even though, there are still many people who are not that comfortable with online shopping, however, they are gradually changing their opinions and this is all because of the advantages of online shopping. If you are not aware of them, then here are some very eminent advantages that must never be ignored. Convenience Online shopping is known for its convenience.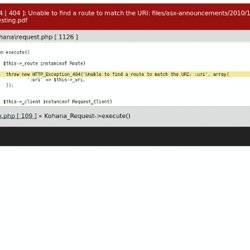 101216_In-ocean Buoyant Actuator Testing.pdf (application/pdf Object)
You do not always have to turn to busy Australian shopping malls or stand in long queues to buy gifts for your loved ones. This Christmas treat your family with appetizing homemade gifts that are simple to prepare and delicious to eat. Scroll down for 6 easy-to-cook homemade dishes. 1.
Skip to main content Home About Contacts NSW Weather & Warnings
Australian climate variability & change - Time series graphs
Australian Antarctic Magazine :: Australian Antarctic Division
Earth & Environmental Science - Oceanography
Limnology and Oceanography
Articles are placed into Free Access after three years. For newer articles, authors may choose to place their article in Free Access immediately, for a small fee. For more information regarding Free Access Publication, click here. For articles not in Free Access, you will need a current individual subscription (either the print or electronic versions of the journal), or access from an institution that has purchased a sitewide electronic-access license.
Lenfest Ocean Program
An international process to inform high-seas conservation and management is at a critical juncture, according to a study in Marine Policy supported by the Lenfest Ocean Program. Experts have assembled detailed information on 172 "ecologically or biologically significant areas" (EBSAs), but policy disagreements have delayed further consideration. Click the title above for a project overview and a two-page summary of the paper.
Oceanography contains peer-reviewed articles that chronicle all aspects of ocean science and its applications. In addition, Oceanography solicits and publishes news and information, meeting reports, book reviews, and shorter, editor-reviewed articles that address public policy and education and how they are affected by science and technology. We encourage submission of short papers to the Breaking Waves section that describe novel approaches to multidisciplinary problems in ocean science. Oceanography is published in March, June, September, and December in online and paper format.
Oceanography Home
Southern Ocean 'warming faster'
Ocean acidification
Ocean Acidification
Acid oceans may harm fish young
Ocean Acidification Network
Marine and Atmospheric Research - Our Research
Feely.pdf (application/pdf Object)
Australian Ocean Data Centre » Welcome to the AODC Web Page
Marine biology
Marine Species Identification Portal
Macrocystis pyrifera
Fishwise - GenusSpecies Search
Climatic Change, Volume 77, Numbers 3-4