Blogs Musique
I'm not guilty You're the one who's guilty The lawmakers and politicians The Colombian druglords All you who lobby against making drugs legal Just like you did with alcohol during the prohibition You're the one who's guilty -Nino Brown, New Jack City (1991) There are several things that I realize and think about every day. They're all mostly spurred by the fact that I reside in and remain prideful of New York City, but they have to do with all facets of life. Today, I thought for a long time about the history of Ancient Egyptians.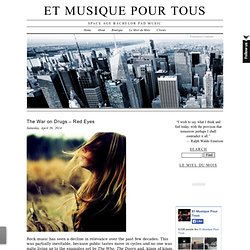 - On le sait, il l'avait annoncé, il l'a réexpliqué en long, en large et en travers lors de la longue interview qu'il nous a consacrée : Computers & Blues sera le dernier album de Mike Skinner sous le nom de The Streets. Et parce qu'il a commencé son premier album par Turn the Page, il semble logique que le garçon fasse ses adieux avec un Close the Book. C'est le Guardian qui a eu l'honneur de publier en premier ce dernier des derniers des derniers des adieux, mais il est en téléchargement ci-dessous.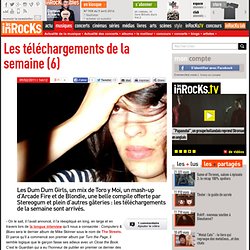 Les téléchargements de la semaine (6)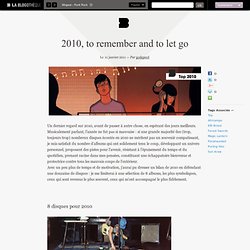 2010, to remember and to let go - LA BLOGOTHEQUE
Un dernier regard sur 2010, avant de passer à autre chose, en espérant des jours meilleurs. Musicalement parlant, l'année ne fut pas si mauvaise : si une grande majorité des (trop, toujours trop) nombreux disques écoutés en 2010 ne méritent pas un souvenir compatissant, je suis satisfait du nombre d'albums qui ont solidement tenu le coup, développant un univers personnel, proposant des pistes pour l'avenir, résistant à l'épuisement du temps et du quotidien, prenant racine dans mes pensées, constituant une échappatoire bienvenue et protectrice contre tous les mauvais coups de l'extérieur. Avec un peu plus de temps et de motivation, j'aurai pu dresser un bilan de 2010 en défendant une douzaine de disques : je me limiterai à une sélection de 8 albums, les plus symboliques, ceux qui sont revenus le plus souvent, ceux qui m'ont accompagné le plus fidèlement.