World
What does Alaveteli do? Lowers the barriers that prevent citizens asking questions of those in power Out-of-the-box support for making Freedom of Information requests to public bodies Sends requests via normal email channels, and publishes responses online (with attachments) instantly Integrates well with social media Users can subscribe to email alerts matching any words or phrases they like Responses are categorised by users for easy searching and reporting Translated into 10 languages (and counting...) X Paste this link into emails, tweets, and anywhere else: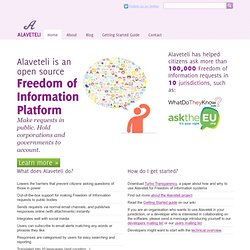 Je Veux Savoir - Envoyer et rechercher des demandes d'accès aux documents
Grand débat sur l'avenir de l'Europe organisé par la Commission européenne. debat-europe2013 - Iceweasel
Knight Foundation News Challenge - How might we improve the way citizens and governments interact? - Submission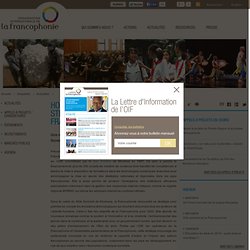 Une nouvelle stratégie numérique francophone a été adoptée lors du XIVe Sommet de la Francophonie à Kinshasa. Précurseur dans la coopération multilatérale numérique depuis plus de 15 ans, la Francophonie a initié ses actions dans ce secteur avec la Déclaration du Sommet de Cotonou en 1995, concrétisée par le plan d'action de Montréal en 1997. Ce plan a permis le financement de plus de 200 projets de création de contenus et le transfert de compétences à travers la mise à disposition de formateurs dans les technologies numériques avancées pour accompagner la mise en œuvre des stratégies nationales et régionales dans les pays francophones.
Organisation internationale de la Francophonie
Additional tools Your rights, your future As an EU citizen you have specific rights This consultation is now closed,but the debate continues!Share your views on
Your Rights, Your Future - European Commission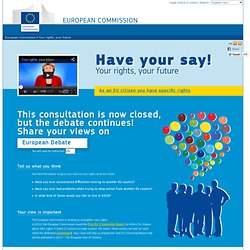 quest
Au cours des derniers mois, le site web de Springeneration a accueilli un vif débat sur la manière de construire et renforcer un partenariat entre les citoyens européens et ceux des pays du Moyen Orient et du Maghreb. Plus de 71 000 personnes (presque toutes ressortissantes des pays du Moyen Orient et du Maghreb) ont proposée 25 000 nouvelles idées et ont évalué les idées du reste des participants plus de 82 000 fois ! Les questions abordées incluent la coopération en matière de politique, commerce, société civile, éducation, ainsi que les échanges culturels. Le Centre for EuropeanStudies (CES) voudrait remercier chaleureusement tous ceux qui ont participé à cette initiative. Le sondage de Springeneration est maintenant fermé.
What should Europeans do to build positive partnerships with Arab Countries?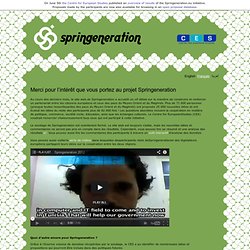 L'OTAN invite au "dialogue citoyen" sur son nouveau site Internet
OpenGovTN | Pour la transparence totale et la participation citoyenne
Vous aussi, proposez! إنتوما زادة، شاركوا | Un site utilisant WordPress
في كلمة - admin information qualité régulation اللائحة الاقتصادية الخدمات الشركات الصغيرة والمتوسطة المغرب العربي Réconciliation rêves révolution
Jämför och välj service
فكرة : اقتراحاتكم لإحداث خدمات الكترونية جديدة - Fikra : Vos idées pour de nouveaux services e-Gov: Haut (Idées 214) – Boite à suggestions
WriteToThem - Email or fax your Councillor, MP, MEP, MSP or Welsh, NI, London Assembly Member for free
FixMyTransport: Report, view and resolve public transport problems
Give a Minute!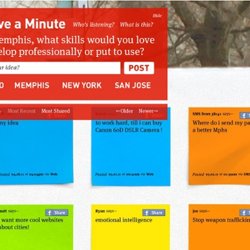 Ron Burke Executive Director Active Transportation Alliance Terry Peterson Chairman Chicago Transit Board Stan Day President and CEO SRAM Corporation Chicago's featured leaders will send personal responses to their favorite ideas. All ideas will be reviewed by community leaders from the private and public sector.
Montréal
La TCFJRQ a créé une série d'outils répondant aux besoins des administrateurs et des professionnels des forums jeunesse. Par leurs liens avec les acteurs locaux et régionaux ainsi que par leurs connaissances acquises sur la situation et les besoins des jeunes, les forums jeunesse sont des acteurs incontournables en matière de développement régional et de jeunesse. Une organisation nationale qui soutient le travail de développement des régions par et pour les jeunes des régions
Carte électorale • Mon conseil 2013 - Iceweasel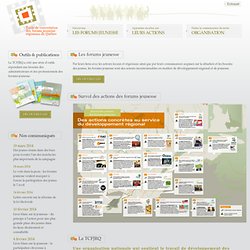 Nous avons créé un questionnaire afin d'évaluer les programmes des différents candidats dans leur engagement pour un gouvernement municipal plus transparent. Vous pouvez lire des exemples de questions que nous avons utilisées pour créer le questionnaire ici. Vous pouvez accéder au questionnaire complet ici Veuillez noter que nous n'avons pas reçu de financement pour établir le questionnaire et que seules les réponses fournies par les répondants seront diffusées.
Je vote pour la transparence 2013 - Iceweasel