E-Mail & Social Networking
Zello. Live conversation. CB Radio Chat. Extra smileys, memes, stickers, funny characters, LOLCats and other emoticons for your favorite chat app!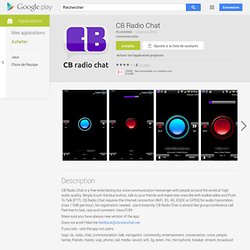 Great for WhatsApp, KakaoTalk, WeChat, Telegram, LINE or other chat or messaging apps. More than than 5 million downloads! Right now we have these:* Smileys/Stickers/Emoji: soon new emoticons pack! * Internet characters: Troll face, LOL guy, Y U NO, Success Kid, ..* Funny pics: hilarious random pictures* Memes (NEW from July 2013): Philosoraptor, Skeptical Baby, ...* LOLcats: you can't get enough of them.
Stock game, stock market game, paper trading and online trading. Personals - Dating. Friends. Forums.securityinfowatch. Games. Flickr. MyYearbook.
Mobile Application Development Opportunitie. Friendster - Home. Yahoo. Google. Buzz. Google Buzz n'existe plus.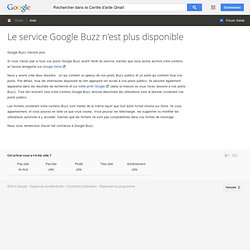 Si vous n'avez pas lu tous vos posts Google Buzz avant l'arrêt du service, sachez que nous avons archivé votre contenu et l'avons enregistré sur Google Drive. Nous y avons créé deux dossiers : un qui contient un aperçu de vos posts Buzz publics et un autre qui contient tous vos posts. Google - Chat. Group conversations are better than ever Send photos or emoji, see when people are engaged in the Hangout and message friends anytime, even if they're not connected right now.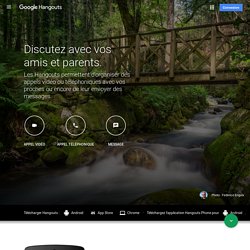 Video calls make Hangouts more fun Turn any conversation into a video call with up to 10 friends. Then add apps and effects to put a smile on your face. Google - G-Mail. MSN - Windows Live - Hotmail. Windows Live - Messenger. AOL Mail. AOL - Instant Messenger. Juno Mail. Mozilla Thunderbird - Email Client. Jabber Instant Messenger. Abstract: Jabber is best known as an open source secure and ad free alternative to consumer IM services.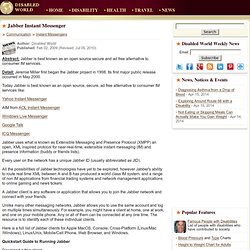 Detail: Jeremie Miller first began the Jabber project in 1998. Its first major public release occurred in May 2000.
---