Organizations
International Federation for Learning, Education, and Training Systems Interoperability. The International Federation for Learning, Education, and Training Systems Interoperability (LETSI) is an international nonprofit organization focused on enabling technical interoperability for computer-based learning, education, and training systems.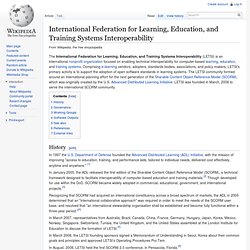 Comprising e-learning vendors, adopters, standards bodies, associations, and policy makers, LETSI's primary activity is to support the adoption of open software standards in learning systems. The LETSI community formed around an international planning effort for the next generation of the Sharable Content Object Reference Model (SCORM), which was originally created by the U.S. Advanced Distributed Learning Initiative. IMS Global. IMS Global Learning Consortium (usually referred to as IMS GLC, IMS Global or simply IMS) is a global, nonprofit, member organization that strives to enable the growth and impact of learning technology in the education and corporate learning sectors worldwide.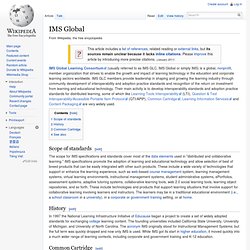 IMS GLC members provide leadership in shaping and growing the learning industry through community development of interoperability and adoption practice standards and recognition of the return on investment from learning and educational technology. Their main activity is to develop interoperability standards and adoption practice standards for distributed learning, some of which like Learning Tools Interoperability (LTI), Question & Test Interoperability/Accessible Portable Item Protocol (QTI/APIP), Common Cartridge, Learning Information Services and Content Packaging are very widely used.
Institute of Electrical and Electronics Engineers. The Institute of Electrical and Electronics Engineers (IEEE, on lowercase letters: ieee, read I-Triple-E) is a professional association with its Corporate Office in New York City and its Operations Center in Piscataway, New Jersey and is dedicated to advancing technological innovation and excellence.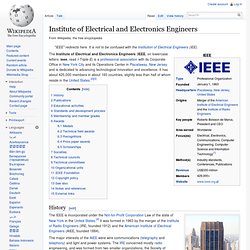 It has about 425,000 members in about 160 countries, slightly less than half of whom reside in the United States.[2][3] History[edit] The IEEE is incorporated under the Not-for-Profit Corporation Law of the state of New York in the United States.[4] It was formed in 1963 by the merger of the Institute of Radio Engineers (IRE, founded 1912) and the American Institute of Electrical Engineers (AIEE, founded 1884). The major interests of the AIEE were wire communications (telegraphy and telephony) and light and power systems. The IRE concerned mostly radio engineering, and was formed from two smaller organizations, the Society of Wireless and Telegraph Engineers and the Wireless Institute.
Dublin Core. European Committee for Standardization. Members affiliates partner standardisation bodies The European Committee for Standardization (CEN, French: Comité Européen de Normalisation) is a non-profit organisation whose mission is to foster the European economy in global trading, the welfare of European citizens and the environment by providing an efficient infrastructure to interested parties for the development, maintenance and distribution of coherent sets of standards and specifications.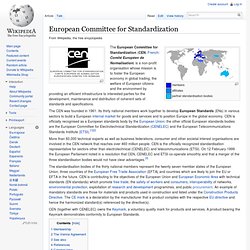 Aviation Industry Computer-Based Training Committee. The Aviation Industry Computer-Based Training Committee (AICC) is an international association of technology-based training professionals.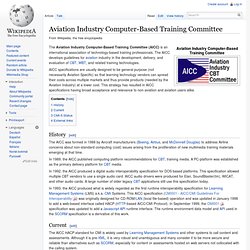 The AICC develops guidelines for aviation industry in the development, delivery, and evaluation of CBT, WBT, and related training technologies. AICC specifications are usually designed to be general purpose (not necessarily Aviation Specific) so that learning technology vendors can spread their costs across multiple markets and thus provide products (needed by the Aviation Industry) at a lower cost. Advanced Distributed Learning. Advanced Distributed Learning (ADL) is the product of the ADL Initiative, established in 1997 to standardize and modernize training and education management and delivery.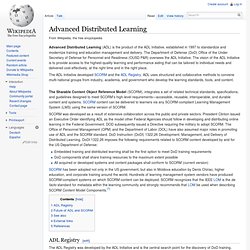 The Department of Defense (DoD) Office of the Under Secretary of Defense for Personnel and Readiness (OUSD P&R) oversees the ADL Initiative. The vision of the ADL Initiative is to provide access to the highest-quality learning and performance aiding that can be tailored to individual needs and delivered cost-effectively, at the right time and in the right place. The ADL Initiative developed SCORM and the ADL Registry. ISO/IEC JTC1/SC36. Scope and mission[edit] The scope of ISO/IEC JTC 1/SC 36 is "Standardization in the field of information technologies for learning, education, and training (ITLET) to support individuals, groups, or organizations, and to enable interoperability and reusability of resources and tools."[3][4] The mission of ISO/IEC JTC 1/SC 36 is to: Provide quality ITLET standards to meet stakeholder needsPromote the use of ITLET standards by providing supporting materialProvide leadership in ITLET standardization through: The development of a comprehensive set of integrated standards with international and professional consensusInitiating cooperative work with international professional, and standards producing, organizationsA framework that: Facilitates the integration of standards developed in other standards producing organizationsMinimizes the inconsistencies between related standards, including those developed by other standards producing organizations.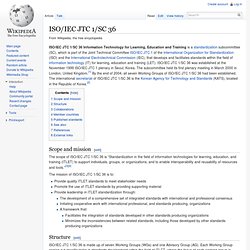 ---