Research
Hereditary Dysautonomias: Current Knowledge and Collaborations for the Future. National Institute of Neurological Disorders and StrokeHereditary Dysautonomias: Current Knowledge and Collaborations for the FutureMeeting ReportOctober 3-4, 2002 Written by Math Cuajungco PhD, for the National Institute of Neurological Disorders and Stroke and Office of Rare Diseases Introduction The hereditary dysautonomias are a large group of disorders that affect the autonomic nervous system.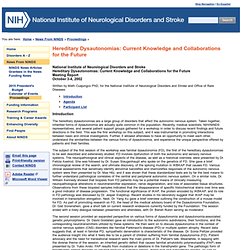 Taken together, inherited forms of dysautonomia are actually quite common in the population. Recently, medical scientists, NIH/NINDS representatives, and several patient support groups gathered for a workshop in order to discuss recent findings and future directions in the field. Dysautonomia Information Page. What is Dysautonomia?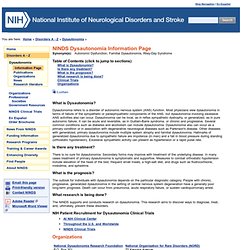 Dysautonomia refers to a disorder of autonomic nervous system (ANS) function. Most physicians view dysautonomia in terms of failure of the sympathetic or parasympathetic components of the ANS, but dysautonomia involving excessive ANS activities also can occur. Dysautonomia can be local, as in reflex sympathetic dystrophy, or generalized, as in pure autonomic failure. Research & Training. Autonomic Dysfunction Center - Research Information. PrettyIll.com. Postural orthostatic tachycardia syndrome. Studing Astronauts' Hearts in Space. Patients Research Dysautonomia. This group does not have a welcome message.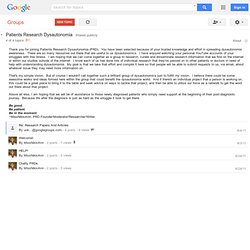 Thank you for joining Patients Research Dysautonomia (PRD). You have been selected because of your trusted knowledge and effort in spreading dysautonomia awareness. There are so many resources out there that are useful to us dysautonomics. I have enjoyed watching your personal YouTube accounts of your struggles with this illness.
---